Niagara Falls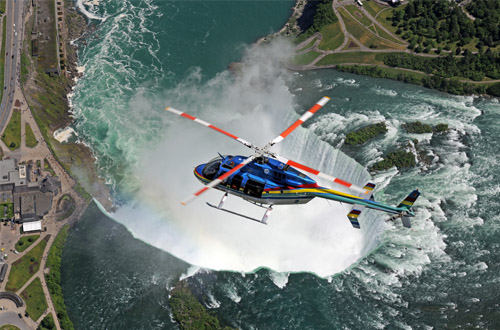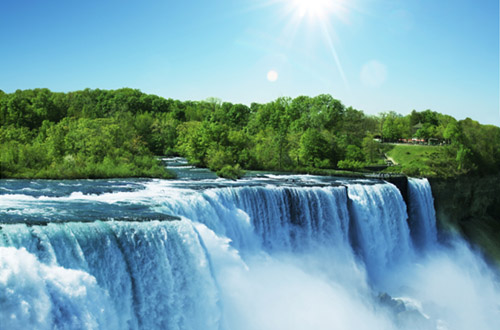 Introduction
Every year the Falls attract more than 14 million visitors, with three quarters of those trying their luck at the casinos. The city also remains one of the world's great honeymoon capitals. Traditionally of course the main tourist magnets are still the cascading falls and the Maid of The Mist boat ride but the Niagara region has much more to offer with sights such as the Skylon Tower, The Casino and the Cham Shan Buddhist Temple. East of Niagara Falls along the Niagara Gorge is the spectacular Niagara Parkway, enjoy hilltop views and picnics at places such as Queenston Heights. The area is also home to the Butterfly Conservatory and Niagara Falls Aviary. Further along in Niagara-on-the-Lake , take in a play at the Shaw Festival or stroll through the uniquely historical downtown area, complete with quaint shops and boutiques, a variety restaurants and charming bed and breakfast accommodation.
Places to Visit
Clifton Hill
Queen Victoria Park
Sky Wheel
Fallsview Waterpark
Skylon Tower
Cham Shan Buddhist Temple
Niagara-on-the-Lake
Imax Theatre

Getting to and Travelling around
Fly from all major UK airports into Toronto. Choose from either scheduled or charter flights. Upon arrival you may choose to take the scheduled airport transfer into Niagara Falls or you may collect a hire car and drive to your chosen hotel. Niagara Falls is extremely easy to navigate and has two bus systems with special tourist-oriented services.

Best Time and Weather
Niagara Falls enjoys four very different climates. In March April and May the temperatures range from 5
°C
to 19
°C
. In the summer the daily temperature in June July and August ranges from 21
°C
to 25
°C
and the weather is bright and sunny. During September October and November temperatures range from 16
°C
to 4
°C.
It is unlikely to snow until the end of October and rain and cloudy skies are common. In the winter the daily high temperatures in December January and February range from 2
°C
to -0.9
°C
. Snow is moderate and snow storms are infrequent.
Important Information