Tour of Kathmandu to Tibet Overland
Tour of Kathmandu to Tibet Overland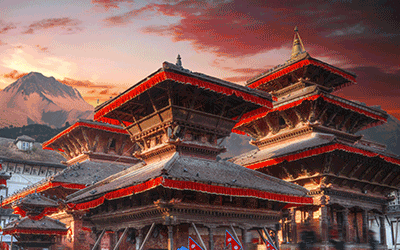 £2555
12 May 20
12 May 20
12 Apr 20
Important notes:


Tibet Visa fee is extra and will be collected in Kathmandu in US Dollars cash.


The current visa fee is US$ 95 per person (Fees valid for German, Austrian, Australian, British, nationals) while visa fees is US$ 185 for American nationals.


Highlights: Kathmandu - Swayambhunath - Patan(Lalitpur) - Bhaktapur - Boudhanath - Lhasa - Shigatse - Xegar - Rongbuk - Kerung - Kathmandu.
Hotels: (or similar)
- Hotel Shambala
- Hotel Dekhang
- Hotel Gangjian
- Hotel Shigatse
- Hotel Quomolungma
Alternate travel dates:  19 May 20 / 26 May 20 / 02 Jun 20 / 09 Jun 20 / 16 Jun 20 / 23 Jun 20/ 30 Jun 20 / 07 Jul 20 / 14 Jul 20 / 21 Jul 20 / 28 Jul 20 / 04 Aug 20 / 11 Aug 20 / 18 Aug 20 / 25 Aug 20 / 01 Sep 20 / 08 Sep 20 / 15 Sep 20 / 22 Sep 20 / 29 Sep 20 / 06 Oct 20 / 13 Oct 20/ 20 Oct 20
Itinerary:
Day 01: Arrival in Kathmandu
Arrival in Kathmandu. Upon arrival in Kathmandu, meet & greet with traditional Khada. Transfer to your Hotel. Overnight at Hotel Shambala or similar
Day 02: Tour of Kathmandu, Swoyambhunath & Patan
After breakfast, sightseeing tour of Kathmandu city, the capital city of Nepal. Visit the old Kathmandu city with its stone-paved lanes, colorful bazaars and the Temple of the Living Goddess - Kumari who is considered to be the incarnation of the "Virgin Goddess". Also, visit the Kal Bhairav temple. Continue further to Swoyambhunath stupa, situated west of Kathmandu. It is a 2500 years old Buddhist stupa located atop of green hillock with the eyes of Buddha painted on its pinnacle overlooking the righteous behavior of the valley inhabitants.
Afternoon visit Patan city, also known as Lalitpur or the "city of beauty". Patan, the oldest city of the valley is the cradle of arts and architecture. It is well known for its intricately carved temples, narrow lanes, and quaint shops. See the intricately stone-carved Krishna Mandir (temple), Patan Durbar Square and Hiranyavarna Mahavihar (golden temple).
Overnight at Hotel Shambala or similar.
Meal: Breakfast
Day 03: Tour of Bhaktapur & Boudhanath
After breakfast, visit Bhaktapur, one of the best-preserved ancient settlements. Entering the Durbar Square (palace square) through the Royal Gate, the sparseness of the temples is immediately apparent, compared to the profusion in the durbar squares of Kathmandu and Patan. Visit the main square which contains temples and other architectural showpieces; the Lion Gate, the statue of Bhupatindra Malla, the Palace of 55 windows, the Bell of the barking dogs, the Batsala temple, the Nyatapola temple and the replica of Pashupatinath temple.
Proceed on a sightseeing tour of Bodhnath stupa. This colossal Stupa is set in the powerful pattern of a Mandala. It is encircled by houses and monasteries where Rinpoches reside. Around the base of this strikingly enormous and simple stupa is a ring of 108 images of the Buddha and 147 insets containing prayer wheels. Overnight at Hotel Shambala or similar.
Meal: Breakfast
Day 04: Fly Kathmandu / Lhasa
Transfer to Kathmandu airport and fly to Lhasa. Upon arrival, you will be met and transferred (1.5 hrs) to Hotel in Lhasa for a 3-night stay. The rest of the day is free for acclimatization of the high altitude or explore the local bazaars at your own pace.
Overnight at Hotel Dekhang or Hotel Gangjian or similar.
Meal: Breakfast

Day 05/06: Lhasa (3,650m)
These two days will be spent discovering Lhasa - its magnificent palace residences, Monasteries, & quaint bazaars. You will see the famous Potala Palace, Norbulinka-HH Dalai Lama's Summer Palace, Sera & Drepung Monasteries as well as the Jokhang Temple. Walkthrough the narrow lanes of Barkhor, the old market place of Lhasa, which has remained unchanged for centuries. Overnight at Hotel Dekhang or Hotel Gangjian or similar.
Meal: Breakfast

Day 07: Drive Lhasa / Shigatse (3,950m) (261 Km/4-5 hrs)
After breakfast, drive to Gyantse, a small bustling town steeped in history. Drive along the Yarlung Tsangpo River and then over a high pass Khamb-La pass (4,794m) before descending to the Turquoise Lake, Yamdrok Tso. Then ascend along a winding road to cross the Karo-La pass (5,045 m) and then descend to the Gyantse valley. Visit Kumbum Chorten & the Pelkhor Monasteries in Gyantse.
After the visit, depart to Shigatse. En-route visit Shalu monastery. Upon reaching Shigatse, visit Tashi Lhumpo Monastery, the largest & most magnificent amongst all Monasteries in Tibet. Also, visit the temple of future Buddha that is 26 m high & gilded with gold. Overnight at Hotel Shigatse or similar.
Meal: Breakfast
Day 08: Drive Shigatse / Xegar (4,350m) visiting Shakya monastery en-route (5-6 hrs)
This day you will drive along the flat Tibetan plateau via a few small settlements such as Lhatse & Lulu, which are typical Tibetan villages. Cross Lhakpa-La pass (5,220m) which serves as an excellent view-point to see the mighty Himalayan peaks to the south. En-route visit Shakya monastery. Overnight at Hotel Quomolungma or similar.
Meal: Breakfast
Day 09: Drive Xegar/Everest Base Camp/Rongbuk (5200 m/115 km) (2 hrs)
After breakfast, drive to Rongbuk village crossing Pangla pass. Drive or walk up to Everest Base Camp (5200m). Also, visit the Rongbuk monastery and surroundings. There is a magnificent view of the Northern part of Mount Everest and Cho-Oyu from Rongbuk. Overnight at Guesthouse.
Day 10: Drive Rongbuk/Kerung (2,500m) (335 Km/6-7 hrs)
After breakfast, drive to Keyrung. The drive is picturesque & offers one of the best views of the world's tallest peaks. Overnight at Hotel /Guest House in Keyrung or similar.
Meal: Breakfast
Day 11: Drive Kerung / Kathmandu
Drive down from Keyrung to the border where you will be met by your vehicle for the onward drive to Kathmandu. Upon reaching, transfer to your hotel. Overnight at Hotel Shambala or similar.
Meal: Breakfast
Day 12: Departure Transfer
Transfer to an international airport in time to connect your outbound flight.
Meal: Breakfast
Offer Includes
4 nights at Hotel Shambala or Akama or similar (4 star), Kathmandu on Bed & Breakfast basis
Sightseeing tours as per the above tour itinerary guided by an English speaking guide in a private vehicle
Entrance fees as currently applicable and hence subject to changes (museum fees are extra if visited)
Arrival and departure airport transfers in Kathmandu
3 nights at Hotel Dekhang/Hotel Gangjian or similar in Lhasa on bed & breakfast basis.
1 night at Hotel Shigatse or similar in Shigatse on bed & breakfast basis.
1 night at Hotel Quomolungma or similar in Xegar on bed & breakfast basis.
1 night at Hotel Rongbuk Guest House or similar in Rongbuk on bed & breakfast basis
1 night at Guest House or similar in Keyrong on bed & breakfast basis.
Tours and transfers guided by an English speaking local Tibetan guide using a private air conditioned vehicle
Monument fees and entrance fees as currently applicable (subject to changes)
Keyrong (Nepal/Tibet border)/Kathmandu surface transfer using non air conditioned vehicle
Special Tibet permit fees
Airport transfer in Kathmandu for Lhasa flight (one transfer)
Airfare KTM/LXA on economy class (based on currently applicable economy fare and hence subject to changes)
Meal Plans