Southern Belle Self-Drive Tour
Southern Belle Self-Drive Tour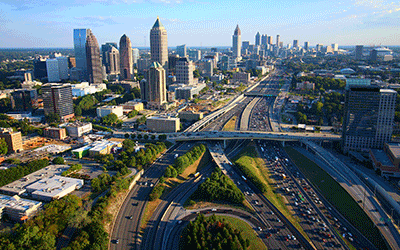 £2199
10 May 21
10 May 21
31 Oct 20

Highlights: Atlanta - Nashville - Memphis - Vicksburg - Natchez - New Orleans - Florida Panhandle Tallahassee - Savannah - Charleston
Overview: 
Experience good old southern charm and hospitality. Travel from Atlanta through the southern states of Georgia, South Carolina, Louisiana and Mississippi. Hear the history of music in Memphis and Nashville and enjoy southern traditions as they can only be carried out in Savannah, Charleston and New Orleans.
Itinerary:
Day 1: Arrive In Atlanta, GA
Arrive at Atlanta International Airport (ATL) and proceed to your hotel. Enjoy your overnight stay in Atlanta, Georgia, "The Peach State." While it is the State's capital, Atlanta still welcomes visitors with the same southern hospitality of a small town. It is a bustling big city with the past and present colliding. Visit Atlanta neighbourhoods like the quaint Midtown and luxurious Buckhead; both are filled with interesting shops and restaurants. Accommodations in a standard room at Red Roof plus Atlanta Airport or similar
Day 2: Atlanta – Nashville, TN
Depart Atlanta this morning and drive toward Nashville, better known as Music City, USA. Nashville is the heart and soul of country music. Take the time to visit the Country Music Hall of Fame and Museum. It presents a vast collection to illustrate the story of country music told through two centuries. Enjoy historic country video clips and recorded music, dynamic exhibits and state-of-the-art design. Also visit Historic RCA Studio B, "The Home of 1,000 Hits." Get an up-close look at what was once the second home of music legends Elvis Presley, Chet Atkins, Dolly Parton and more. Over 35,000 songs were recorded here. For a slightly different side of Nashville, see the Parthenon, the world's only full-scale reproduction of the famous Greek temple. Nashville's Parthenon stands in Centennial Park and features both the city's art museum and Athena Parthenos. At almost 42 feet in height, Athena Parthenos is the tallest indoor sculpture in the Western world. This evening consider a dinner cruise on a paddlewheel riverboat or a dinner theatre experience, both offering exceptional entertainment and cuisine. Accommodations in a standard room at Guesthouse Inn Music Valley or similar
Day 3: Nashville – Memphis, TN
Leave Nashville behind and travel to Memphis, home of the blues. Your first stop must be Graceland, Elvis Presley's 14-acre estate. Visit the "Birthplace of Rock 'n Roll" at Sun Studios. Enjoy a fascinating tour and listen to audio presentations of some of the earliest recordings made there. After that, visit the original studio itself, the exact same room where the likes of Johnny Cash and Elvis recorded their first tracks. City sightseeing tours are offered by paddleboat, carriage and motorcoach. Stroll down historic Beale Street where blues has been playing for more than half a century. This historic entertainment capital has something for everyone, whether you want to listen to music or sample southern barbecue. Accommodations in a standard room at Comfort Inn Downtown Memphis or similar
Day 4: Memphis – Vicksburg, MS
This morning travel to Vicksburg. For over five decades of the 1800s, Vicksburg was the centre for the aristocracy whose wealth was based on cotton and lumber. A glimpse of its former glory is evidenced by the preservation of many historic churches (two containing Tiffany stained glass windows), government buildings and grand homes, dating to the 19th Century. Visit the Old Court House Museum, home to over 15,000 artefacts dating from pre-Columbian times to present day. Take a tour of some of the magnificent historic homes and gardens that abound the area. For the history buff, there is the 1,800-acre Vicksburg National Military Park, America's most monumented national military park. The Vicksburg Battlefield Museum, just east of the military park, features models of gunboats, the film "Vanishing Glory" which tells about civilian life during the siege as well as a diorama depicting the Siege of Vicksburg. Historic Downtown Vicksburg offers a variety of restaurants speciality shops and art galleries. You'll also find The Corner Drug Store with an engaging collection of Civil War artefacts; the Biedenharn Coca-Cola® Museum where Coca-Cola® was first bottled in 1894; and the Antique Doll and Toy Museum. Accommodations in a standard room at Hampton Inn & Suites or similar
Day 5: Vicksburg – Natchez, MS
Continue to the town of Natchez, the oldest permanent settlement on the Mississippi River. Natchez is known for the preservation of many antebellum homes. Tour Stanton Hall built circa 1857. It is one of the most magnificent palatial residences of antebellum America. The interior contains original furnishings and Natchez antiques. Make sure to taste a local favourite, the pecan. Below the town lies Natchez Under-the-Hill, once a haven for all things inappropriate, now home to many bars and restaurants. Here you will also find a riverboat casino. Accommodations in a standard room at Monmouth Historic Inn* or similar
Day 6: Natchez – New Orleans, LA
This morning travel into Louisiana. Along the way, consider a stop in Baton Rouge. Situated on the banks of the Mississippi River, Baton Rouge is Louisiana's capital. Learn about the colourful history filled with controversial politics at the Capitol Building and the Old Governor's Mansion. Sample some of the fine Cajun-Creole cuisines at one of the local eateries. Continue to New Orleans, a modern city with a historic soul. The oldest neighbourhood in the "Crescent City" is the French Quarter. Established by the French in 1718, the architecture reflects Spanish, French, Creole and American influences. Around every corner, you will find eclectic shops and fine dining. Visit the French Market and find treasures of food, antiques and crafts. Make sure to sample a beignet, the state doughnut of Louisiana. The centre of the French Quarter is Jackson Square. Musicians, artists, mimes, tarot card readers and entertainers set up in front of St. Louis Cathedral on the square each day, creating an animated street scene. At night stroll down famous Bourbon Street, where the heart of jazz lives in New Orleans. You will likely hear this music in the streets and pouring out of the many nightclubs and bars. If you're feeling fortunate, you might want to visit the casino and try your luck at Las Vegas-style gambling. Accommodations in a standard room at Holiday Inn Downtown Superdome or similar
Day 07: New Orleans, LA
Today, venture out of the city's centre to the Garden District. This elegant neighbourhood is home to lovely southern homes and lined with parks and cafes. Some of the historic homes are available for tours. If you are feeling more adventurous, consider an escapade in the swamp. Many guided swamp and wildlife tours are offered along the bayous. In these mysterious waterways that surround the city, you will get intimate with alligators and other exotic creatures. You never know what you'll see! For marine animal viewing, visit the Audubon Aquarium of the Americas, one of the top museums of its kind in America. Find 15,000 sea creatures, representing nearly 600 species. In the evening, learn about voodoo and the city's haunted past on a walking tour of the French Quarter. Your guide might take you to a cemetery or passed one of the many buildings that make New Orleans "America's Most Haunted City." Accommodations in a standard room at Holiday Inn Downtown Superdome or similar
Day 8: New Orleans – Florida Panhandle Area, FL
Continue on your journey to the famous sugar-white sands and emerald waters of Fort Walton Beach. Endless strings of recreational fishing fleets, water activities, and gorgeous beachside parks await you at this jewel on the Florida Emerald Coast. Undeniably fresh seafood is served in waterfront restaurants and seaside cafes. Spend a day lounging beside a sparkling pool, play a quiet round of golf and watch the sunset into gorgeous Gulf waters. Accommodations in a standard room at Wyndham Garden Ft. Walton Beach or similar
Day 9: Florida Panhandle Area – Tallahassee, FL
Depart Ft. Walton Beach this morning and drive toward Tallahassee. As the capital city of the State of Florida, Tallahassee is the regional centre for trade and agriculture. Tallahassee offers visitors the chance to experience "The Other Florida." Home to several universities, as well as a centre of aeronautics and engineering, Tallahassee is proud of its scientific contributions, showing off with a 5-story IMAX theatre and planetarium, and the Tallahassee Museum of History and Natural Sciences. Visit the Mission San Luis, a National Historic Landmark, a reconstructed 17th-century mission. Have dinner out this evening; from fast food to five-star, Tallahassee serves up an excellent selection of tantalizing restaurants. Tickling the taste buds are specialities ranging from homemade country sausage and melt-in-your-mouth steaks to wild game and succulent seafood fresh from the Gulf. Accommodations in a standard room at Wyndham Garden Tallahassee Capitol or similar
Day 10: Tallahassee – Savannah, GA
Drive into Georgia this morning. Southern hospitality is alive and well in charming Savannah. The Historic District has twenty-two squares and cobblestone streets that will take you back in time. Explore the city by trolley and learn the fascinating past. By night, haunted walking tours are also available. Each piece of the lovely Victorian architecture has a story, some sad and mysterious. Other sights to visit are the Telfair Museum of Art, Forsyth Park and Factor's Walk. For delicious southern cooking, visit the restored Waterfront area which is lined with shops and restaurants. An overnight stay has been arranged here. Accommodations in a standard room at Country Inn & Suites Midtown or similar
Day 11: Savannah – Charleston, SC
Continue exploring the traditions of the Old South as you drive toward Charleston. Along the way, visit Beaufort. This little town claims nearly one hundred antebellum and pre-Revolutionary houses. Continue to Charleston. A fantastic way to see this city is by a horse-drawn carriage. See the Old South in the architecture and gardens of the many historic homes and buildings. Visit the shopping district of King Street in Downtown. See Civil War memorials at the Battery, a garden that boasts live oaks and palmettos. Venture slightly outside the city and visit Magnolia Plantation and Gardens. Tour the house and learn about life on the plantation. The gardens offer extensive varieties of camellias and azaleas. Enjoy an overnight stay here. Accommodations in a standard room at Days Inn Patriot's Point or similar
Day 12: Charleston – Atlanta, GA
Depart Charleston and head to Atlanta. Explore all this great southern city has to offer. Visit the Martin Luther King Jr. National Historic Site and Sweet Auburn District. Here you will find The King Center and the historic Ebenezer Baptist Church. Exhibits tell the story of the Civil Rights Movement. The Roswell Historic district has a visitor centre and several antebellum homes that can be toured. Taste the past and present of Coca-Cola products at the NEW World of Coca-Cola. Enjoy a movie experience and taste brands from around the world. Experience Inside CNN Atlanta and see global news in the making. Take a tour and go behind the scenes to see how a production comes together. View television broadcast innovations and the technology that makes global news-gathering a reality. Just east of the city lies Stone Mountain. This is the world's largest exposed granite monolith with a relief carving of Confederate heroes, surrounded by attractions and recreation in a natural environment. Accommodations in a standard room at Red Roof plus Atlanta Airport or similar
Day 13: Atlanta – Atlanta International Airport, GA
Enjoy this final day of taking in the charm and hospitality of the Deep South. Depart at leisure for the Atlanta International Airport (ATL).
Exclusions
- Tolls
- Parking Fees
- Admission to attractions that were not pre-booked.
- National Park admissions
- Printed Discovery GuideSM Available for qualified clients.
Offer Includes
Return flights from London Heathrow
Airport taxes
12 nights accommodation as per the Itinerary
Including a night at a Plantation
Tours & activities as per the Itinerary
Car Hire
Meal Plans