Le Domaine de LOrangeraie Resort & Spa
Le Domaine de LOrangeraie Resort & Spa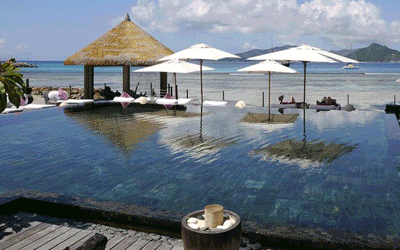 £1999
11 Oct 20
31 Oct 20
31 Aug 20

Other departures: Manchester - £1839, Birmingham - £2069, Glasgow - £2069, Edinburgh - £2075, Newcastle - £2085
Le Domaine de L'Orangeraie Resort & Spa Seychelles
It is in this haven of peace and serenity that Le Domaine de l'Orangeraie harbors a cozy and private getaway in Seychelles. The tropical setting, local architecture and the warmth of wood in a pure zen style combine harmoniously to celebrate the 'home away from home' unique experience on La Digue Island, for couples and families. 63 stunning villas and a breathtaking spa are nestled in an idyllic setting amidst a ballet of birds at the heart of a luxuriant tropical garden. Le Domaine de L'Orangeraie is the perfect retreat to capture the true essence of exotic lifestyle in Seychelles.
Our hotel is a proud member of Les Collectionneurs. In its collection, the brand offers no more than 500 addresses and is presided by Mr. Alain Ducasse since 1999. The collection unites independent, passionate and contemporary hoteliers and chefs who imbue their properties with the ingredients that transform a moment into a unique experience.
Hotel facilities:
2 Restaurants, 3 Bars/Lounges, 1 Poolside Bar, Outdoor pool, Minibar
Recreational facilities:
Full-service spa, Library, Steam room, Turkish bath/hammam, Snorkelling, Garden, 3 Treatment Rooms
General facilities:
Free WiFi, Laundry facilities
Offer Includes
Flights from London Heathrow with Ethiopian Airlines
Airport taxes
7 nights accommodation in a Garden Villa
Coach & Cocos Inter island hopper(Business Class)
Meal Plans