F1 Vietnam Grand Prix - North & South Exploration
F1 Vietnam Grand Prix - North & South Exploration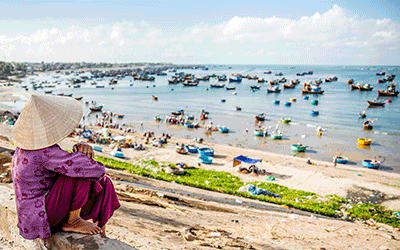 £2255
01 Apr 20
01 Apr 20
15 Feb 20

Highlights: Hanoi - Ha Long - Ho Chi Minh
Other departures: Manchester - £2435, Birmingham - £2385, Newcastle - £2529, Glasgow - £2515, Edinburgh - £2435
Hotels:
Hanoi - Elegant Suites Westlake Residences or Similar
Ha Long - Huong Hai Sealife Cruise or Similar
Ho Chi Minh - Edenstar Saigon Hotel or Similar
Itinerary:
Day 1: 1 APRIL 2020: Hanoi Arrival
All guests are warmly welcome upon arrival at Noi Bai International Airport by our local guide then transfer to hotel for check-in. Overnight at hotel in Hanoi.
Day 2: 2 APRIL 2020: Hanoi City Tour
After breakfast at hotel, you will start the day with visit to the Temple of Literature. Built in 1076, The Temple of Literature was Vietnam's first university and was established to educate Vietnam's royalty, mandarins and members of the elite. The university functioned for an incredible 700 years. Its gardens and well-preserved architecture offer a fascinating glimpse into Vietnam's past.
Next, visit Hanoi's UNESCO World Heritage Site, the Thang Long Imperial Citadel. The Citadel was constructed on a Chinese fortress dating back from the 7th century and re-built in the 11th century by the Ly Viet Dynasty. The historical site and remains represent a unique fusion of traits, with influences from China in the north and the ancient Kingdom of Champa in the south.
Afterwards, visit The One Pillar Pagoda, which was founded by King Ly Thai To in 1049. This structure is one of Vietnam's smallest but most iconic temples. Close by is the Mausoleum of the historic Father Figure of modern Vietnam, Ho Chi Minh, and the Former President's House on stilts where he lived from 1958 to 1969. His former home illustrates the modesty of this Vietnamese revolutionary
(The Ho Chi Minh Mausoleum is closed Mondays & Fridays and from Oct.-Nov, you will view from the outside)
Afternoon you will visit the beautiful Hoan Kiem Lake and Ngoc Son Temple. Hoan Kiem Lake was already considered the most beautiful lake in Hanoi when Ngoc Son Temple was built on an island in the 19th century. Initially, the temple was called Ngoc Son Pagoda and was later renamed Ngoc Son Temple, since temples are dedicated to saints. Saint Van Suong, considered to be one of the brightest stars in Vietnam's literary and intellectual circles, was worshipped there along with other National heroes.
Afterward enjoy a leisurely one-hour buggy tour through the streets of this fascinating city, you will come face to face with the daily lives and activities of Hanoi's streets as you pass through the congested, but delightful, Old Quarter. Ride pass the fascinating streets, which still bear the names of the shops that could be found in them in the 15th to 18th centuries
Then you will attend a performance of the famous water puppet show. The Vietnamese traditional art of water puppetry has roots that date back to the 10th century when it originated in the Red River Delta area of northern Vietnam. The farmers in the region celebrated festivals and harvests by performing this unique art form. Learning to manipulate the puppets is usually a tradition that is passed on as a family secret. It takes a great deal of skill and because the puppeteer's hands are underwater, it is easy for them to hide their methods. The fascinating part is that the central stage is below the water line, and the puppeteers stand in the waist-deep water. A rattan curtain hides them, but they can see the stage and the audience through the bamboo slats. Transfer to your hotel. Overnight at hotel in Hanoi.
Meal: Breakfast & Lunch
Day 3: 3 APRIL 2020: Hanoi – F1 Visit (No Guide)
After breakfast in the hotel (6 -7AM), our bus will drive you to the F1 race circuit. You will enjoy your time there to enjoy and participate in all events beside the race. Overnight at hotel in Hanoi.
Meal: Breakfast
Day 4 - 4 APRIL 2020: Hanoi – F1 Visit (No Guide)
After breakfast in the hotel (6 -7AM), our bus will drive you to the F1 race circuit. You will enjoy your time there to enjoy and participate in all events beside the race. Overnight at hotel in Hanoi.
Meal: Breakfast
Day 5: 5 APRIL 2020: Hanoi – F1 Visit (No Guide)
After breakfast in the hotel (6 -7AM), our bus will drive you to the F1 race circuit. You will enjoy your time there to enjoy and participate in all events beside the race. Overnight at hotel in Hanoi.
Meal: Breakfast
DAY 6 - 6 APRIL 2020: Hanoi - Halong Bay
Following an early breakfast, leave Hanoi and drive to Halong Bay, Vietnam's most popular UNESCO World Heritage site! The name 'Ha Long' means 'Bay of Descending Dragons' and owes its origins to a Vietnamese myth. The towering limestone karsts represent the dragon's back, surrounded by jade green water creating an unforgettable site. There are more than 1,600 limestone islands and islets with different shapes jutting out from the sea.
Arrive at the Halong Bay jetty around noon and proceed with check-in formalities before boarding a boat for an unforgettable overnight cruise on Halong Bay. After being welcomed onboard, a lunch of Vietnamese food is served while cruising towards the bay itself. In the afternoon, enjoy some visits and/or activities (depending on each boat's itinerary) or just spend some time relaxing on board. Towards the end of the day the boat sets anchor for the night among karst formations. Dinner is served on board. Overnight on board the boat in Halong Bay (private cabin on-board the join-in boat cruise).
Meal: Breakfast, Lunch & Dinner
Day 7 - 7 APRIL 2020: Halong Bay Cruise - Hanoi - Ho Chi Minh
Domestic airfare from Hanoi to Ho Chi Minh is not included.
Halong Bay to Hanoi (160 km):
Enjoy the fresh morning in the middle of the bay, the sun rises on Halong in the morning and breakfast is served (brunch on some boats) while the vessels cruise slowly through the magnificent rock formations and back towards port. Disembark and transfer back to Hanoi
Then you will be transferred directly to Noi Bai Airport for your domestic flight to Ho Chi Minh.
Upon arrival at Tan Son Nhat International Airport by our local guide then transfer to check in hotel. Overnight at hotel at Ho Chi Minh.
Meal: Breakfast, Lunch Or Brunch
Day 8: 8 APRIL 2020: Ho Chi Minh City Tour - Cu Chi Tunnels
Saigon – Cu Chu Tunnels (67km – 2 hours)
Morning you will enjoy the journey to of 75 km from Saigon to Cu Chi Tunnels - a complex of an incredible underground tunnel network constructed by Vietnamese resistance fighters (Viet Cong) during both the French and American wars. There are more than 200 km of tunnels, comprising a main axis system with many branches connecting to underground hideouts, shelters and other tunnels. You have the chance to crawl through this amazing system of tunnels. For a more "thrilling" experience, you can even test your shooting skills on original AK47s and other guns from past war times (subject to a surcharge).
Lunch will be served at local restaurant before journey back to Ho Chi Minh. Tour continues to to visit Independence Palace (Reunification Palace), War Remnants Museum (closed Mondays). Afterwards, stroll through the major sights of colonial Ho Chi Minh City: the Old Saigon Post Office, Notre Dame Cathedral inaugurated in 1880 became the spiritual and cultural crucible of the French presence in the Orient as was the Post office designed by Gustav Eiffel and resembling a grand railway station, Dong Khoi Street (formerly Rue Catinat), Continental Hotel, Opera House and Ho Chi Minh City People's Committee (formerly Hôtel de Ville) which is one of the most photographed buildings in Vietnam - notable for its gardens, ornate facade and elegant interior lit with crystal chandeliers. Overnight in Hochiminh.
Meal: Breakfast & Lunch
Day 9 - 9 APRIL 2020: Hochiminh - Private Trip to Mekong Delta River (Ben Tre)
Morning meet our local guide in the lobby of your hotel and drive to My Tho the heart of the Mekong delta, famous for its coconut production and quiet, peaceful waterways and the most beautiful landscapes, the pristine natural beauty that is Ben Tre Province. Known as "Coconut Island," many of its people still rely on tradition and centuries old methods of production. Our program focuses on the Giong Trom and Phong Nam districts, areas untouched by commercial tourism.
We showcase the amazing local people, the villages they call home and the peaceful Rivers they use as a part of their daily lives.

Upon arrival, take a Xe Loi ride through the local village of Huu Dinh to enjoy the green fields and gardens. Continue with a short walk to Huu Phuoc Bridge, where you will start your boat trip through small canals with beautiful tropical scenery. On board the boat, enjoy a welcome drink and tropical fruits while cruising.

The cruise will first stop at a Coconut processing family owned business. Here you will learn what Ben Tre is known for and the hundreds of uses of each single coconut. Return to your boat and cruise across the water to a brick making factory, where the locals still use centuries-old traditional methods to make the bricks by hand. Enjoy a casual cycling trip that will take you to visit a local rice noodle factory which produces Hu Tieu noodles, one of the most popular dishes in the region.
After your visit take a short walk to one of our friends, Mrs. Huong, who lives with her 3 children and grandson – they live on fishing, shrimp and fruit orchards. Enjoy fresh fruits and tea and then board a rowing sampan taking you through a lush narrow canal, displaying the tranquil nature of the region.
After our team rows you through the quiet canal, reconnect with your Day Cruiser and enjoy a cruise to a private riverside restaurant. It is time for you to relax and enjoy a 5-course lunch of local specialties. Relax and have a walk around the lush garden setting.
Then continue your cycling trip to My Long to visit Mr. Sau Tuong, a former Vietcong soldier who survived two years fighting the Khmer Rouge in Phnom Penh. Now he and his wife live on making rice paper which is the most famous specialty of My Long village. Have a chat with him and enjoy the crispy rice paper made by his wife, and see how it is made.
After the visit, the boat will be waiting for you at the pier nearby to bring you back to Ben Tre city where your car will be ready to take you back to Ho Chi Minh City
Overnight at hotel in Hochiminh.
Meal: Breakfast & Lunch
Day 10: 10 APRIL 2020: Hochiminh Departure
Free at your own leisure until transfer to Tan San Nhat International Airport for your international flight home. We hope you had an exciting holiday with us. Making it an affair to remember!
Offer Includes
Flights from London Heathrow with Korean Air
Airport taxes
10 nights accommodation as per itinerary
Cruise 1 Night on Non Private junk in Halong Bay
Transfer
All entrance fees and sightseeing As mentioned in the Program
Local English speaking guides as mentioned
Meal Plans