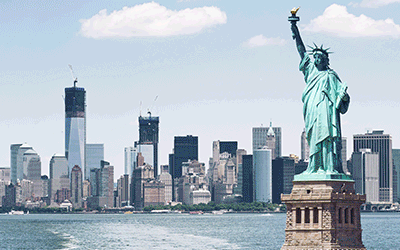 £2339
09 May 20
09 May 20
31 Dec 19

Highlights: New York - The Finger Lakes - Niagara Falls, Canada - Amish Country- Gettysburg - Washington, D.C. - Los Angeles - The O.C. - San Diego - Palm Springs - Phoenix/Scottsdale  - Sedona - Grand Canyon - Monument Valley - Page/Lake Powell - Kanab - Bryce Canyon - Zion - Las Vegas
Other Departures: Manchester - £2439, Birmingham - £2539, Leeds Bradford - £2539, Newcastle - £2539, Durham - £2539, Cardiff- £2539,  Bristol - £2539, Norwich - £2539, Edinburgh - £2539, Glasgow - £2539
 Tour Highlights:
- Morning sightseeing tour of iconic Manhattan including Times Square
- Travel the wine country of upstate New York and stop for Wine tasting in Watkins Glen
- Visit Niagara Falls and renown Floral Clock with Westminster Chimes
- Experience Gettysburg: the most famous battle site in the American Civil War
- Day sightseeing tour of San Diego
- Visit "Hollywood's desert retreat": Palm Springs
- Gaze at the majestic Grand Canyon
- Tour a Navajo Indian Reservation and stop at Monument Valley
- Explore Bryce Canyon National Park
- Leisure time in vibrant Las Vegas
- Photo stop at the landmark "Welcome to Las Vegas" sign
Experience More (Optionals)
- Take a cruise of the Hudson River and enjoy fabulous views of the Statue of Liberty
- Ride to the top of the Empire State Building
- Visit Niagara Falls and renown Floral Clock with Westminster Chimes
- Washington Night Tour with dinner in fashionable Georgetown
- Harbor Cruise of San Diego
- Flights over the magnificent Grand Canyon
- Jeep tour in Monument Valley
- Antelope Canyon excursion
- Boot stompin' dinner and fun at Ebenezer's Barn & Grill
- Las Vegas evening tour
Itinerary:
Day 1: New York Arrival
Arrive in New York City and transfer independently to your hotel where you will meet your ATI Tour Director.
Day 2: New York
This morning enjoy a city tour of New York which includes some of the most famous sights of Manhattan, such as the Empire State Building, Time Square and Central Park. The afternoon and evening are at leisure. Your ATI Tour Director will assist you in making plans. May we suggest a stroll through Central Park, a bird's eye view on a Manhattan helicopter tour (optional) or reenact history with a kiss in Times Square. Bring your camera!
Day 3: New York - The Finger Lakes - Niagara Falls, Canada
Today, drive across New York state through the Finger Lakes Country and cross the Canadian border arriving at one of the world's natural wonders, breathtaking Niagara Falls. Indulge in a spot of wine-tasting at Watkins Glen, on the shores of Lake Seneca, named for the Seneca Indian Nation. Spend the evening at the romantic Niagara Falls.
Day 4: Niagara Falls, Canada - Amish Country
This morning you will have time to explore the Falls. Perhaps stroll along Table Rock to view the thundering water of Horseshoe Falls or journey with Hornblower Cruises along the base of the falls followed by lunch at Skylon Towers (optional). Join us on an optional trip to Skylon Tower for lunch at its revolving restaurant. Skylon Tower, hovering 775 feet above Niagara gorge, features an observation deck that affords views of an 8,000 mile area, almost as far as the eye can see. Depart Niagara and travel into Pennsylvania Dutch country, also known as Amish Country, for your overnight stay.
Day 5: Amish Country- Gettysburg - Washington, D.C.
This morning travel through the Appalachian Mountains along the picturesque Susquehanna River, the longest river on the American East Coast. This afternoon, visit the historic Gettysburg Civil War National Battleground, site of the largest battle ever fought on American soil, and the place where Abraham Lincoln gave his famous address in 1863. Aftervvards, you will journey to the Nation's capital, Washington, D.C. Enjoy a memorable evening tour in this exciting city (optional).
Day 6: Washington, D.C. - Los Angeles
Today, transfer to the airport for your flight to Los Angeles, where you will be met on arrival and transferred to your hotel (airfare cost not included).
Day 7: Los Angeles - The O.C. - San Diego
Travel south through San Juan Capistrano and San Clemente to San Diego, the second-largest city in California, renowned for its year- round rnild weather. Following a city tour, visit picturesque Seaport Village, San Diego's relaxing bay front marketplace. Return to Los Angeles for the evening.
Day 8: Los Angeles - Palm Springs - Phoenix/Scottsdale
Today your journey takes you through Palm Springs, the winter playground for Hollywood royalty, with its lively downtown area and immaculately kept golf courses at the base of the rugged San Jacinto Mountains. A sea of wind turbines mark the entrance to this desert oasis. Along the way you will pass through Indio, home of the international Date Festival due to the abundance of this crop in the Coachella Valley. We continue across the desert through Arizona's State Capital, Phoenix, to Scottsdale.
Day 9: Phoenix/Scottsdale - Sedona - Grand Canyon
Travel through the Sonoran Desert, the richest, most biologically diverse desert ecosystem in the Americas. Continue to Sedona and see the spectacular red rock scenery. Situated in a unique geological area, Sedona is encircled by distinctive red-rock monoliths with such names as Cathedral and Coffee Pot. Drive through the breathtaking Oak Creek Canyon before arriving at Grand Canyon National Park. Majestic Grand Canyon National Park is one of the 7 great natural wonders of the world. Stop at the rim to fully experience this mile-deep colorful canyon's plunging gorges, and rising spires formed by the mighty Colorado River.
Day 10: Grand Canyon - Monument Valley - Page/Lake Powell
Leaving the Canyon, stop at Desert View this morning and see the Canyon bathed in the early light. As you journey further today, you will enter the Navajo Indian Reservation, passing the trading post of Cameron. Continue through the Painted Desert toward Monument Valley, an area that embodies perhaps the most definitive and iconic images of the American West. In the afternoon, enter the town of Page, situated on a rnesa above the Colorado River, in the Lake Powell Region. Enjoy an evening at leisure.
Day 11: Page/Lake Powell - Kanab - Bryce Canyon
Visit the mighty Glen Canyon Dam, the second highest concrete-arch dam in America. From here you'll enjoy views of stunning Lake Powell, where crystal blue water laps against towering red-rock canyon walls. Later today enter the state of Utah. Pass through the town of Kanab before visiting spectacular Bryce Canyon, where a tour through a multi-colored world of sandstone spires and pinnacles, "hoodoos", will dazzle the eye. This evening, weather permitting, be sure to gaze upon the spectacular night sky filled with sparkling stars and brilliant constellations.
Day 12: Bryce Canyon - Zion - Las Vegas
Travel today to Zion National Park and see the massive rock formations carved by wind, time, and the Virgin River. This afternoon experience the contrast of Las Vegas, the dazzling "Entertainment Capital of the World," where round-the-clock shopping, nightly shows, and of course gambling are at your fingertips.
Day 13: Las Vegas
Today is at leisure for you to enjoy the many attractions that Las Vegas has to offer. In addition to world-class shopping, bustling casinos, and Broadway-caliber shows, you might simply stroll the famous Strip taking in its amazing sights and sounds, or lie by the pool at your hotel, soaking up the sun. Make sure to bring your appetite, as Las Vegas boasts some of the country's top restaurants.
Day 14: Las Vegas - Los Angeles
Bid farewell to the glitz and glamor of Las Vegas and begin your journey back to Los Angeles. Your tour concludes upon arrival in Los Angeles.
Offer Includes
Flights from London Heathrow with British Airways
Airport taxes
13 nights accommodation as per itinerary
Excursions & Activities as per Itinerary
Meal Plans