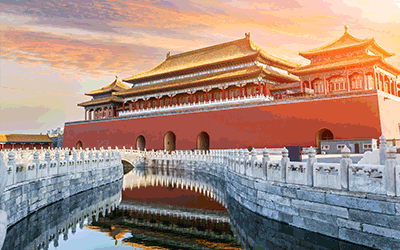 £2049
01 Jun 20
30 Jun 20
31 Mar 20

Highlights: Beijing - Great Wall - Xian - Chengdu - Yangshuo - Hong Kong
Other departures: Manchester - £2155, Birmingham - £2145, Edinburgh- £2149, Cardiff - £2105, Belfast City - £2199, Newcastle - £2175
Itinerary:
Day 1: Beijing
Nimen Hao! Welcome to China. The capital of the most populous country on earth, Beijing is a place where ancient history and the modern world collide. Your adventure begins with a welcome meeting at 6 pm today. Please look for a note in the hotel lobby or ask reception where it will take place. It's important that you attend, as we will be collecting insurance details and next of kin information for each member of your family. If you're going to be late, please let your travel agent or hotel reception know. After the formalities are out of the way, why not head out to enjoy an optional Peking duck group dinner and get to know each other over the first of many superb Chinese meals.
Accommodation: Dongfang Hotel or similar (1 night)
Meal: Dinner
Day 2: Great Wall
Load up on breakfast then hit the road for the three-hour drive towards the Great Wall by private minivan. Spend some time exploring, taking photos and learning the history of this mighty site (and sight). An incredible piece of engineering, the wall stretches 6000 kilometres west from the mountain ridges north of Beijing. Though it failed in its purpose to protect Chinese empires from the northern nomadic tribes, it is still one of the country's most remarkable achievements and an iconic destination. You'll often feel like you have the whole wall to yourself as you explore, and being perched on this incredible monument while surveying the surrounding countryside is an unforgettable experience. Spend the night with a local family in their guesthouse, a great chance to sample local produce and delicious home cooking. While the accommodation is basic compared to the other hotels used during this trip, each room is equipped with private facilities and wi-fi is available. We believe the warm hospitality of your hosts and opportunity to experience a slice of life in the Chinese countryside is worth the sacrifice of a little luxury.
Accommodation: Great Wall Inn Gubeikou or similar (1 night)
Included Activities: Great Wall - Jinshanling section
Meals Included: Breakfast, Lunch, & Dinner
Special Information: In winter months (November to February) accommodation may be in an alternate guesthouse from warmer months, with better heating.
Day 3: Beijing
Eat breakfast and farewell your hosts before making the three-hour drive back to Beijing by private minivan. Get stuck into the sights with a visit to Tiananmen Square, the largest of its kind in the world and the symbolic centre of Chinese power. Take some time to soak up the immense size of the square and then continue to the maze of buildings that is the Forbidden City. Built more than 500 years ago and off limits to commoners for almost all that time, the courtyards, great halls and dragon and phoenix imagery give an idea of the might and grandeur of the Imperial Chinese court during the height of its power. This evening, choose whether you would like to join your fellow family travellers for a group dinner. Hungry for more of China's cultural delights? You may also choose to watch an optional acrobatic performance at the Chaoyang Theatre this evening.
Accommodation: Dongfang Hotel or similar (1 night)
Included Activities: Beijing - Tian'anmen Square & Forbidden City
Optional Activities:
- Beijing - Lama Temple - CNY25
- Beijing - Beijing by Bike Urban Adventure - CNY530
Meals Included: Breakfast
Day 4: Xian
Jump on the bullet train to Xi'an and experience a form of rail travel like no other. While the distance would take around 11 hours to complete on a regular train, you'll be in Xi'an in just over five hours, with great views of the countryside along the way! Arrive at around 3 pm and head to the hotel to drop off your bags and freshen up before exploring this historic city on a walking tour. Once known as the main eastern terminus of the ancient Silk Road, Xi'an served as the imperial capital of 11 dynasties and holds a wealth of history within its cobbled pavements. The city itself has spread beyond these walls, but the centre still retains the original grid formation, making it easy to navigate. Following your tour, the remainder of the afternoon is free to further explore. When night falls embark on another tour and see a different side of the city. Take in the view of the Bell and Drum Tower lit up against a black sky and sit down to a classic dumpling dinner.
Accommodation: Skytel Hotel Xian or similar (1 night)
Included Activities: Xi'an - Muslim Quarter walking tour
Optional Activities:
- Xi'an - Big Wild Goose Pagoda - CNY80
- Xi'an - Great Mosque - CNY25
- Xi'an - Small Wild Goose Pagoda - CNY50
- Xi'an - Bell & Drum Towers - CNY50
Meals Included: Breakfast & Dinner
Day 5: Xian
Today you'll visit the vast, stone-faced army that is the Terracotta Warriors, a militia built to guard the tomb of Emperor Qin Shi Huang over 2000 years ago. Discovered by farmers in 1974, several pits are now open to the public. Make the 1.5-hour drive to the site and spend some time marvelling at the sheer size and detail of this impressive tomb. Head to the attached museum to see some more artefacts and learn a little more about the ambitious, eccentric ruler who remains sealed in his mausoleum surrounded by his soldiers to this day. Qin Shi Huang sought eternal life, and while he may not have achieved it in the literal sense, the fact that his creation remains a source of wonder to visitors from around the world is a kind of immortality.
Accommodation: Skytel Hotel Xian or similar (1 night)
Included Activities: Xi'an - Terracotta Warriors
Meals Included: Breakfast
Day 6: Chengdu
Wave goodbye to Xi'an and board a bullet train bound for Chengdu, the capital of Sichuan. Spend about 3.5 hours on the journey, arriving just after midday. Chengdu is most famous for two things – the pandas living in the mountains, and the delicious, spicy food. You'll get to enjoy both while you're here! Spend two-hours on a walking tour with your leader that takes in an Old Town that looks like a film set and the orange Tibetan Quarter, finishing at Tianfu Square, where a giant statue of Chairman Mao stands tall. Then spend a relaxing afternoon in bustling Renmin Park (People's Park), where you can mingle with locals drinking tea, exercising, singing, playing Mahjong or relaxing in bamboo chairs. Don't be surprised if somebody comes up to you with an offer to clean your ears! This evening, head out for a dinner of one of Sichuan's most beloved dishes – the hot pot! This is the choose your own adventure of cuisine, and the whole family is sure to enjoy selecting which ingredients to add to the simmering broth.
Accommodation: Garden City Hotel or similar (1 night)
Included Activities: Chengdu - Walking tour
Meals Included: Breakfast & Dinner
Day 7: Chengdu
Embrace an early start to spend the morning watching gorgeous giant and red pandas in the Giant Panda Breeding Research Base. As pandas are only active for a few hours of the day, it's important you rise and shine to catch them at their most interesting. China's national pride, the giant panda is among the world's most threatened animals, but here you can witness the conservation efforts and see these majestic creatures in a close approximation of their habitat. Spend three hours with these wonderful creatures, watching them play, eat bamboo and climb the trees. If you're lucky (and visiting between July and September), you might even get to see newborns taking their first steps in the nursery. The rest of the day is free for you to spend as you wish. Maybe head to Wide and Narrow Alley, a popular set of alleyways where you can take a stroll and see craftspeople and food stalls aplenty.
Accommodation: Garden City Hotel or similar (1 night)
Included Activities: Chengdu - Giant Panda Breeding Research Base
Meals Included: Breakfast
Day 8: Yangshuo
Make sure you've got books or games ready for a half-day of travel, beginning with a two-hour flight to Guilin, followed by a two-hour transfer to Yangshuo. Located deep within the karst peaks of Guangxi province, Yangshuo is a haven for many visitors, away from the hustle and bustle of everdeveloping China; a place where you can stop slow your pace and relax. Get settled into the hotel, which is located among stunning countryside, then pay a visit to the local farmers' market, where you can get a feel for the regional produce and daily life. Make a short drive to Chaolong, a small village where you can put your new knowledge to use and try your hand at cooking Chinese cuisine. This class will allow the whole family to learn the techniques and skills of Chinese cuisine from experienced chefs, and after an afternoon trying out delicious recipes you can eat what you've made for dinner! The recipes selected are relatively simple to replicate, and feature ingredients readily available outside of China, so you'll soon be wowing friends and family back home with your skills.
Accommodation: Snow Lion Riverside Resort or similar (1 night)
Included Activities:
- Yangshuo - Cooking School & Market Tour
- Yangshuo - Tai Chi/Kung Fu class
Meals Included: Breakfast & Dinner
Day 9: Yangshuo
Rise and shine for a journey into one of China's most enchanting landscapes. At 8 am you'll strap on your provided helmet and jump on a hired bike to pedal out of town and through the surrounding countryside, past emerald-green karst mountains and lush fields. All equipment is provided for the bike ride: all bikes, helmets for both adults and children. The bike ride is from 8am to lunchtime. On the bike ride you will be accompanied with one or two local guides. You will be transferred back to the hotel after lunch to rest your weary legs! NOTE: for those not wishing to ride: your leader can assist you to hire a van or taxi to take you along the route to view the rural setting meeting the group at the lunch stop. This will be at your own expense.
Accommodation: Snow Lion Riverside Resort or similar (1 night)
Included Activities:
- Yangshuo - Bike Rental with Local Guide
Meals Included: Breakfast & Lunch
Day 10: Hong Kong
Depart from the hotel at 8 am, boarding a bullet train and arriving in Hong Kong at around 6 pm. As there is a full day of travel in store today, it's important to have books, games and devices at the ready. Even though there are power sockets on the train, it's also a good idea to have any devices you wish to use fully charged, as they may be in use by other passengers. If you have the time (and more importantly, the energy) after arriving and settling in to your hotel, you may wish to end the day with the Symphony of Lights, a spectacular laser show that plays out on the futuristic buildings along Victoria Harbour. The show starts at 8 pm, and it's free to watch. If a day in transit has you feeling drained however, rest easy knowing you've got a full day tomorrow to explore the city.
Accommodation: Metropark Hotel Kowloon or similar (1 night)
Meals Included: Breakfast
Day 11: Hong Kong
Dive into Hong Kong after breakfast this morning on a leader-led orientation walk. Under Chinese rule since 1997, Hong Kong is a vibrant and fast paced city only minutes away from quiet islands and beaches. The entire day is yours to spend as you see fit. Hong Kong Island is a great area to explore on foot, with plenty of family friendly hiking trails on offer with varying levels of difficulty. The Peak offers stunning views over the city, and can be reached by several trails or alternatively by tram. Ask your leader for details, but make sure you pack snacks and water if you plan to hike – there are no replenishing stations along the way. A more relaxing way to spend an hour is the Stay Ferry Harbour Tour, which takes you past the city's landmarks and around the stunning harbour. The Hong Kong Science Museum is perfect for families with young kids, particularly if you're visiting in rainy season (April to June) and don't want to risk being caught out. Many of the exhibits are interactive, and entry prices are reasonable. This evening, maybe head out for a final meal with your fellow families and toast to a trip well spent.
Accommodation: Metropark Hotel Kowloon or similar (1 night)
Included Activities: Hong Kong - Orientation Walk
Optional Activities
- Hong Kong - Science Museum - HKD25
- Hong Kong - Star Ferry Daytime Ticket - HKD100
- Hong Kong - Peak Tram Return Ticket and Victoria Peak - HKD90
Meals Included: Breakfast
Day 12: Hong Kong
It's time to end this enlightening journey into the heart of China – there are no activities planned for the final day and you can depart the accommodation at any time following check out.
Meals Included: Breakfast
Offer Includes
Flights from London Heathrow with Etihad Airways
Airport taxes
12 nights accommodation as per the Itinerary
Tours, excursions & activities as per Itinerary
Meal Plans