Suyogam Yoga - Shanti Maurice Resort & Spa
Suyogam Yoga - Shanti Maurice Resort & Spa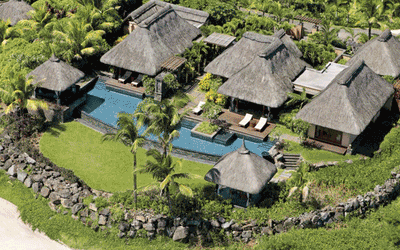 £2749
15 May 19
11 Jul 19
11 Feb 19

Bonus offers: 35% Discount & Daily Yoga Sessions
Other Departures: Manchester - £2599, Birmingham - £2599, Glasgow - £2619, George Best Belfast City - £2669, Bristol - £2679, Newcastle - £2619, Cardiff - £2675
Nestling between sugarcane fields and the turquoise waters of the Indian Ocean, Shanti Maurice – a Mauritius resort – satisfies all the senses. With exotic gardens, pristine white sands, a sublime spa, spacious accommodation and restaurants brimming with fresh ideas, you'll find a place, and people, devoted to pleasure.
Relieve modern day concerns, be-it stress, mild depression or muscle stiffness caused by a sedentary lifestyle. A yoga-centric program, comprising a combination of specially chosen Asanas, Yogic cleansing procedures and signature treatments, will sharpen concentration, improve health and assist in attaining peace-of-mind.
The word 'Yoga' means a union; Suyogam therefore means a perfect union! This package, or rather a regime, is designed with select practices of Yogic science, to create a prefect harmonising system for the body, mind and spirit.
Hotel Facilities:
Bar/lounge, Beach sun loungers, Restaurants – 3, Private beach, Poolside bar, Outdoor pools - 3, Health club
Recreational Facilities:
Spa tubs – 2, Spa treatment room, Sauna, Steam room, Shopping on site, Golf course on site, Hair salon, Full-service spa, Library, Tennis on site
General Facilities:
Babysitting or childcare, Dry cleaning/laundry service, Free WiFi
Treatments for the 7 night stay:
1. Talk to the Guru - 15 min/session - 3 sessions
2. Jal Neti - 30 min/session - 1 session
3. Laghoo Shankha Prakshalana - 60 min/session 1 session
4. Aqua Yoga - 45 min/session - 1 session
5. Sun Rise Yoga - 45 min/session - 2 sessions
6. Beach Yoga - 45 min/session - 2 sessions
7. Yoga Bike - 45 min/session - 2 sessions
8. Yoga Nidra - 30 min/session - 4 sessions
9. Pranayama - 30 min/session - 3 sessions
10. Abhyanga - Ayurveda massage - 60 min/session - 1 session
11. Choornaswedena - Ayurveda massage - 60 min/session - 1 session
12. Indian Foot and Leg massage - 60 - 1 session
Offer Includes
Flights from London with Emirates
Airport taxes
7 nights accommodation in a Junior Ocean View Suite
Return transfers by a private car
Suyogam Yoga Sessions
Meal Plans