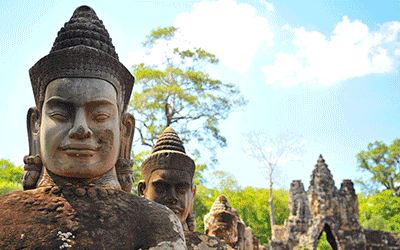 £1715
20 Aug 18
30 Sep 18
30 Jun 18

Highlights: Siem Reap - Luang Prabang - Hanoi - Ha Long - Hue - Hoi An - Saigon
Other departures: Manchester - £1825, Birmingham - £1795, Glasgow - £1875, Edinburgh - £1645, Newcastle - £1835
Hotels:
Siem Reap - Mother Home Boutique 3.5* (Deluxe Room)
Luang Prabang - The Sanctuary Hotel 3* (Superior Room)
Hanoi - Super Hotel Hanoi Old Quarter 3* (Superior Room)
Ha Long - Aclass Cruise / Legend (Deluxe)
Hue - Midtown Hotel 4* (Deluxe City View Room)
Hoi An - Hoi An Rivergreen Boutique Hotel 3.5* (Run of the House Room)
Saigon - Sonnet Saigon Hotel 3* (Deluxe Room)
Itinerary:
Day 1: Siem Reap Arrival
- Arrive at Siem Reap airport and you will be welcomed by tour guide then transfer to your hotel.
- Rest of the day free at leisure
- Overnight in Siem Reap.
Day 2: Siem Reap (B)
Today in Siem Reap, Begin the day with a visit to one of the jewels of Cambodia - the awe-inspiring Angkor Thom or 'Great City' the fortified city of Angkor Thom covers an area of 10 square km. Enclosed by a wall and wide moats, the city includes many of Angkor's most popular sights. Enter by the monumental SOUTH GATE over a causeway lined on either side by statues of demons and gods, each carrying a giant naga. Continue to the Terrace of the Elephants and the Terrace of the Leper Kings, former spaces for public ceremonies, both adorned with dramatic bas reliefs. Visit the ruined Baphuon, Royal Enclosure and Phimeanakas before continuing to the mysterious Bayon Temple. In this temple, one of the most popular and compelling in Angkor, explore the galleries of beautifully preserved bas reliefs and ascend narrow stairs to reach the central sanctuary, where you will find giant stone faces smiling enigmatically down at you from every angle. 
Afterwardvisit Ta Prohm temple is one of the most popular attractions of Angkor as much of the jungle has not been cleared and it looks very much as most of the Angkor monuments would have appeared when European explorers first stumbled across them.
In the afternoon you finally explore the highlight of your trip – Angkor Wat. Angkor Wat today is the largest sacred edifice on earth and of high importance for the Khmer itself. Constructed in 12th century by King Suyavarman II, Angkor Wat is dedicated to the Hindu God Vishnu. Surrounded by a giant moat, the temple itself can be reached via a beautiful naga balustrade only. Hundreds of ornaments and reliefs cover the walls of this huge and ancient construction. Enjoy sunset view over the wonderful temple Angkor Wat.
Overnight in Siem Reap.
Day 3: Siem Reap (B)
Today we take an excursion BanteaySrei and BanteaySamre. BanteaySrei is known as "Women Temple" The special charm of this temple lays in its remarkable state of preservation, small size and excellence of decoration with a special feature of the exquisite decoration was the use of a hard pink sandstone. BanteaySamre is one of the most complete complexes at Angkor due to restoration using the method of anastylosis.
In the afternoon afterwards continue to visit other temples of Jayavarman VII: Preah Khan, NeakPean and BanteayKdei.
Preah Khan temple,which was built on the site of Jayavarman VII's victory over the invading Chams in 1191. This complex, which means "the sacred sword," was a Buddhist university, a temple, a kind of monastery, and a city with a whole population divided according to their functions. It was built by Jayavarman VII and dedicated to his father. Built by Jayavarman VII before the end of the 12th century, this monument - NeakPean or the entwined nags - is an artificial island, measuring 350 meters on each side, built in the middle of a reservoir which is also manmade. The modern name, NeakPean, comes from the motif of serpents encircling the base of the central sanctuary. We will then visit Ta Som, an undestroyed temple, built at the end of the 12th century. It is dedicated to the father of the king (Buddhist), and is a replica to the Bayon style of art. And BanteayKdei temple it is the citadel of the cells. In the ruin and confusion of BanteayKdei the carvings take one's interest. The 13th century vandalism of Buddha images that is seen on many Jayavarman VII temples is quite apparent on BanteayKdei.
Overnight in Siem Reap.
Day 4: Siem Reap – Luang Prabang (B)
Transfer to airport to takedeparture flight to reachnext destination.
For international flight you must at airport two hours earlier before your departure time.
Arrival in Luang Prabang, UNESCO World Heritage site. This beautiful city was the royal capital and seat of government for the Kingdom of Laos until the revolution of 1975. The main part of the city consists of four main roads crisscrossing a peninsula between the Nam Khan and Mekong rivers.
Overnight in Luang Prabang.

Day 5: Luang Prabang – city tour by bicycle (B/L)
After breakfast, we'll take bicycle ride to visit the Wat Xieng Thong. This 15th century wat is the most important in Luang Prabang and one of the most important in the entire country. Until the revolution of 1975, Wat Xieng Thong was a royal temple, supported by the royal family. During the 1960s, Wat Xieng Thong was completely remodeled and redecorated, becoming the splendid temple we see today.
Cycling along street you can admire the beautiful architectural style of Luang Pranbang.
The next stop will be at Big Brother Mouse, were you will be welcome to participate at an English Practice Class start at 9:00am, were young student are eager to learn English.
We'll then keep on walking to visiting Wat Xieng Mouan and passing by Huan Chan House where you can see some local handicraft.
For lunch you guide will bring you to a local place to try one of Lao specialty in to noodle shop, make you choice between a Krao Soy / Krao Piak or a Pho.
After lunch we'll visit the Traditional Arts and Ethnology Centre home to a rotating display of informative and engaging exhibitions, offering a rare and fascinating insight into the diversity and richness of Laos' ethnic cultures. Our exhibits feature objects from our museum collection, such as traditional handmade clothing and textiles, jewelry, handicraft and household tools, reconstructions of domestic scenes, as well as ritual and religious artefacts. A distinctive characteristic of TAEC's exhibits are its linkages to local ethnic communities – displays feature quotes, photos and videos from our living resource persons. Escort by a guide from the Museum
Back on tracks we will cycle to visit UXO visitor center where you will get in to the history of the Indochina War. Keep on going we'll arrive at Wat Phon Phaow with a scenic view, on our way back to town we'll pass the "Old Bridge" nice place for photo shout. Now we'll climb Phu Si Mountain to enjoy the view overlooking the city and take in the amazing view the Nam Kan River joining the Mekong. From here we can see the magic Mekong and the tributaries of the Nam Khan River.
- We'll end our day by a visit of the night market.
- Overnight in Luang Prabang.
Day 6: Luang Prabang – Trekking to Kuang Si waterfalls (B/L)
Starting from Luang Prabang we drive out into the close by valley south east of Luang Prabang. Arriving at the Long Lao village we start our hiking tour. We start this tour with exploring the life and culture of the village where Khamu and Hmong people live.
The trail leads than passing some fields and vegetable gardens before reaching the forested mountains with quite wild sceneries and steeper climbs. After a stretch of forest hiking (slippery in wet season) we will explore an interesting cave. During the Second Indochina War people say it helped the local people as a bomb shelter!
The early afternoon we then arrive at the crystal clear water of just one of the springs that feed the famous Kuang Si waterfall. The last short walk brings us down the steep waterfall where we have time for a relaxing swim.
In the Kuang Si waterfall sanctuary you can see bears living in their project area. An NGO helps to set up proper care and areas to keep the animals.
In the afternoon we return to Luang Prabang
Approximately 4 hours of trekking.
Overnight in Luang Prabang.
Day 7: Luang Prabang – Hanoi (B)
Transfer to the airport for your flight to Hanoi
Upon arrival in Hanoi, transfer to your hotel. Overnight in Hanoi
Day 8: Hanoi (B/L)
Half day city tour in Hanoi.
With a millennium-long history, Hanoi is a city of lakes, shaded boulevards and public parks dotted with French-style buildings and historical monuments. During the half-day city tour, you'll see cultural and historical highlights, comprising Ba Dinh Square, Ho Chi Minh's former residence, Presidential Palace (for outside photo taken), One-pillar Pagoda, Temple of Literature, Hoan Kiem Lake, and Ngoc Son Temple. The tour gives you time for shopping and socializing with local people
Lunch at local restaurant
Overnight in Hanoi.
Day 9: Hanoi – Halong Bay (B/L/D)
After your breakfast, depart to Ha Long bay. Ha Long Bay is one of the most magnificent scenic spots in all of Vietnam and was recognized as a world natural heritage site by UNESCO in 1994. Halong is a picturesque bay with almost 2,000 islets rising from the clear emerald waters of the Gulf of Tonkin. Check in on board and cruise in the tranquility of Halong Bay and visit limestone caves with colorful stalagmites and stalactites, an unforgettable experience. Enjoy a lunch of fresh seafood, served on board.
Dinner and overnight on board.
Day 10: Halong Bay – Hanoi – Hue (Brunch)
Enjoy the peaceful atmosphere at sunrise and the view over the bay. As you leisurely cruise between the limestone formations and the junk slowly slides towards Halong city served aboard a tasty lunch or brunch. Disembark and transfer to the airport for the flight to Hue.
Arrival in Hue, meet and greet by our guide and transfer to hotel in Hue.
Dinner at hotel.
Overnight in Hue.
Day 11: Hue – Hoi An (B/L)
Boat trip to visit Thien Mu pagoda
You will board a traditional "Dragon Boat" for a 40 minutes ride on the Perfume River to the Thien Mu Pagoda, which overlooks the river. The Thien Mu Pagoda or the Heavenly Lady pagoda has two sections. The front of the Pagoda houses the seven-storey octagonal Phuoc Duyen tower, with its has become the symbol of Hue. The other section of the pagoda is its rear portion, where the monks of the temple live and practice Buddhism. The Pagoda was the center of Buddhism in central Vietnam. In 1963, in an act of defiance against the Diem regime, Thich Quang Duc torched himself in downtown Saigon. Today, pagoda visitors can see the car that took him to Saigon kept in the rear of Thien Mu Pagoda.
Visit the Imperial PalaceIt was completed in 1833 and from here the emperors of the Nguyen Dynasty ruled Vietnam till 1945. Entering the citadel via a stone bridge you can see the Thai Hoa Palace, an important venue for official receptions and other important court ceremonies. The ostentatious columns supporting the roof are lacquered and inlaid with gold. There is a pair of smaller halls behind the Thai Hoa Palace used by mandarins to prepare for court ceremonies.
Cyclo tour in Citadel
This one-hour pedicab ride gives you a chance to assess the size of the citadel and to watch the daily life of people living in its boundaries.
Transfer from Hue to Hoi An via Hai Van pass. Lunch at local restaurant on the way. Overnight in Hoi An.
Day 12: Hoi An (B/L)
We start the walking tour at the Museum of Folk Culture where you will learn about the history of this charming and peaceful town before you walk around the small market. Walk along the main street to the Chinese Assembly Hall of Fujien Chinese community. The hall, built in 1697, has been used as the worshipping place to dedicate to Thien Hau (the Goddess of the Sea or Holy Mother). Continue to the river bank along narrow streets - on both sides are old houses transformed into beautifully decorated shops with colorful lanterns in different shapes. Next we'll stop to see the Japanese covered bridge built in the early 17th century by Japanese traders who settled in the town. The special pagoda-shaped bridge is now the official symbol of Hoi An. We finish with a visit to a historic old house of this UNESCO-recognized town.
Lunch at local restaurant.
Overnight in Hoi An.
Day 13: Hoi An – Danang – Saigon (B/L)
Transfer with guide to Danang airport for your flight to Saigon. Upon arrival in Saigon, transfer out the airport to visit Cu Chi Tunnels.
Excursion to the Cu Chi Tunnels
Cu Chi used to be a bitter battleground for many years during the Vietnam War. Visitors cannot miss a visit to this 'underground village ', an intricate network of over 200km-long tunnels, 75km from Ho Chi Minh City. Try a very short segment of this labyrinth of interlaced tunnels and you will find it incredible. Then you can test your marksmanship with an AK rifle at local rifle range (optional).
Overnight in Saigon.

Day 14: Saigon (B/L)
Excursion to My Tho - Ben Tre with boat trip and horse-cart
Enjoy a full day excursion to My Tho, a peaceful town on the bank of Mekong River. On arrival at My Tho visit Vinh Trang Pagoda. Then, cruise a boat trip along Mekong River and around fishing village and 4 islands of Dragon, Unicorn, Turtle and Phoenix for sight-seeing. Cross Mekong River, proceed boat trip along a small canal, to see daily life of local inhabitants in Ben Tre province (called coconut village), visit a tourist spot for bee farm and handicraft workshop to enjoy some honey-tea and see how people make thing from coconut wood. Next on activities, take horse-carts along country road to visit fruit orchards, enjoy seasonal tropical fruits and listen to traditional music by local inhabitants. Then, take small sampans along small canal, to come back the big boat. Leave boat for coconut candy workshop and taste this speciality in coconut village. Return Ho Chi Minh City in the late afternoon.
Overnight in Saigon.
Day 15: Saigon - Departure (B)
Transfer to the airport for your departure flight.
Offer Includes
Flights from London with Malaysia Airlines
Airport taxes
14 nights accommodation as per itinerary
Transportation in private air-conditioned vehicle
Local English speaking guides
Sightseeing as per itinerary
Admission fees to indicated sights as per itinerary
Meal Plans