Tour of Golden Triangle in Ultimate Luxury with extension to City of Lakes and Bollywood
Tour of Golden Triangle in Ultimate Luxury with extension to City of Lakes and Bollywood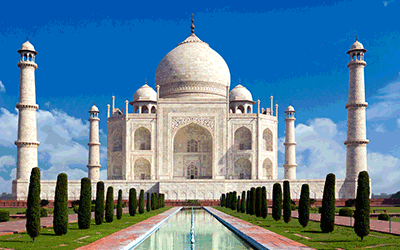 £5969
16 Jan 18
09 Apr 18
15 Mar 18

Highlights: Delhi - Agra - Jaipur - Udaipur - Mumbai
Hotels:
Delhi - The Oberoi
Agra - The Oberoi Amarvilas
Jaipur - The Oberoi Rajvilas
Udaipur - The Oberoi Udaivilas
Mumbai – Oberoi Trident Towers
Itinerary:
Day 1: Delhi
08:50 hrs: Arrive Delhi.
Upon arrival at the airport, you will be met and transferred to your Hotel - The Oberoi, New Delhi is an iconic luxury 5 star hotel in New Delhi.
The interiors of the hotel have been designed in a contemporary interpretation of Sir Edwin Lutyens New Delhi architecture. The hotel is equipped with new, clean air technology which promises its guests the cleanest air in the city which will be on par with global standards.
The hotel has 218 rooms and suites. All rooms and suites feature large picture windows which frame unmatched views of the Delhi Golf Course on one side and the historical Humayun's Tomb on the other. All rooms will have teakwood floors, walk-in closets, luxury Italian marble bathrooms, complimentary high speed Internet for up to four devices, international television news channels and a selection of latest movies. A butler service and in room dining will be available 24 hours a day.
Rest of the day at leisure and Overnight stay at hotel
Accommodation: The Oberoi
Day 2: Delhi
Full day sightseeing tour of Delhi. You will get a feel for this city as you explore its historic sights. Raj Ghat which is located on the banks of the river Yamuna, This is Mahatma Gandhi's Memorial, where he was cremated following his assassination in January 1948. Opposite the Red Fort lies Jama Masjid made of red sandstone and white marble, completed in 1656. It is India's largest mosque. Explore the bustling cultural delight of the colourful market on the 'cycle rickshaw' for a unique experience from the Red Fort, through "Chandni Chowk" or Silver Street, experiencing the sights and sounds of this very busy avenue-heading west from the Fort. You will take a view of Red Fort – the 17th century imposing fortress built in red sandstone is surrounded by a huge boundary wall 33m high. Inside are exquisite palaces and beautiful gardens.
Afternoon you will head into New Delhi, visiting Humayun's Tomb, an impressive garden tomb with high arches and a double dome, built by his wife Haji Begum in the 16th Century. An early example of Mughal architecture considered the predecessor of the Taj Mahal. Then continue on to the wonderful Qutab Minar - the landmark of Delhi, the beautiful grounds feature the well preserve a huge tower of victory standing over 72 meters. You will drive on to Rajpath and through to India Gate and the Lutyens Delhi with its tree lined boulevards leading to the British Viceroy's Palace (Rashtrapati Bhavan) now the official residence of the President of India, the Secretariat, India Gate and Parliament House.
Accommodation: The Oberoi
Day 3: Delhi to Agra by surface, 210 Kms/ 4 Hrs
Drive to Agra.
Upon arrival at Agra, check in at your Hotel. The Oberoi Amarvilas, Agra enjoys an unrivalled position amongst luxury hotels in Agra, being located just 600 metres from the iconic Taj Mahal. Each of our rooms affords uninterrupted views of this ancient monument to love, while elements of the layout and design pay homage to its Mughal splendour.
Our hotel is approached along a sweeping driveway, verdant with native trees and lit by flaming torches. Just inside, a Mughal style quadrant is ornamented with cascading fountains and framed by an arched passageway and gold leaf frescoes.
Rest of the day at leisure
Accommodation: The Oberoi Amarvilas
Day 4: Agra
After breakfast enjoy visiting the world famous Taj Mahal (closed on Friday) The Mughal Emperor Shah Jahan in memory of his favourite wife, Mumtaz Mahal, who died in 1631, built one of the world's most famous buildings, the 'Taj Mahal'. Its perfect proportions and exquisite craftsmanship have been described as 'a vision, a dream, a poem, and a wonder'. visit the 16th century Agra fort. This commanding red sandstone monument stretches 2.5 kilometres along the banks of River Yamuna, encompasses serene gardens and terrace pavilions, with striking views providing glimpse of the magnificent Taj Mahal across the river. and Tomb of Itmad-ud- Daulah also called as Baby Taj.
Accommodation: The Oberoi Amarvilas
Day 5: Agra to Jaipur by surface, 265 kms, 6 ½ Hrs
Drive to Jaipur, en route visit Fatehpur Sikri - the imperial ruins of the dream capital city of the Great Mughal Emperor - Akbar.
you will continue drive to Jaipur, the famed 'Pink City' and the capital of Rajasthan known for its palaces, three hill forts and a shopper's paradise.
Upon arrival at Jaipur, check in at Hotel - The Oberoi Rajvilas is unique amongst hotels in Jaipur; a royal resort set in a breathtaking thirty two acre oasis of beautiful landscaped gardens, filled with beautiful trees and exotic birdlife. Built around an 18th century Shiva temple where guests can experience chanting with a Hindu priest, meditation and morning yoga, The Oberoi Rajvilas, Jaipur is a haven of mystical peace and natural serenity.
Throughout our luxury resort in Jaipur, traditional techniques have been used to replicate the famous pink lime plaster walls of the historic city. Also adorned with Mughal arches, gold leaf frescoes, high domed ceilings and magnificent crystal chandeliers, The Oberoi Rajvilas, Jaipur epitomises traditional Rajasthani charm and Oberoi five star luxury.
Evening at leisure to explore colourful bazaar
Overnight stay at hotel
Accommodation: The Oberoi Rajvilas
Day 6: Jaipur
Morning excursion to Amber - capital of the old state of Dhundhar, located on the rugged hills that surround Jaipur. Ride the colourfully painted elephants up the hill, admire the massive gateways, courts, stairways, pillared pavilions and palaces that recall the glory and wealth of Amber's association with the Mughals. During the afternoon visit the City Palace (still houses the erstwhile Royal family); Jantar Mantar - the Royal Observatory and Hawa Mahal (Palace of Winds) - built for the royal ladies to watch the activities on the market street below without being observed themselves.
Overnight stay at hotel
Accommodation: The Oberoi Rajvilas
Day 7: Jaipur to Delhi by surface, 258 kms / 6 Hrs
After breakfast drive to Delhi
Upon arrival at Delhi, check in at hotel
Overnight stay at hotel
Accommodation: The Oberoi
Day 8: Delhi to London Heathrow
Transfer from hotel to Delhi airport in time to board flight for London Heathrow
Extended stay to City of Lakes and Bollywood
Day 8: Delhi to Udaipur
Transfer from Hotel to Delhi airport in time to board flight for Udaipur
12:25 Hrs: Arrive Udaipur airport
Upon arrival at Udaipur airport welcome, meet and assist by our representative and transfer to Hotel The Oberoi Udaipur - Located on the bank of Lake Pichola, The Oberoi Udaivilas is unique amongst luxury hotels in Udaipur. It stands on the 200 year old hunting grounds of the Maharana of Mewar and is spread over fifty acres, which includes a twenty-acre wildlife sanctuary with deer and wild boar. The Oberoi Udaivilas, Udaipur also affords spectacular views across the hotel's verdant gardens and sparkling Lake Pichola.
Our luxury hotel in Udaipur has an intricate layout of interconnecting domes and corridors that reflects the layout of Udaipur itself; whose seven lakes are linked by canals. These domes and walkways are flooded with sunlight, caressed by balmy breezes and offer magnificent views of the lake and gardens.
Rest of the day at leisure
Accommodation: The Oberoi Udaivilas
Day 9: Udaipur
After breakfast you will enjoy city tour visiting City Palace - The city palace was built in 1725 with various palaces inside it such as Dilkush Mahal, the palace of Krishan Moti Mahal, Sheesh Mahal all ornately decorated. The museum in City Palace contains incomparable historic and artistic heritage which dates back to 14 century, Jagdish Temple – Dedicated to Vishnu, the preserver, this temple was built by Maharana Jagat Singh in 1651, Saheliyon Ki Bari – The Garden of the Maids of Honour, a most serene place in Udaipur, designed by Maharana Fateh Singh. It consists of beautiful lawns, gardens and fountains, a retreat for the ladies of the household, Rana Pratap Smarak, & Sajan Niwas Gardens - Overlooking the Fateh Sagar is the Moti Magri (Pearl Hill) on which is a statue of Maharana Pratap on his famous horse Chetak. Local guide claim that he jumped an abyss of extraordinary width in the heat of the battle even after losing one leg! The path to the top winds through some attractive gardens.
Afternoon enjoy Boat ride on Lake Pichola. Lake Pichola - The beautiful Lake Pichola derives its name from a nearby village Picholi. Udai Singh built a dam and from then the lake has become a meeting place for more than two hundred species of migratory and resident birds.
Accommodation: The Oberoi Udaivilas
Day 10: Udaipur to Mumbai
Transfer from hotel to Udaipur airport in time to board flight for Mumbai
08:10 hrs: Arrive Mumbai
Upon arrival at Mumbai airport and transfer to Hotel - The Oberoi, Mumbai enjoys an unrivalled position on the exclusive Marine Drive, with unparalleled views of the ocean and the Queen's Necklace; a golden crescent of lights that adorns the shoreline after dark.
The centrepiece of our luxury hotel in Mumbai is the atrium lobby, abundant with natural light that flows through the tremendous skylight and large floor-to-ceiling windows. Tiled in flawless white Thassos marble and featuring a contemporary, black granite waterbody, all rooms, restaurants and spa facilities revolve around and branch off this focal point. In the midst of it all, a stylish, red piano occupies centrestage.
Time at leisure to explore Mumbai affectionately known as 'Bollywood', the largest film making industry in the world.
Overnight stay at hotel
Accommodation: Oberoi Trident Towers
Day 11: Mumbai
Morning excursion to Elephant (Closed on Monday)
Later enjoy visiting Gateway of India – built to commemorate the visit of King George-V and Queen Mary to Mumbai. The foundation stone was laid in 1911 and was completed in 1920.
Mani Bhawan - Father of Nation Mahatma Gandhi used to stay here during his visit to Mumbai
Hanging Gardens - terraced gardens perched at the top of Malabar Hill, on its western side. They provide lovely sunset views over the Arabian Sea and feature numerous hedges carved into the shapes of animals. The park was laid out in 1881 over Mumbai's main reservoir, some say to cover the water from the potentially contaminating activity of the nearby Towers of Silence.
Marine Drive - also known as the Queen's Necklace is a 3 Kms long boulevard in South Mumbai. It is also the world's largest viewing gallery and hence has been a host to a number of events that take place along the promenade.
Evening enjoy the enchanting ride by Tonga (Victoria)
Overnight stay at hotel
Accommodation: Oberoi Trident Towers
Day 12: Mumbai to London Heathrow
Transfer from Hotel to Mumbai airport in time to board flight for London Heathrow
Offer Includes
Flights from London with British Airways
Airport taxes
7 nights accommodation on Bed & Breakfast basis in a Premier Room
4 nights accommodation on Bed & Breakfast basis in a Premier Room
All transfers, sightseeing & excursion as mentioned in itinerary by air-conditioned car
Entrance fees to the monuments
Services of local English speaking guide as per the itinerary during city tour
Cycle Rickshaw ride at Old Delhi
Jeep ride at Amber Fort, Jaipur
Exclusive boat ride at Lake Pichola
Representative for assistance on all arrival and departure transfers
Daily Yoga session
Meal Plans