Misty Hills and Wild Life Tour
Misty Hills and Wild Life Tour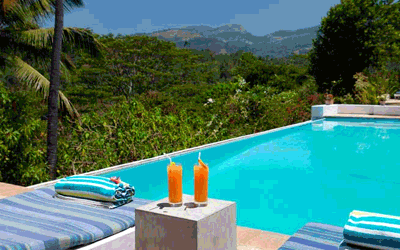 £2735
03 Apr 18
22 Jun 18
02 Jun 18

Highlights: Negombo - Gampola - Bandarawela - Gal Oya - Yala - Galle
Other departures: London Heathrow - £2785, Manchester - £2789, Edinburgh - £2835, Cardiff - £2775
Alternate travel dates: 13 Aug 18 - 31 Oct 18
Hotels:
Negombo - Villa Hundira
Gampola - Ellerton Bungalow – Standard Room
Bandarawela - Ceylon Tea Bungalow – Deluxe Room
Gal Oya - Gal Oya Lodge – Bungalow Room
Yala - Cinnamon Wild – Jungle Chalet
Galle - Fortaleza – Standard Room
Itinerary:
Day 1: Airport – Negombo
You arrive on our paradise isle and will be met by your chauffer guide, who will remain with you over the course of your tour.
On arrival you will be transferred for your initial stay close to the airport.
After the long flight, spend the rest of your day relaxing and recuperating at leisure before you start the next few days which are filled with lots of activities and excursions.
If you are up, then master the art of rowing a boat on the placid waters of the lagoon or ask a fisherman to take you on a boat ride. You might prefer to steer one of the Villa Hundira boats through waterways within the property. If you're adventurous enough to try some fishing, the staff would be happy to cook it for you.
Overnight at Villa Hundira
Meal included: None
Day 2: Negombo – Kandy - Gampola
This morning proceed to Kandy. 
On arrival enjoy a city tour of Kandy. Kandy, referred as the hill capital, Sri Dalada Maligawa that houses the sacred tooth relic of Buddha remains the prime landmark. Apart from the ancient monuments, the delightful jumble of antique shops and the bustling market are places to visit.
If time permits enjoy some of the suggested experiences…
Option 1: Visit the Udawattakele sanctuary, once part of the royal gardens. This 3 km loop around the sanctuary is guaranteed to be fun. You would be surprised to find this forest is actually surrounded by a large city, however be mindful that this is a key location to see a wide selection of wildlife.
Option 2: Ride along the streets of Kandy, accompanied by "Race" a former cyclist from the village, who knows all the nooks and crannies of the locality like the back of his hand. Start from a pre-designated location and ride along the outskirts of Kandy. Let the gentle breeze embrace you and the lovely landscapes of the mountain terrains entrance you as you cycle through the village passing local households. Stop by a small street vendor for a king coconut drink, locally known as "thambili".
Continue and travel to Gampola.
Overnight at Ellerton Bungalow – Standard Room
Meals included: Breakfast
Day 3: Gampola
Enjoy the morning at leisure.
After being at leisure for a while, should you decide, you can proceed to the Gampola local market (about 5 km, 15 minutes' drive) to experience the village life. Meet and experience various vegetable sellers, fish vendors and fruit stalls. This would be a perfect opportunity for you to get a glimpse of the busy way of life in Gampola as you meet the local traders. You can also opt for a three wheeler (Tuk tuk) ride.
If you take this trip, you will come back to Ellerton to experience some traditional cooking on an old-fashioned hearth. You can also cook something if you fancy, or just watch if you would rather be hands off!
After you sip a delicious cup of Sri Lankan tea you could head out on a short stroll (10 minutes) to the Kirinda Viharaya which is a very ancient temple with lovely paintings and statues related to Buddhism. You can witness the offering of "Gilanpasa" (liquid food) to Lord Buddha as the temple fills with the aroma of incense.
Overnight at Ellerton Bungalow – Standard Room
Meals included: Breakfast
Day 4: Gampola – Bandarawela
After a quick breakfast at hotel proceed to the Gampola Train Station to take the most magical train journey through Sri Lanka's tea country. A fabulous way to see Sri Lanka's hill villages, tea country and see the daily lives of the local people.
Your chauffeur will take your luggage/s and meet you at the other end. It's hassle free!
Arrive in Nuwara Eliya, is a land of tea-laden hillsides, gurgling waterfalls, majestic mountains and clear hill-country air. Here, the temperature is similar to a beautiful English summer's day. Enjoy a walk around Nuwara Eliya, called "Little England" for its cool climate and remaining English heritage.
Continue with a scenic drive through Sri Lanka's stunning hill country and arrive into Bandarawela. Sri Lanka is endowed with many beautiful panoramic views however Bandarawela / Haputale certainly provides the best!
Check in at Ceylon Tea Bungalow.
Tip: Put your walking shoes on and stride out into the picturesque tea country. It is right on your doorstep – with so many incredible walks from 20 minutes to 4 hours. The choice is yours.
Overnight at Ceylon Tea Bungalow – Deluxe Room
Meals included: Breakfast
Day 5: Bandarawela – Ella
This morning drive to Ella and enjoy a trek to Mini Adam's Peak. Mini Adams Peak, a must-visit for those who enjoy trekking expeditions a walk up the hill that falls across a lustrous tea estate will open up the most striking panoramas complete with azure skies that rise above the emerald plains below.
Thereafter enjoy a tea tour, and see how Ceylon tea is made and gain an insight into becoming a discerning tea taster on a Tea Factory tour. Learn the art of plucking the legendary two leaves and a bud.
Optional: Tonight enjoy a BBQ dinner among tea bushes - a unique and totally wonderful way to dine out in total privacy on a hilltop right in the middle of the Hilpankandura tea estate. On a fine night you can see the whole of the night sky lit up with a 1,000 stars
Overnight at Ceylon Tea Bungalow– Deluxe Room
Meals included: Breakfast
Day 6: Bandarawela – Gal Oya Lodge
After having a relaxed breakfast take a stroll to explore the vistas of Ella.
The unparalleled beauty of the vistas in Ella includes the Ella gap where one can enjoy the sights of the grand stone bridge that stands tall, with nine archways. The walk leading to the Ella gap falls through a railway and is definitely a factor that would add to the excitement of the little trek.
Resume journey to Gal Oya Lodge.
Discover Sri Lanka's forgotten National Park, Gal Oya with the country's largest lake, the wildlife is best seen from a boat, especially the swimming elephants.
Gal Oya Lodge specialises in high-end, environmentally responsible tourism.
Overnight at Gal Oya Lodge – Bungalow Room 
Meals included: Breakfast
Day 7: Gal Oya
For the intrepid guest, a 2 hour uphill trek first thing in the morning to the top of the cliffs facing the lodge is rewarded with stunning 180 degrees views over the large forested valley we are in. If you set off early enough you can watch the sun rise over the hills in the distance and observe the seemingly never ending jungle canopy below. Return for a well-earned breakfast and enjoy the view.
Enjoy lunch next to the Gal Oya river, a waterfall or looking over one of the park's many breath-taking views, and have the entire place to yourself. For guests who wish to while away the hours in one of the park's most beautiful spots and relax, we offer a delicious picnic lunch prepared by our safari chef. The picnic is coupled with the jeep safari (below). We recommend a 12:30pm start to get to the picnic spot for a late lunch and continue on by jeep followed by a walking safari towards the latter part of the day.
Gal Oya National Park is one of Sri Lanka's undiscovered natural treasures. Within the park exist herds of elephants, wild boar, four species of deer, jackals, sloth bears, marsh mugger crocodiles and an array of rare exotic birds. We offer a jeep safari into the forgotten Nilgala section of the park, once protected by ancient royalty for the abundant medicinal plants and endemic birdlife in this unique ecosystem.
Return to the lodge and relax.
Overnight at Gal Oya Lodge – Bungalow Room
Meals included: Breakfast
Day 8: Gal Oya – Yala
Look forward to another adventurous day!!
Set off to Yala and check in at Cinnamon Wild. 
Tip: If you want to treat yourself to a very unique wildlife experience we would suggest you upgrade to Kulu Safaris
At 3:00 p.m. start off the evening safari, the best time to see the wild jumbos who come out with their herds in search of food. Apart from these majestic elephants look out for fine-feathered peacocks and depending on the timing you will also be able to observe the great black bears and agile leopards that steal away into the shadows of the thick foliage.
Enjoy the adventure and click many shots to take back home and stories to share with your friends.
Overnight at Cinnamon Wild – Jungle Chalet
Meal included: Breakfast
Day 9: Yala
Early morning (around 6.00 am) set off for the morning safari which is the best time to see the birds. 
As you slowly proceed along the winding roads of the park you can witness how nature comes to life with the dawn of sunlight. Remember to keep your camera ready to capture the mesmerising events that you are about to witness. 
This park is the habitat for many endemic and migratory birds. Watch out for the Sri Lankan grey hornbill, Sri Lankan jungle fowl, Sri Lankan wood pigeon, crimson-fronted barbet, black-capped bulbul, blue-tailed bee-eater and brown-capped babbler. 
The safari takes around 2 to 3 hours and upon completion return to the hotel to freshen up and relax.
Overnight at Cinnamon Wild – Jungle Chalet
Meal included: Breakfast
Day 10: Yala – Galle
A change of scenery after breakfast this morning as we head towards Galle. Located in the Southern province, the city of Galle is a living time capsule. Home to the largest occupied fort in Asia, its quaint beauty extends beyond its golden beaches and cerulean waters.
The main attraction of Galle no doubt is its ancient Fort, which instantaneously takes the visitor back to the Dutch Colonial era. One can bask in the picturesque views and the rich history while walking through the narrow, cobbled streets, enjoy a meal from one of the interesting restaurants within the Fort or enjoy the cool sea-breeze beneath the landmark lighthouse.
The Galle Maritime Museum, located in a shady nook of the picturesque Galle Fort, accommodates the long lost treasures that were once at the bottom of the turquoise seas that surround this emerald isle. 
Lodged in a 17th Century Dutch warehouse, the museum is home to numerous underwater relics as well as exhibits of seamanship, maritime trade and life-like models of underwater fish that roam the seas including whales and sharks.
Overnight at Fortaleza – Standard Room
Meal included: Breakfast
Day 11: Galle
Today enjoy a morning bike ride. The Paddy and Lake Trail which is a must do gentle trail of approximately 30km which includes a beautiful section, cycling passing through verdant paddy valleys with a coconut stop half way in a shaded ambalama set in a beautiful, large and natural garden and alongside the North West shoreline of Koggala Lake. The ride is suitable for keen and regular cyclists. No rush, take it at your own pace, but as a guide allow around 2-3 hours.
Alternatively hike or cycle to the Hiyare Rainforest, strictly recommended for nature lovers!!
Return to the hotel for breakfast and get ready to enjoy a southern culinary experience with a local family. This typical middle class family will give you an "all smiles" traditional welcome as you enter their home. Your tour will commence with the introduction to the family members with a brief of who they are and what they do. The evening will unravel as you sit down for a meal with this family.
Optional: Are you afraid of ghosts? The night is when the Fort becomes quiet and is lit up. Walk the cobble stone roads that glitter under the moon light while having conversations about the Colonial era. You're lucky if you bump into a ghost, listening to black comedy wielded by a storyteller. Torches for light sabres and you're guaranteed to feel like a Jedi time travelling through the 17th Century. Ask yourself, are you afraid of the dark? These walks end with homemade ice cream inside the Fort
Overnight at Fortaleza – Standard Room
Meal included: Breakfast
Day 12: Galle – Airport
It's time to leave the isle of Serendipity with your treasure chest of memories.
Meal included: Breakfast
Offer Includes
Flights from Birmingham with Qatar Airways
Airport taxes
11 nights accommodation at chosen hotels as per itinerary
Transfers and tours with local English-speaking chauffeur guide in private air-conditioned vehicles
All entrance fees and boat fees as mentioned in the programme
Meal Plans