In the footsteps of Joanna Lumley
In the footsteps of Joanna Lumley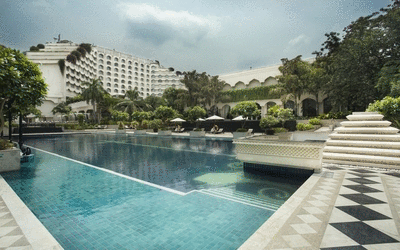 £4699
16 Jan 18
31 Mar 18
15 Mar 18

Highlights: Kolkata - Darjeeling - Gangtok - Hyderabad - Madurai - Kovalam
Hotels:
Kolkata - The Park
Darjeeling - The Elgin
Gangtok - The Elgin Nor Khill
Hyderabad - Taj Krishna
Madurai - Vivanta by Taj Pasumalai
Kovalam - Uday Samudra
Itinerary:
Day 00: London Heathrow to Dubai
Day 01: Dubai to Kolkata
07:40 Hrs: Arrive Kolkata airport
Upon arrival at Kolkata airport welcome, meet and assist by our representative and transfer to Hotel
Post lunch proceed to afternoon half day sightseeing covering Victoria Memorial (closed on Monday), St Paul's cathedral, Kalighat Temple.
Overnight stay at Hotel
Day 02: Kolkata
After breakfast proceed to HERITAGE WALK IN KOLKATA at 08:00 hrs….
The British had sought to build the second city of the Empire right here and it is this 'building' that we'll show you in the course of our walk through the 'European' areas of what was once the capital of the British Empire in India. There are major plans on to beautify and restore this heritage site with its rich and varied architectural styles. Are you up for snapping a ton of 'before and after' shots.
The walk takes place in the morning so that you can leisurely take in the architecture and history of the city's many unique and spectacular buildings without any traffic on the roads. There is an option to begin at The Flower Market on the River Hooghly - where it really "all" began. The walk then starts at the site of the terrible 'Black Hole'. takes you past the famous Writer's Building, the former HQ of the infamous East India Company, around the square to, among others, the magnificent Governor's House, Calcutta High Court, Town Hall, General Post Office and the almost forgotten Charnock Mausoleum. The whole experience takes you back to the 18th and 19th century when the British ruled the entire subcontinent from Calcutta - at that time the most fashionable city in the world after London. It is also a chance to experience a special side of the city as it is waking up in the morning with many interesting city characters to interact with along the way.
Green Coconut water is served at St. Johns Church
Later back to the hotel. After fresh n up start walk in the food street.
we explore the city's tastiest food, you will enjoy tasting delicious Bengali cuisine, the famous street food of the city of Joy and learn about the culture and local history. Join us for our fun and scrumptious experience known exclusively to locals. Enjoy the local secrets.
Overnight stay at Hotel
Day 03: Kolkata
After breakfast proceed to full day sightseeing covering…..
Today the tour of this vibrant city is begun with the Jain Temple also known as the "Jewel Box Temple of Calcutta". It is situated in the northeast of the city. This temple of exquisite design and construction is dedicated to the 10th of the 24 Jain Tirthankaras and is an ornate mass of mirrors, colored stones and glass mosaics. After this we move to see Kumartolli (place where craftsman make idols). Kolkata is famous for its festivals (PUJAS) round the year and this is the place where the idols are made. It is very interesting to see the craftsman making idols without using any machinery. Finally we move to Marble Palace (closed on Monday & Thursday), situated in north Calcutta, it has a , Reynolds. It is a private museum owned by the Mullicks (Zamidars during the British period). We than move to College Street (one of asia's largest book market – closed on Sunday & other holidays), have a cup of coffee at the famous "Coffee Shop" where one can see the young turks gossiping and feel the pulse of the culture.
Lunch Break.
After Lunch visit the PARK STREET CEMETRY one of the oldest cemetery of the country. Finally we visit Mother Teresa House (closed on Thursday); here lies the mother's tomb, a photo gallery on Mother Teresa and her works.
Overnight stay at Hotel
Day 04:
Kolkata to Bagdogra
Bagdogra to Darjeeling by surface (Approx. 93 Kms, 3.5 Hrs)
Transfer from Hotel to Kolkata airport in time to board flight for Bagdogra
15:45 Hrs: Arrive Bagdogra airport
Upon arrival at Bagdogra airport drive to Darjeeling - The beautiful hill station Darjeeling at an altitude of 7,000 feet. Called the 'Queen of the Himalayas'. It affords unparalleled views of the majestic peaks.
Upon arrival at Darjeeling, check in at Hotel.
Rest of the day at leisure and Overnight stay at Hotel
Day 05: Darjeeling
Early morning visit Tiger Hill and Ghoom Monastery.
After breakfast enjoy Joy Ride on World Heritage Toy Train, Darjeeling to Ghoom and back.
Afternoon visit Himalayan Mountaineering Institute(closed on Thursday), Zoological Park(closed on Thursday) and Tibetan Refugee Centre(closed on Sunday).
Day 06: Darjeeling to Gangtok by surface (Approx. 98 Kms, 4.5 Hrs)
After breakfast drive to Gangtok, the capital city of Sikkim is located on a ridge at a height of 5500 feet. With a spectacular view of the Khangchendzonga, the town provides the perfect based for travel through the state. Once an important transit point for traders traveling between Tibet and India.
Upon arrival at Gangtok, check in at Hotel.
Overnight stay at Hotel
Day 07: Gangtok
Full day sightseeing in Gangtok visiting Rumtek Monastery, Do Drul Chorten (Stupa), Namgyal Institute of Tibetology (closed on Sundays), Cottage Industry (closed on Sundays) and Enchey Monastery.
Day 08: Gangtok
After breakfast excursion to Tsomgo lake.
Day 09:
Gangtok to Bagdogra by surface (Approx. 125 Kms, 5 Hrs)
Bagdogra to Kolkata
Kolkata to Hyderabad
Drive from Gangtok to Bagdogra airport in time to board flight for Hyderabad via Kolkata
21:15 Hrs: Arrive Hyderabad airport
Upon arrival at Hyderabad airport transfer to Hotel
Overnight stay at Hotel
Day 10: Hyderabad
Full day city tour visiting Golkonda Fort and Qutub Shahi Tombs, Salarjung Museum , Charminar , Mecca Masjid and Lad Bazar
Overnight stay at Hotel
Day 11: Hyderabad
Full Day Visit to Ramoji Film City
Overnight stay at Hotel
Day 12:
Hyderabad to Chennai
Chennai to Madurai
Transfer from Hotel to Hyderabad airport in time to board flight for Madurai via Chennai.
12:35 Hrs: Arrive Madurai, the most sacred pilgrim town of South India.
Upon arrival at Madurai airport transfer to Hotel
Evening witness the closing ceremony – bed chamber ceremony at Meenakshi Temple
The prayer ceremony at Meenakshi Temple, an outstanding example of the Vijayanagar temple architecture. Overnight in Madurai.
Day 13: Madurai
Today after breakfast enjoy city tour of Madurai visiting Meenakshi Temple – Meenakshi Temple 17th century Meenakshi Temple, in the heart of old town, is dedicated to Shiva and his consort Meenakshi. It is an excellent example of Dravidian architecture. The high point of the temple is the hall of a "Thousand Pillars" and just outside this hall are the famous musical pillars.
The Teppakkulam Tank – This tank, 5 km cast of the old city, covers an area almost equal to that of the Meenakshi Temple and is the site of the popular Teppam Festival. for most of the year, however, it is empty save for local kids playing cricket in it. The tank was built by Tirumalai Nayak in 1646 and is connected to the Vaigai River by underground channels. The Tirumala Nayak Palace – The palace building constructed in the Indo-Saracenic style is considered to be an architectural feat. Built in the 17th Century, the palace has a number of pillars and 15 domes. The beautiful arches are unique in their ornamental workmanship. The sound and light show conducted here depicts the story of Silappathikaram and the life of Tirumala Nayak.
- Cycle rickshaw ride
- Overnight stay at hotel
Day 14: Madurai to Kovalam by surface (Approx. 310 Kms, 7 hrs)
After breakfast drive to Kovalam is a golden sand virgin beach on the Malabar Coast of Kerala and is amongst the most prominent beach holiday spot of the world.
Upon arrival at Kovalam, check in at Hotel.
Rest of the day at leisure and Overnight stay at Hotel
Day 15: Excursion to Kanyakumari (Approx. 90 Kms, 2-3 Hrs – One way)
After breakfast you will do excursion of Kanyakumari - the virgin deity of the Hindu pantheon. It is the southern most tip of Indian Peninsula beyond which there is no land till Antarctic. Sunrise and sunset over the vast expanse are spectacular.
Upon arrival you will take a ferry ride across the rock island to see Vivekanand Memorial
Return back to Kovalam for an Overnight stay
Day 16: Kovalam
Day at leisure to explore at your own pace and Overnight stay at Hotel
Day 17:
Kovalam to Trivandrum by surface.
Trivandrum to Dubai.
Duabi to London Heathrow.
Transfer from Hotel to Trivandrum airport in time to board flight for London Heathrow via Dubai.
Offer Includes
Flights from London with Emirates
Airport taxes
11 Nights Accommodation on bed and breakfast
5 Nights Accommodation on full board (Darjeeling & Gangtok)
All Transfers, Sightseeing and Excursion by air-conditioned car
Services of local English speaking guide as per the itinerary during city tour
Cycle Rickshaw ride at Madurai
Heritage Walk in Kolkata
A Walk in the food streets of Kolkata
Toy train journey at Darjeeling
Excursion to Kanyakumari
Full Day Visit to Ramoji Film City
Meal Plans