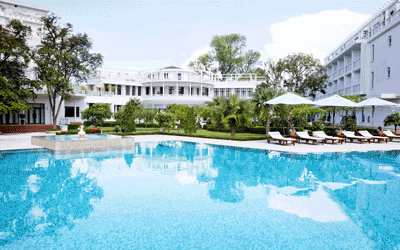 £2699
04 Apr 18
05 Jul 18
31 Mar 18

Highlights: Ho Chi Minh - Hanoi - Halong Cruise - Sa Pa - Hoi An - Hue
Alternate travel dates: 13 Aug 18 - 30 Sept 18
Hotels:
Ho Chi Minh - Le Méridien Saigon 5*
Hanoi - Lotte Hotel Hanoi 5*
Ha Long Cruise - Paradise Luxury Cruise
Sa Pa - Victoria Sapa Resort & Spa 4*
Hoi An - Hotel Royal Hoi An 5*
Hue - La Residence Hue Hotel & Spa 5*
Itinerary:
Day 1: Ho Chi Minh Arrival
Upon arrival at Tan Son Nhat International Airport, you are warmly welcomed by our local guide and transfer to hotel in Saigon for check in. Free at leisure for your own activities. Overnight at hotel in Ho Chi Minh City.
Meals: None
Day 2: Ho Chi Minh – Mekong Delta River (Cái Bè – Vinh Long)
Morning meet our local guide in the lobby of your hotel and enjoy 3 hour drive to Cai Be, deep in the Mekong Delta. Enjoy the lush green view of the paddy fields along the road. Upon arrival in Cai Be, embark on a motorized boat that takes you to the floating market and spend an hour there for a unique interaction.
Continue your tour on row boat zigzagging through a maze of canals shadowed by coconut trees to a great orchard where you can freely taste many seasonal fruits of Vietnam and observe daily life of the local folks. Visit a family workshop to see how coconut candy, crispy rice cake and ceramic are made.

You will then enrich your experience by taking a bicycle ride roaming through a village to check out several rural shops or just relax on a hammock for a short rest before moving on to a marketplace where you are encouraged to interact with the vendors and see how friendly and respectful they are.
After the visit, the boat will be waiting for you at the pier nearby to bring you back to Ben Tre city where your car will be ready to take you back to Ho Chi Minh City.
Meals: Breakfast, Lunch
Day 3: Ho Chi Minh – Cu Chi tunnels – Ho Chi Minh
Meet in the lobby of your hotel and enjoy the journey to visit the famous Cu Chi Tunnels (70km from Ho Chi Minh) - an complex of an incredible underground tunnel network constructed by Vietnamese resistance fighters (Viet Cong) during both the French and American wars. There are more than 200 km of tunnels, comprising a main axis system with many branches connecting to underground hideouts, shelters and other tunnels. You have the chance to crawl through this amazing system of tunnels. For a more "thrilling" experience, you can even test your shooting skills on original AK47s and other guns from past war times (subject to a surcharge). Lunch will be served at local restaurant
In the afternoon, return to Saigon and tour continues to visit the former Presidential Palace, renowned for its symbolic role in the fall of Saigon in 1975 and continue to visit the War Remnants Museum, Notre Dame Cathedral inaugurated in 1880 became the spiritual and cultural crucible of the French presence in the Orient as was the Post office designed by Gustav Eiffel and resembling a grand railway station, the people's Committee Hall, Central Post Office. End the day at the famous Ben Thanh Market, where you can purchase souvenirs for your beloved ones and shopping before transfer back to your hotel. Overnight at hotel in Ho Chi Minh City.
Meals: Breakfast, Lunch
Day 4: Saigon – Hoi An (Domestic air fare is included)
After breakfast at the hotel, transfer to Tan Sat Nhat Airport for a domestic flight to Danang.
Upon arrival, you will be warmly welcomed by our local guide and transfer to Hoian while passing Danang city - the fourth largest city in Vietnam, the gateway to the central provinces and a sea port with nice beaches and resort. En route, you vist the Cham Museum - The world's foremost collection of the sculpture of the ancient King-dom of Champa, and the Marble Mountain, whose peaks represent the five elements of the universe en route then continue driving along Non Nuoc Beach to Hoi An.
Lunch at local restaurant before check in the hotel. Afterward you will explore Hoian - known to early Western merchants, Hoi An was one of the major trading centres of Southeast Asia in the 16th century. Hoi An has a mixed Chinese-Vietnamese atmosphere with low, tile-roof houses and narrow streets. Having been through many ups and downs in the past, the original structures, however, are still virtually intact. That was the reason to persuade the UNESCO to recognize Hoi An as a World Heritage in 1999. Besides, the surroundings of Hoi An, especially the countryside, are one of the most outstanding highlights that visitors should experience during their stay in Hoi An. One of the best ways to discover Hoi An and its surroundings is by walking. During your leisurely walk around you will discover the daily life of the local people: green paddy fields, vegetable gardens, markets, temples, historic houses, fishermen and stunning countryside scenes will simply mesmerize you. This tour offers great photo opportunities and you may find yourself chatting with the locals and inhaling unforgettable memories. Later, enjoy free time to visit the tailors, if you would like to have some clothing made. Rest of the day free at leisure for your own activities. Overnight at hotel in Hoian.
Meals: Breakfast, Lunch
Day 5: Hoi An – Hue
After breakfast, start the journey to Hue - the former Imperial City of the last dynasty of Vietnam over the spectacular Hai Van Pass. Have a short stop on top of the pass – once regarded as the prime mountain pass on the North - South national road. Continue further north to Hue – a charming town set on the banks of the Perfume River. Located in Central Vietnam, Hue is the only place in the country where many historic, cultural, architectural as well as artistic values have been preserved. Tangible cultural heritage - the system of historic monuments - and intangible cultural heritage - the Imperial court music - have their own national and international values that were acknowledged as World Cultural Heritages. Hue is also the site where the northern and southern ecosystems meet, the area of river-hills, greenery and beautiful landscapes.
Arrival Hue, lunch at local restaurant before exploring the Imperial City of Hue. The Hue Citadel is situated on the Northern bank of the Perfume River and built by Emperor Gia Long it was designed for the exclusive use of the Emperor and his household. The Citadel is a square 2 km wall encompassing 3 walled enclosures; the Citadel, Kinh Thanh Hue, the Yellow Imperial city, Hoang Thanh and in the centre the Forbidden Purple city Tu Cam Thanh where the Emperor lived. The Hue royal complex has been officially recognized by the UNESCO as a World Heritage Site.
Tour continues to enjoy a scenic boat trip on the Perfume River to Thien Mu Pagoda, one of the oldest ancient architectural structures for religious worship in Hue. Then cruise upstream to visit the Minh Mang Royal tomb, set amidst a lush pine hill by the river and considered to be one of the most beautiful mausoleums. Each ruler of the Imperial City built his own tomb during his reign.
Tonight you will be brought back to the splendid history of ancient Royal time in Vietnam, you will be charmed with the Royal style decoration of the Royal Dining room, the atmosphere of the diner that you are the King with royal wears., beside you are the Queen accompanied by the servants in traditional royal clothes, all wearing traditional royal clothes. All the food served is royal dishes symbolizing the dragon, phoenix, or peacock. Table is decorated by Hue's colorful silk and flowers, large candle lights, colorful lantern with dragon pattern and spotlights … All meticulously prepared to the finest details for a sumptuous dinner that fits for royalty.
It will surely surprise you with its authentic cuisines of Hue's royalty. You will discover how Royal life was by enjoying the "Royal meal" while listening to melodious music and having a feeling of being a real King. Overnight at hotel in Hue.
Meals: Breakfast, Lunch, Dinner
Day 6: Hue – Hanoi (Domestic air fare is included)
After breakfast, transfer to Phu Bai Airport in Hue for a do1mestic flight to Hanoi
Upon arrival at Noi Bai Airport, you are warmly welcomed by our local guide and transfer to hotel in Hanoi. Visit the Ho Chi Minh Mausoleum (closed on Monday, Friday and during the entire months of September & October) and his former residence with Humble House on Stilts (closed on Monday and Friday), One-Pillar Pagoda and the Temple of Literature, known as the first university of Vietnam and built more than 1,000 years ago.
Continue the city tour to one of the following museums (note that museums are closed on Mondays): Fine Arts Museum or Vietnam National Museum of History or Viet Nam Military History Museum or Museum of Ethnology. Lunch at local restaurant

Afternoon enjoy a leisurely one-hour buggy tour through the streets of this fascinating city, you will come face to face with the daily lives and activities of Hanoi's streets as you pass through the congested, but delightful, Old Quarter. Ride pass the fascinating streets, which still bear the names of the shops that could be found in them in the 15th to 18th centuries. Overnight at hotel in Hanoi
End the day with a performance of the famous water puppet show. The Vietnamese traditional art of water puppetry has roots that date back to the 10th century when it originated in the Red River Delta area of northern Vietnam. The farmers in the region celebrated festivals and harvests by performing this unique art form. Learning to manipulate the puppets is usually a tradition that is passed on as a family secret. It takes a great deal of skill and because the puppeteer's hands are underwater, it is easy for them to hide their methods. The fascinating part is that the central stage is below the water line, and the puppeteers stand in the waist-deep water. A rattan curtain hides them, but they can see the stage and the audience through the bamboo slats. Overnight at hotel in Hanoi.
Meals: Breakfast, Lunch
Day 7: Hanoi – Sa Pa – Lao Chai – Tavan – Sa Pa
After breakfast at hotel, you will enjoy the journey of more than 4 hours on newest highway to Lao Cai. After lunch, you will conquer a 38 km drive on winding roads up the mountains to Sapa, located approx. 1,500 m above sea level. On clear days you can see the highest mountain of Vietnam, the Fansipan. Arrival Sapa, check in the hotel
Afternoon you will star exploring Sapa to visit Lao Chai village. Views of the Muong Hoa Valley and magnificent surroundings of mountains and rice terrace fields can be seen from this road. Along the road, people from many ethnic minority groups (H'mong, Zay, and Red Dao) are likely to be met, and there are stalls along the way that serve tea, fruits and sweets. Soon after turning off the main road and taking a local path, we will arrive in the Black H'mong village of Lao Chai, where you will experience the daily life of the villagers. Continue walking from Lao Chai to Ta Van village, where the Zay hill tribes live. Then return to the meeting point for your transfer back to Sapa town. Dinner at local restaurant. Overnight at hotel in Sapa.
Meals: Breakfast, Lunch
Day 8: Sa Pa – Weekly Sa Pa Market
 After breakfast, weekly local markets and on almost every day in the week, there is a nice market to visit, somewhere in the area around Sapa the local hill tribes will be gathering for their weekly market most days to sell handicrafts and ethnic-style clothing, these are also important social occasions. Those who live in the region's more isolated villages have the chance to meet friends and family, exchange news, eat, and even indulge in some of the locally brewed spirits - which can be up to 55% proof! Therefore, the local hill tribes always wear the most colorful costume once have a chance to go to the markets. 
In the afternoon, driving back to Hanoi. Dinner at local restaurant. Overnight at hotel in Hanoi.
Meals: Breakfast, Lunch, Dinner
Day 9: Hanoi - Ha Long Bay (Overnight on Junk)
Arrive in Hanoi early this morning, pick up from the train station and transfer to the local hotel for breakfast, shower and quick refreshment before proceeding to Halong Bay (165 km east of Hanoi) - a World Heritage Area of outstanding natural beauty, you will experience a rural area dotted with villages, rice fields and farms providing the many parts of the nation with rice, fruits and vegetables. Short rest stop en route, you will reach Halong city after 3.5 hours
- 12:00 – 12:30 - Embark on Cruise followed by a short cruise briefing.
- 13:00 – 15:30 - Savor a delectable lunch as Cruises among the limestone islands.
- 15:30 – 16:30 - Kayak among the hidden areas of the bay, around the Luon Cave area. Back to the Cruise
- 16:30 – 17:30 - Cruising to Titop island. Go swimming and relaxing at the beach of Titov or climb up to the top of the island for a panorama view of Halong Bay.
- 17:30 - Cruise back to the main boat for a shower. Relax or snap photos as the sun starts to set.
- 19:00 - Dinner is served. Socialize with other guests, fish for squid, or just laze around.
- Overnight on board.
Meals: Breakfast, Lunch, Dinner
Day 10: Ha Long Bay – Hanoi – Saigon (Domestic air fare is included)
- 06:30 - 07:00 - Start your day with Tai Chi exercises or a photo hunt.
- 07:30 - 08:30 - Have breakfast at sunrise.
- 08:30 - 09:30 - Explore the amazing Sung Sot Cave - the nicest cave in Halong Bay.
- 09:30 - Return to the boat. Freshen up and check out of your cabin.
- 09:30 - 10:30 - Continue your cruise exploring the Bay, passing Ba Hang fishing village, Dog Islet, and more.
- 10:30 – 11:30 - While heading back to the habor, watch the cooking demonstration before enjoying a traditional Vietnamese lunch.
- 12:00 – 12:30 - Disembark and transfer back to Hanoi, short rest at Dai Viet or Hong Ngoc or ABC shopping en route back.
Note: The above itinerary is for your reference only as each cruise will have its own different itinerary and will be slightly different.
Arrival Hanoi, transfer directly to Noi Bai Airport for flight to Saigon!
Upon arrival at Tan Son Nhat International Airport, you are warmly welcomed by our local guide and transfer to hotel in Saigon for check in. Free at leisure for your own activities. Overnight at hotel in Ho Chi Minh City.
Meals: Breakfast, Lunch
Day 11: Ho Chi Minh – Departure
Fee at your own leisure time until transfer to Tan Son Nhat International Airport for your international flight home. We hope you had an exciting holiday.
Meals: Breakfast
Offer Includes
Flights from London with Royal Brunei Airlines
Airport taxes
10 nights accommodation at chosen hotels as per itinerary
Transfers and tours with local English speaking guides in private air - conditioned vehicles
All entrance fees as mentioned in the programme
Beautiful Vietnamese traditional gift
Meal Plans