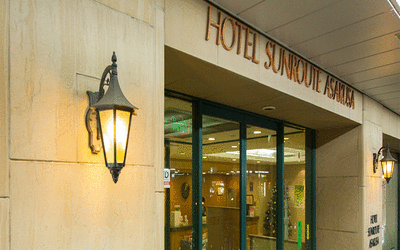 £2275
15 Aug 18
11 Dec 18
31 Aug 18

Highlights: Tokyo - Hiroshima - Osaka - Takayama - Kyoto
Other departures: Manchester - £2195, Birmingham - £2125, Glasgow - £2219, Edinburgh - £2235, George Best Belfast City - £2265, Bristol - £2275, Norwich - £2265, Southampton - £2175, Newcastle - £2215
Hotels:
Tokyo - Sunroute Asakusa 2*
Hiroshima - Hotel New Hiroden 3*
Osaka - Hotel Monterey Osaka 3*
Takayama - Best Western Hotel Takayama 3*
Kyoto - The B Kyoto Sanjo 3*
Itinerary:
Day 1: Arrive Tokyo
Arrive in the frenetic city of Tokyo, Japan's current capital. Your driver will be waiting with your name on a sign board to transfer you by shared shuttle service to your hotel in Asakusa, Tokyo's old-town district.
The city is renowned for its futuristic architecture, high-rise buildings and characteristic neon lights - but Asakusa has an old-fashioned atmosphere much more akin to the Tokyo of yesteryear.
With your first night at your leisure, take a quick stroll from your hotel to Senso-ji, the oldest and best-loved temple in the city. From there, take in the view from across the river, where Tokyo's newest landmark towers, the 634 meters high Tokyo Skytree. Savour the unique juxtaposition as you explore this incredible city.
On arrival at your hotel in Tokyo, you will be provided with an IC card to be used for buses and trains with 1500Y value already loaded.
Meals: Nil
Hotel: Hotel Sunroute Asakusa (Twin Room)
Day 2: Tokyo Mount Fuji & Hakone Return by Motor Coach
Beginning your tour from Tokyo by gliding past Japanese scenery on the comfortable coach. Cruise up to Mount Fuji's 5th station, the entrance to the highest peak in Japan, and enjoy the view from an altitude of 2,300 metres.
Sail across the pristine Lake Ashi, a crater lake surrounded by extraordinary mountain terrain and Mount Hakone, a volcano that last erupted in 1170CE.
Take a ride on the Komagatake Ropeway, a cable cart overlooking Hakone National Park before heading back to Tokyo by Motor Coach.
Meals: Breakfast / Lunch
Hotel: Hotel Sunroute Asakusa (Twin Room)
Day 3: Tokyo to Kyoto(Bullet Train)
Make your own way to Tokyo station. Travel in comfort on Japan's fast and efficient high speed rail network. The trains travel at speeds of up to 300km/hr and cover the 513km distance to Kyoto in approximately 2.3 hours. Make your own way to your hotel upon your arrival.
Train Shinkansen Nozomi Tokyo to Kyoto Ordinary Car Reserved Seat
Meals: Breakfast
Hotel: The B Kyoto Sanjo (Double(17m2))
Day 4: Kyoto - Full Day Tour
Today, ride the public transit and see some of Kyoto's most famous sights and lesser-known treasures with a professional guide. Start off the day at Nijo Castle, built by the founder of the Edo Shogunate, the ornamental walled castle grounds are surrounded by stunning gardens. Venture next to Japan's most well-known rock garden Ryoan-ji, and get a glimpse of Zen Buddhist tradition as you gaze onto the famously precisely arranged stones. Next, venture to Kinkakuji, or the Golden Pavilion, the most famous Buddhist temple in the city that was originally built as a retirement villa for the Shogun.
This afternoon, take a stroll in Kyoto's most charming district, Higashiyama. Begin with Kiyomizu Temple, famous for its incredible views of the city from the 13-meter high veranda! Marvel at the unique architecture of the main hall, built without the use of any kind of joiners.
Finish up in Gion, famously known as the geisha district; the area is filled with shops, restaurants and ochaya teahouses. Soak up the atmosphere as you explore some of the local cafés or restaurants amidst traditionally garbed geisha shuffling to their next appointment. Learn more about the Japanese culture by participating in a tea ceremony at an ochaya. An ancient ritual, learn straight from a tea master every movement crucial in the preparation and service tea for a truly culturally immersive experience.
Meals: Breakfast
Hotel: The B Kyoto Sanjo (Double(17m2))
Day 5: Kyoto - Hiroshima Half Day Tour
Hop back on the bullet train and journey to Hiroshima, a place famous for a single moment in history.
A guide will take you to The Hiroshima Peace Memorial Park, which is located at the centre of Hiroshima City. The A-Bomb Dome, also known as the Hiroshima Peace Memorial, is what remains of the former Prefectural Industrial Promotion Hall. The building served as a location to promote Hiroshima's industries. When the bomb exploded, it was one of the few buildings to remain standing, and remains so today. A UNESCO World Heritage Site, the A-Bomb Dome is a tangible link to Hiroshima's unique past.
Hijiyama park is the perfect park to go to after spending the morning visiting the museums and the Peace Memorial Park. It's a good place to unwind, perfect for walking, reading, and there are several things to see: on the one hand there's the Taman In Temple, with its buildings, statues and in the middle with a cemetery, and at the top of the park is the museum of contemporary art and a manga library for those interested in culture.
That evening, why not indulge in the local speciality of okonomiyaki, a decadent, savoury Japanese seafood and cabbage pancake that sizzles in the hot plate as it's served
Meals: Breakfast
Hotel: Hotel New Hiroden (Twin Room)
Day 6: Hiroshima Free Day(Self guided)
In the morning, hop on a short ferry ride to Miyajima Island for either a half or full day of exploring.
Just outside of Hiroshima, Miyajima is home to some of the most photographed vistas in Japan, including the famous "floating" torii gate, the sacred gateway between the human and spirit realms. If you're feeling energetic, hike or ride the cable car up Mt. Misen for spectacular views and to mingle with the wild deer that meander about the island freely.
Enjoy the view on the seaside promenade and take in the harmony of nature.
Meals: Breakfast
Hotel: Hotel New Hiroden (Twin Room)
Day 7: Hiroshima – Osaka (Self guided)
This morning, head eastward to Osaka, a port city renowned throughout Japan for its delicious food and fun-loving locals. Osaka is known for being bright, bash and bold! A more fun-loving version of Tokyo, with a culture obsessed with frankness, food and good times. Due to its proximity to some of the best farmland in Japan, Osaka maintains its reputation as the ultimate city for food lovers!
With the day at leisure, you can visit Osaka Castle and marvel at its grandeur or meander about the enormous aquarium, observing incredible marine life.
Or, if you'd like a truly local experience, head to a sports bar and cheer on Osaka's home-team the Hanshin Tigers! With fun and friendly locals, it's easy to enjoy yourself while sampling the savoury snacks this city is famous for.
After sun set, stroll along the neon-soaked canals and check out some of the best known food districts like Dotonbori and Shinsaibashi.
No services are arranged today.
Meals: Breakfast
Hotel: Hotel Monterey Osaka (Twin Room)
Day 8: Osaka – Takayama(Self guided)
Leave behind the bustle of Osaka and venture into the mountains for a taste of alpine life in rural Takayama.
Ride one of the country's most scenic train routes as you wind your way through stunning gorges and imposing mountains.
Arrive in Takayama, nestled in the Hida region and take a stroll along this Edo period merchant town, with beautifully preserved buildings and distinctive culture.
Grab a bite of delicious Hida beef, which is as good as its more famous Kobe counterpart and sample some sake at one of Takayama's small breweries.
No services are included.
Meals: Breakfast
Hotel: Best Western Hotel Takayama (Double)
Day 9: Takayama Free Day (Self guided)
Wake up and head out to explore more of Takayama and the surrounding area.
Hop on a short bus ride to Hida Minzoku Mura Folk Village, a fascinating open-air museum featuring traditional Edo-period dwellings, store houses and a mill - all preserved and brought in from the surrounding countryside. Easy to explore, this museum provides unique insight into the traditions and living conditions of the past. Just opposite of the museum lies the world headquarters of the Sukyo Mahikari cult. Take a look at the only shrine in Japan to feature a giant fish tank and learn more about this distinctive faith.
If you choose to stay in town, wander about the diverse range of museums, shrines, ruins or even take a gander at the goods of the early morning market.
Meals: Breakfast
Hotel: Best Western Hotel Takayama (Double)
Day 10: Takayama – Tokyo(Self guided)
Say farewell to the alpine air and journey back to Tokyo for your final evening in Japan.
This time, your hotel is in Shinjuku, the perfect place for any last-minute souvenir shopping.
Take advantage of the time left to fit in anything you missed at the beginning of the trip! With endless restaurants, bars and karaoke joints on your doorstep, you will be spoilt for choice when it comes to entertainment for your final night in the capital.
No services are included today
Meals: Breakfast
Hotel: Hotel Sunroute Asakusa (Twin Room)
Day 11: Depart Tokyo
Enjoy your final morning in Tokyo before departing to the airport for your flight. (Shared transfer)
Meals: Breakfast
Offer Includes
Flights from London Heathrow with Malaysia Airlines
Airport taxes
10 nights accommodation as per itinerary
English-speaking guide on each city as mentioned in the itinerary
Tours and transfers as mentioned in the itinerary
Sightseeing fees and permits during guided time
Meal Plans