Dream Honeymoon -The Kahala Hotel and Resort
Dream Honeymoon -The Kahala Hotel and Resort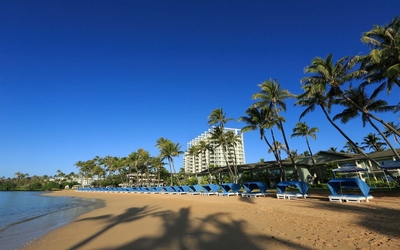 £3759
16 May 18
30 May 18
12 May 18

The Kahala Hotel & Resort is Honolulu's legendary luxury hideaway, adored by stars, presidents and royalty. Set on a pristine white sand beach, just ten minutes from the world-class shopping and entertainment of Waikiki.
Since its opening in 1964, The Kahala Hotel & Resort has continuously hosted world leaders and Hollywood icons. With its legendary service, enviable amenities and perfect location, The Kahala has picked up countless awards and accolades during its 50-year history.Inspired by the great homes of the Hawaiian monarchy, with its elegant and grand residential feel, the hotel was originally designed by architects Edward Killingsworth, Jules Brady and Waugh Smith of Long Beach, California.
Then known as the Kahala Hilton, the resort cost $12 million to build, and was the first major resort to have air-conditioning in all rooms.
In a few months, the resort capitalized on its relatively removed location, thanks to its entrée to the Hollywood community. Not long after the resort's opening, the management of NBC booked every room for its annual affiliates meeting and brought in a bevy of Hollywood stars.
Recognizing its potential as a celebrity hideaway, an advertising campaign targeted film and television luminaries. Word quickly spread of this elegant and exclusive resort, and the Kahala was soon placed on the map for discriminating world travelers. By 1967, it achieved a remarkable 90 percent occupancy rate and sealed its reputation as a watering hole for the extremely wealthy and hugely famous.
The Kahala resort attracted countless film and television stars with its exclusive setting, exemplary service, and regard for privacy. Weekend afternoons around the pool were a veritable who's who of the silver screen, with the likes of John Wayne and Frank Sinatra languishing in chaise lounges with sunglasses and cool drinks.
The Kahala also became the hotel for royalty, heads of state, and legends of the sporting, musical and literary worlds. Despite its reputation for attracting the rich and famous, the resort also became a legendary gathering place for Honolulu's local society.
In the last decade, the Kahala Hotel & Resort has become a member of The Leading Hotels of the World and continues the privileged position among celebrities and islanders.
Hotel facilities:
Poolside bar, Restaurants - 5, Children's pool, Outdoor pool,Children's pool,Number of bars/lounges - 2
Recreational facilities:
Fitness facilities, Full-service spa, Children's club, Sauna,
General facilities:
Dry cleaning/laundry service, Free WiFi
Offer Includes
Flights from London with West Jet Airlines
Airport taxes
14 nights accommodation in Dolphin Lagoon View room
Meal Plans