Diving Expedition of the West & Southern Coast
Diving Expedition of the West & Southern Coast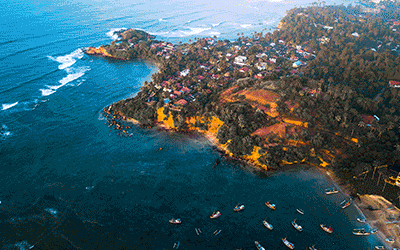 £2355
01 Nov 18
20 Dec 18
31 Aug 18

Highlights: Mt.Lavinia - Weligama - Kalpitiya - Katunayake
Other departures: Manchester - £2339, Birmingham - £2335, London Gatwick - £2325, Glasgow - £2545, Edinburgh - £2359, Bristol - £2589, Newcastle - £2519
Hotels:
Mt.Lavinia - Mount Lavinia Hotel 4*
Weligama - Fisherman's Bay 3.5*
Kalpitiya - Dolphin Beach Resort 4*
Katunayake - The Gateway Hotel Airport Garden by Taj 4*
Itinerary:
Day 1:
- Upon arrival, you will be transferred to Mount Lavinia, the diving hot spot in Colombo.
- Relax the rest of the day at leisure or by the beach.
Overnight: Mount Lavinia Hotel
Day 2:
- Enjoy a 2-tank dive trips per day for the next 3 days in Colombo.
- Sri Lanka's commercial capital with its hustle and bustle may not seem like your typical dive destination. But Colombo's diving is one of Sri Lanka's best-kept secrets. With over 10 wrecks within 45 minutes boat ride, Colombo offers some of the best wreck diving in Sri Lanka, and perhaps the region. Explore the cargo holds of intact freighters such as the Cargo Wreck (Pecheur Breton) and the Medhufaru, play with the friendly lionfish at the Nilagiri Tug or discover history on WWI wrecks such as the SS Perseus and SS Worcestershire. Colombo is truly a world-class destination for wreck diving.
While Colombo's wrecks teem with marine life - from vast schools of snappers and fusiliers to visiting pelagics such as dogtooth tuna, wahoo and eagle rays; Colombo diving is not limited to wrecks. Wide angle enthusiasts can explore current swept outer reefs with gardens of gorgonian fans while macro photographers can search for numerous nudibranchs, crabs, shrimps, pipefish and other creatures on the rocky reefs.
Diving off Colombo offers great value for experienced divers and a rewarding environment for novice divers to advance their training by taking the Advanced Open Water course or specialty courses like Nitrox or Deep Diver with training dives possible on world-class wreck sites.
Overnight: Mount Lavinia Hotel
Day 3:
- Enjoy the Dive in the morning.
- In the evening take an optional city tour of Colombo in "Tuk Tuks" the fastest way to get around Colombo while having fun. This is an amazing combination of Colombo's best seasonal hotspots; all of our amazing local food stops and lots of drinks are also included (alcoholic and non-alcoholic). This Safari runs a bit longer, depending on how the guests are going, so please be prepared for a massive fun filled evening. This allinclusive experience is excellent value and we guarantee you will find it impossible to beat.
Overnight: Mount Lavinia Hotel
Day 4:
- Enjoy the diving sessions in the morning.
- After lunch you will leave for Weligama which is on the southern coastal belt of the country.
Overnight: Fisherman's Bay

Day 5:
- Enjoy a 2-tank dive session in Weligama.
- In the evening take an excursion to the Galle and take a guided tour.
Galle:
It was once the chief port of Ceylon as Sri Lanka was named by the British. It is still well known for hand-made lace, tortoise shell curios and ebony elephants. You can also visit the Galle fort (spanning 90 acres), which was originally built by the Portuguese and later extended by the Dutch in 1663. This is a world heritage site.
Overnight: Fisherman's Bay
Day 6:
- Enjoy a 2-tank dive session in Weligama.
Optional - Leave after an early dinner at approximately 2000 hrs for the Rakawa Turtle sanctuary which is located 20 minutes away. Between the months of January to June turtle nesting is at its peak and sighting is quite frequent, although nesting does occur during the rest of the year although not as frequent.
Rakewa is a 2 km stretch of protected coastline which is a nesting haven for 5 species or marine turtles. You will be taken around a rough information center which is located in a hut on the beach. The tour and briefing is conducted in torchlight as the hut has no power line! Later, sit of the beach and wait for word of nesting turtles. It is possible to approach the nesting turtles only once they have dug their pit and begun the process of laying between 100 – 200 eggs! Sit by the turtle and share an unforgettable experience.
Overnight: Fisherman's Bay
Day 7:
- Leave after breakfast to Kalpitiya.
- Day at Leisure.
Overnight: Dolphin Beach Resort
Day 8:
- Enjoy a 2 Tank dive session in Kalpitiya.
- Day at Leisure.
Overnight: Dolphin Beach Resort
Day 9:
- Enjoy a 2 Tank dive session in Kalpitiya.
- Day at Leisure.
Overnight: Dolphin Beach Resort
Day 10:
- Leave after breakfast for a dolphin watching excursion.
- Leave after an early breakfast for our base for Dolphin watching which is located off the west coast of the island approximately 50 km north of Negombo. This stretch of beach is largely undeveloped. The beach remains pristine except for a few small fishing villages. The villages in this area are very unique with small tent like homes built completely (walls and roof) of woven palm leaves. Each tiny home is divided by neat fences also made of palm leaves. The ashy grey of the dried palm leaves, the surplus of stray goats and the presence of donkeys makes this area different to any other in Sri Lanka.
Arrive at the base by 07:30 hrs and be met by your local Dolphin Specialist who will guide you on board our dolphin watching vessels. We use 19 foot boats powered by outboard engines. The boats have a seating capacity of 6 – 8 persons depending on sea conditions.
Take a 2 – 3 hour boat excursion to see Spinner Dolphins. If you are lucky you may have a school of over 200 dolphins spinning and jumping out of the water to give you an official welcome to Sri Lanka! Several species of whales too have been spotted in the area, though sightings are rare. There is almost no wind during the months of November through April and the surface of the sea is often like a sheet of glass allowing an amazing depth of vision. It's possible to peep over the side of the boat and see several layers of dolphins in the clear green depths.
- Thereafter transfer to hotel near the airport.
Overnight: The Gateway Hotel Airport Garden by Taj
Day 11:
- Departure from hotel and catch your international flight back home.
Offer Includes
Flights from London with Turkish Airlines
Airport taxes
10 nights accommodation as per itinerary
Seven 2-tank dive trips per day for 7 days (14 Dives)
1 Dolphin watching excursion
1 guided tour of the Galle Dutch Fort
Meal Plans