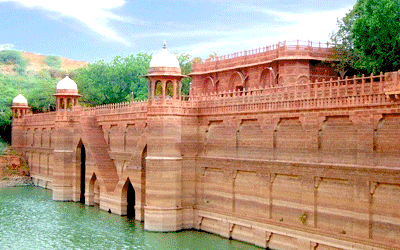 £3269
25 Jan 18
31 Mar 18
15 Mar 18

Highlights: Delhi - Shimla - Agra - Jaipur - Jodhpur
Place           Standard                           Luxury
Delhi          Metropolitan                  The Imperial
Shimla       Clarkesl                        The Oberoi Cecil
Agra          Radisson                       ITC Mughal
Jaipur        Holiday Inn                    Rambagh Palace
Jodhpur     Bal Samand Palace         Umaid Bhawan Palace
Delhi         Holiday Inn Aerocity        Radisson
Price         3279                              5759
The Viceregal Lodge, Shimla is the most historically significant and architectural impressive building of the region. The Viceregal Lodge was the summer residence of the Indian viceroy, the British Raj leader who governed the whole of the Indian subcontinental between 1888 until 1946. Within the discussed and agreed upon. The meeting was held at Viceregal Lodge, for the partition of India and Pakistan between Muhammad Ali Jinnah, Pandit Nehru and Lord Mountbatten Lutyens Delhi area in New Delhi named after the British architect Edwin Lutyens
Highlights of the Tour:
Visit Delhi : India's capital ,which has got magnificent historic past and vibrant present.
You will also visit Shimla : The Queen of Hill Stations : Once upon a time the summer capital of the British Raj.
A heritage walk of Shimla, where each and every building has a story to tell,including the Vice Regal Lodge
Visit to Scenic Wild Flower hall Mashobra(Now an Oberoi Luxury Boutique Hotel)which used to be the residence of Lord Kitchner. You will have a special lunch at Wild flower hall Mshobra
A ride on the UNESCO world Heritage " Kalka - Shimla Himalyan railway (built by British 1901-1903 ) this train service was commenced on 09 Nov 1903
Agra: Taj Mahal one of the wonders of the world
Jaipur: The Pink city
Jodhpur: The Blue City , with its Impressive Mehrangarh fort and also part of the film Viceroy's House was also shot at the locations in Jodhpur.
Itinerary:
Day 1: London Heathrow to Delhi by flight BA-257:1905-#0855 hrs
Day 2: Delhi
0855 hrs: Arrive Delhi airport
Upon arrival at the airport, you will be met and transferred to your hotel.
Day 3: Delhi
Full day sightseeing tour of Delhi. You will get a feel for this city as you explore its historic sights. Raj Ghat which is located on the banks of the river Yamuna, This is Mahatma Gandhi's Memorial, where he was cremated following his assassination in January 1948. Opposite the Red Fort lies Jama Masjid made of red sandstone and white marble, completed in 1656. It is India's largest mosque. Explore the bustling cultural delight of the colourful market on the 'cycle rickshaw' for a unique experience from the Red Fort, through "Chandni Chowk" or Silver Street, experiencing the sights and sounds of this very busy avenue-heading west from the Fort. You will take a view of Red Fort – the 17th century imposing fortress built in red sandstone is surrounded by a huge boundary wall 33m high. Inside are exquisite palaces and beautiful gardens.
Afternoon you will head into New Delhi, visiting Humayun's Tomb, an impressive garden tomb with high arches and a double dome, built by his wife Haji Begum in the 16th Century. An early example of Mughal architecture considered the predecessor of the Taj Mahal. Then continue on to the wonderful Qutab Minar - the landmark of Delhi, the beautiful grounds feature the well preserve a huge tower of victory standing over 72 meters. You will drive on to Rajpath and through to India Gate and the Lutyens Delhi with its tree lined boulevards leading to the British Viceroy's Palace (Rashtrapati Bhavan) now the official residence of the President of India, the Secretariat, India Gate and Parliament House.
Day 4: Delhi to Kalka by train Shatabadi express:0740-1145 hrs
Kalka to Shimla by train Himalayan Queen:1230-1720 hrs
Transfer from hotel to New Delhi railway station to board train for Kalka. Local Snacks, Tea / Coffee and Breakfast will be served on board
1145 hrs: Arrive Kalka railway station
Upon arrival at Kalka railway station board connecting train for Shimla
Toy Train – the Kalka -Shimla rail route, offers the charm of old-world travel amidst lofty pines and lush green, misty mountains. This is one of the four narrow gauge rail routes on hill terrain in the country.
1720 hrs: Arrive Shimla railway station
Upon arrival at Shimla transfer to hotel
Day 5: Shimla
Morning enjoy Heritage Walk through the town's Architectural Heritage Zone that brings you close to various architectural sites of British era. A number of old buildings such as Bantony, Betinks Castle, Railway Board Building, Gorton Castle (can see from outside), Knokcdrin (can see from outside) Sanitarium, Cecil Hotel, Inverarm, State Museum (closed on Monday) - This building was a private residence of Lord William Beresford, the Military secretary to the viceroys for many years.
Visiting The Famous Vice Regal Lodge Viceregal Lodge now houses Indian Institute of Advanced studies and small part of it is now a museum open to the tourists:- The site for Viceregal Lodge was selected by Lord Lytton the Viceroy of India between 1876 -1880. The Viceregal Lodge, also known a Rashtrapati Niwas is located on the Observatory Hill of Shima. It was formerly the residency of the British Viceroy of India. It was designed by British architect Hendry Irwin and built in the Jacobethan style during the regime of Lord Dufferin. Its construction stared in 1880 and completed in 1888.
In the afternoon visit Jhaku Temple/ Hill (2455 Mts.): This is the town's highest peak and a vantage point for Shimla's famous views. The summit is crowned with a temple dedicated to monkey God Hanuman. This also offers a very good view of the Shimla with snow capped mountains. One legend goes that Lord Hanuman stopped there to rest while he was searching for the Sanjivni Booti to revive Lakshman in the Epic Ramayana.
Gaiety Theater -The Gaiety Theater, and a tradition of amateur theatrical remains in the stump of the once colossal edifice that was the Town Hall. The architect Henry Irwin, who built the Viceregal Lodge, designed the theater building.
Day 6: Shimla
Full day excursion of Kufri and Chail
Day 7: Shimla to Parwanoo by surface
Parwanoo to Kalka by surface
Kalka to Delhi by train Shatabadi Express:1745-2155 Hrs
After breakfast drive to Parwanoo
Upon arrival in Parwanoo, transfer from base of the mountain to top of the mountain by cable car
You will enjoy lunch at Moksha
After lunch transfer from top of the mountain to base of mountain and then drive to Kalka railway station in time to board train for Delhi. Local snacks , tea / coffee and Dinner will be served on board.
2155 Hrs: Arrive New Delhi railway station
Upon arrival at Delhi railway station meet and assist by our representative and transfer to hotel
Day 8: Delhi to Agra by surface, 210 Km/ 4 Hr
Today after breakfast you will drive to Agra
Upon arrival at Agra, check in at hotel
Rest of the day at leisure
Day 9: Agra
After breakfast enjoy visiting the world famous Taj Mahal (closed on Friday) The Mughal Emperor Shah Jahan in memory of his favourite wife, Mumtaz Mahal, who died in 1631, built one of the world's most famous buildings, the 'Taj Mahal'. Its perfect proportions and exquisite craftsmanship have been described as 'a vision, a dream, a poem, and a wonder'. visit the 16th century Agra fort. This commanding red sandstone monument stretches 2.5 kilometres along the banks of River Yamuna, encompasses serene gardens and terrace pavilions, with striking views providing glimpse of the magnificent Taj Mahal across the river. and Tomb of Itmad-ud- Daulah also called as Baby Taj
Day 10: Agra to Jaipur by surface, 265 Kms, 6 ½ Hrs
Drive to Jaipur, en route visit Fatehpur Sikri - the imperial ruins of the dream capital city of the Great Mughal Emperor - Akbar.
You will continue drive to Jaipur, the famed 'Pink City' and the capital of Rajasthan known for its palaces, three hill forts and a shopper's paradise.
Upon arrival at Jaipur, check in at hotel
Evening at leisure to explore colourful bazaar
Overnight stay at hotel
Day 11: Jaipur
Morning excursion to Amber - capital of the old state of Dhundhar, located on the rugged hills that surround Jaipur. Ride the colourfully painted elephants up the hill, admire the massive gateways, courts, stairways, pillared pavilions and palaces that recall the glory and wealth of Amber's association with the Mughals. During the afternoon visit the City Palace (still houses the erstwhile Royal family); Jantar Mantar - the Royal Observatory and Hawa Mahal (Palace of Winds) - built for the royal ladies to watch the activities on the market street below without being observed themselves.
Overnight stay at hotel
Day 12: Jaipur to Jodhpur by surface, 350 kms / 7 Hrs
After breakfast your will drive to Jodhpur - founded in 1459, Jodhpur is referred as Sun City for its bright & sunny weather. It is also termed as Blue city for it blue whitewashed houses around Mehrangarh Fort.
Upon arrival at Jodhpur, check in at hotel
Day 13: Jodhpur
Morning enjoy city tour Jodhpur visiting Mehrangarh Fort - located atop a 125 m high hill. The magnificent Mehrangarh Fort is the most majestic and one of the largest forts in India. The construction of the fort started in 1459. The walls of the fort are up to 36 m high and 21 m wide; they enclose some exquisite structures. The fort museum houses an exquisite collection of palanquins, howdahs, royal cradles, miniatures, musical instruments, costumes and furniture. The rampart of fort not only has excellently preserved cannons but also gives a breathtaking view of the city. Kipling once remarked, the fort seems to have been built by giants and not by ordinary people. Also visit Jaswant Thada – an architectural landmark. It is a white marble memorial built in 1899 in memory of Maharaja Jaswant Singh II. The monument, in its entirety, is built out of intricately carved sheets of marble. These stones are extremely thin and polished so that they emit a warm glow when the sun's rays dance across their surface. Within this cenotaph, there are also two more tombs.
Evening Tuk Tuk ride
Day 14: Jodhpur to Delhi by flight 9W-2556:1315-1455 Hrs
Transfer from hotel to Jodhpur airport in time to board flight for Delhi
1455 Hrs: Arrive Delhi airport
Upon arrival at Delhi, check in at hotel
Rest of the day at leisure and Overnight stay at hotel
Day 15: Delhi to London Heathrow by flight BA-256:1105-1515 hrs
Transfer from hotel to airport in time to board flight for London Heathrow
Offer Includes
Flights from London with British Airways
Airports taxes
Domestic flight for the sector JDH/DEL by 9W
13 nights accommodation on bed & breakfast basis
All transfers, sightseeing and excursions by private air-conditioned car
Entrance fees to the monuments
Services of local English speaking Guide as per the itinerary during city tour
1 Lunch at Moksha Resort
Train fare for the sector Delhi/Kalka/Delhi by air-conditioned executive chair car
Kalka/Shimla by Non Ac class
Elephant / Jeep ride at Amber Fort, Jaipur
Tuk Tuk ride at Jodhpur
Meal Plans