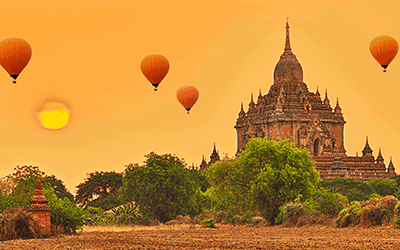 £1999
15 Nov 18
31 Mar 19
30 Dec 18

Highlights: Yangon – Bagan – Mt.Popa – Mandalay – Inle lake – Indein
Other departures: Manchester - £2269, Birmingham - £2215, Edinburgh - £2235, Glasgow - £2235,  Newcastle - £2215, Aberdeen - £2395, Leeds Bradford - £2155
Hotels:
Yangon- Hotel Grand United 4* (Junior Suite Room)
Bagan- Myanmar Treasure Resort 4* (Superior Room)
Mandalay - Hotel Yadanarbon 3* (Deluxe Room)
Inle Lake - Hupin Khaung Daing Village Resort 4* (Mt. View Chalet Room)
Itinerary:
Day 1: Arrival - Yangon
-Your tour guide will greet you at the arrivals hall and transfer you to your hotel for Check-in.
-Take a rest at your hotel.
-Late afternoon, visit and enjoy the sunset at the Shwedagon Pagoda, world-famous; its golden stupa is the 'heart' of Buddhist Myanmar. The pagoda is believed to be 2,500 years old and the central stupa is surrounded by dozens of intricately decorated buildings and statues. There are always many Myanmar people praying and making offerings at the Shwedagon, and it's a fascinating place to spend time watching the world go by…
Accommodation at your Hotel in Yangon.
Day 2: Yangon – Bagan Discover Bagan
-Breakfast at Hotel. And then transfer to Yangon Domestic Airport for departure to Bagan.
-Arrive in Bagan, visit to see the golden stupa of Shwezigon Pagoda - Bagan's most important reliquary shrine. Continue to Ananda Temple, a whitewashed masterpiece of Mon architecture with four standing Buddhas. Make a photo-stop at the tallest temple measuring 61 m.
- Thatbyinnyu known as 'the temple of omniscience' and dating back from 1144.
-In the afternoon, continue to the Myinkaba area and Gubyaukgyi Temple with its fine stuccowork.
Next, stop at Dhammayangyi, a massive-looking temple dating from 1170 which is famous for its interlocking mortar less brickwork. Stop at a popular lacquerware workshops producing the most famous of 'Bagan handicrafts'.
Later afternoon, enjoy a horse-cart ride with sunset from a sunset platform. From this privileged location you can enjoy sweeping views over Bagan's Ancient Temple Site and the Ayeyarwaddy river around sunset time.
Accommodation at your hotel in Bagan.
Meal: Breakfast
Day 3: Bagan – Mt.Popa – Bagan
- Optional for balloon flight in Bagan:
Experience the magic spell of Bagan from a bird's eye perspective. In the very early morning you will be picked up at your hotel. At the launch site you will be briefed by Balloons over Bagan's professional and licensed expat pilots over a cup of coffee / tea. The flight itself lasts from anything between 30-60 minutes. on average, primarily depending on weather, and mainly, wind conditions. You will be floating over the impressive Bagan Temple site, gently carried on by winds not exceeding 15 mph. After a skilful and smooth landing somewhere in an open patch of land, or near the bank of the Ayeyarwaddy river, your ground crew will offer you a glass of champagne, and a light breakfast of croissants & Danish rolls, fresh fruit, and coffee / tea. You also get a personalized certificate of your unforgettable hot-air balloon ride over one of the most exceptional sights in Southeast Asia!
-After breakfast, leave Bagan behind and drive south-east for a little over 45 km to reach Popa.
Mount Popa:
It is 1,518 m. high, but our visit focuses on Popa Taungkalat, 737 m. high, its cone-shaped form actually is the core of an extinct volcano. It is also the home of Myanmar's 37 most important nats (spirits), housed in a shrine at the foot of Taungkalat.
The climb to the very top via 777 winding but covered steps is a bit challenging at times, but the reward of the panoramic views of Popa's surroundings is well worth it. The top, houses a monastery and temple.
There is no better vantage point to enjoy lunch than the terrace of Popa Mountain Resort, whence you can enjoy the most prestigious views of Popa, and mainly of Taungkalat itself.
-Lunch at Popa Mountain Resort.
- Mid-afternoon, drive back to Bagan, and on route, stop for an interesting visit at "Paing" roadside shop. Here, you can observe how locals climb up toddy trees to harvest the toddy juice. Depending on the time of day, the taste can be sweet or turn to slightly bitter. This juice is sometimes called "sky beer".
The juice is also used to make toddy candy. In addition, you could witness how in a very local style they use the same to make local alcohol and drinking or for house medication.
Continue to Bagan, and upon arrival late afternoon transfer to your hotel.
Accommodation at your hotel in Bagan.
Meal: Breakfast & Lunch
Day 4: Bagan – Mandalay – Amarapuara Sightseeing
-Breakfast at hotel.
-In the morning, transfer to Bagan airport for your domestic flight to Mandalay.
Upon arrival, transfer to the ancient capital of Amarapura, "City of Immortality", 11 km. south of Mandalay.
-First, visit U-Bein bridge, over one km. long and almost entirely made of teak, and spanning the Taungthaman Lake. After that, visit the Mahamuni Pagoda, housing the most revered Buddha image in Mandalay and Upper Myanmar. Take a short time too to view some of the many handicraft workshops adjoining the site.
-Transfer to your hotel for check-in.
In the afternoon, first pass the south and east side of the moat enclosing the Mandalay Palace.
-Arrive at Shwenandaw Monastery, an ancient wooden building with intricate carvings, once the home of King Mindon. Continue to Kuthodaw Pagoda, frequently called the 'world's largest book', a collection of 729 white-washed small stupas housing the Buddhist Scriptures inscribed on marble slabs.
-Finally, watch the sun set from the top of Mandalay Hill, a site with several glass-adorned temples at the north side of the city. Enjoy some sweeping views of Mandalay and its surroundings to end your day's sightseeing.
Transfer back to your hotel.
Accommodation at your Hotel in Mandalay.
Meal: Breakfast
Day 5: Mandalay – Heho – Inle Lake sightseeing
-Breakfast at Hotel, transfer to Mandalay Airport for departure to Heho.
-Upon arrival, transfer by road to Nyaung Shwe, the small town at the entrance of Inle Lake. Board your private long-tail boat to transfer to your hotel for check-in.
-Then, start highlight sightseeing by boat in beautiful Inle Lake, the second largest lake in Myanmar which stretches 11 miles (17.7 km). On the boat-trip you will visit the famous Phaung Daw Oo Pagoda and Nga Phe Kyaung Monastery, one of the oldest monasteries on the lake to see ancient Buddha images.

-Then we will visit the Kay la village. This village is located in the middle part of Inlay Lake and famous for its floating gardens. The villagers mainly live on fishing and farming. In 'the floating gardens' locals mostly grow tomatoes and a minority grow peas, chilies and flowers.
-Transfer back to your hotel.
Accommodation at your Hotel in Inle Lake.
(Please note that due to safety reasons night transfers by boat on the lake are not allowed by company policy. Thank you for your understanding!)
Meal: Breakfast
Day 6: Inle Lake with Indein Sightseeing
-After Breakfast, tour to Ywama village, one of Inle's most nice-looking villages. Watch plenty of floating gardens, where fruit, flowers and mainly vegetables are grown.
-Then, travel by long-tail boat to the western shore of the lake. Disembark at Indein jetty and pass a local school, a local market, and several shops and stalls. Then, walk up a stairway leading to the hidden and beautiful Alaung Sitthou area (Indein Temple Complex).
-Located on the very shore of the lake, this site consists of dozens of small ancient stupas overgrown by moss and greens in a jungle-like setting. This gives Indein a special feel and a very particular ambience.
Take time to explore the stupa complex itself. It's also a great opportunity to take some exquisite photos of this unusual place.
Return Back to hotel.
-Accommodation at your hotel in Inle Lake.
(Please note that due to safety reasons night transfers by boat on the lake are not allowed by company policy. Thank you for your understanding!)
Meal: Breakfast
Day 7: Heho – Yangon Half Day sightseeing
-Breakfast at your Hotel. Then, transfer to Heho Airport for the flight to Yangon. Arrive at Yangon Domestic Airport and transfer to your hotel for Check-in.
-Take some time to relax at your hotel.
-Early afternoon, visit to Chauk Htat Gyi Pagoda, featuring a huge reclining Buddha image.
Next, drive along Kandawgyi (Royal) Lake and on the east side make a brief stop to take some great photos across the lake towards the magnificent Shwedagon Pagoda.
-Accommodation at your hotel in Yangon.
- Transfer to Colombo.
Meal: Breakfast
Day 8: Yangon Departure Day
-Breakfast at your Hotel.
-Free time at Leisure until your transfer to Yangon International Airport for your departure flight to next destination.
Meal: Breakfast
Offer Includes
Flights from London Heathrow with Thai Airways International
Airport taxes
7 nights accommodation as per itinerary
Return transfers by a private car
English Speaking Throughout Guide
Entrance fees as per itinerary
Meal Plans