Call of the Wild & Romantic Taj to Pink City
Call of the Wild & Romantic Taj to Pink City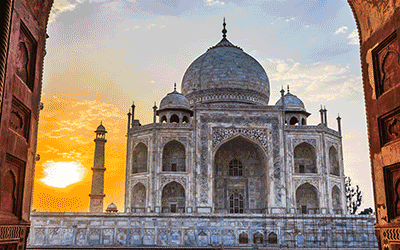 £1899
01 Apr 18
20 Jun 18
30 Apr 18

Note: Taj remains closed on Friday
Highlights: Delhi - Bandhavgarh - Agra - Jaipur
Hotels:
Delhi - The Metropolitan Hotel and Spa 5*
Bandhavgarh - Nature Heritage Resort 4*
Agra - Crystal Sarovar Premiere 5*
Jaipur - Radisson Jaipur City Center 4*
Set amidst the Vindhyan ranges and the eastern flank of Satpura hill range Bandhavgarh N.P. is one of the best places to see Indian wildlife. The Reserve, named after its highest hill Bandhavgarh (807m.) at its centre, was the former hunting reserve of the Maharaja of Rewa. With less undergrowth than normal, the reserve offers better sightings of wildlife, most notably mammals, including the daylight sightings of Tigers in the grassy 'maidans'. Don't forget your camera!
The soft romanticism that can be felt as the amazing Taj Mahal in Agra
Itinerary:
Day 0: London Heathrow to Delhi
Day 1: Delhi
11:40 Hrs: Arrive Delhi airport.
Upon arrival at Delhi airport, welcome, meet and assist by our representative and transfer to hotel.
Evening enjoy food walk at Old Delhi.
Delhi food walks has become a platform for foodies to share their culinary conquests and to keep the food culture of Delhi alive. The food and dishes we chose for our walks is based on the taste, authenticity and hygiene.
Day 02: Delhi to Katni by (Overnight train)
After breakfast enjoy city tour of Delhi. You will get a feel for this city as you explore its historic sights. Raj Ghat which is located on the banks of the river Yamuna, This is Mahatma Gandhi's Memorial, where he was cremated following his assassination in January 1948. Opposite the Red Fort lies Jama Masjid made of red sandstone and white marble, completed in 1656. It is India's largest mosque. Explore the bustling cultural delight of the colourful market on the 'cycle rickshaw' for a unique experience from the Red Fort, through "Chandni Chowk" or Silver Street, experiencing the sights and sounds of this very busy avenue-heading west from the Fort. You will take a view of Red Fort – the 17th century imposing fortress built in red sandstone is surrounded by a huge boundary wall 33m high. Inside are exquisite palaces and beautiful gardens.
Afternoon you will head into New Delhi, visiting Humayun's Tomb, an impressive garden tomb with high arches and a double dome, built by his wife Haji Begum in the 16th Century. An early example of Mughal architecture considered the predecessor of the Taj Mahal. Then continue on to the wonderful Qutab Minar - the landmark of Delhi, the beautiful grounds feature the well preserve a huge tower of victory standing over 72 meters. You will drive on to Rajpath and through to India Gate and the Lutyens Delhi with its tree lined boulevards leading to the British Viceroy's Palace (Rashtrapati Bhavan) now the official residence of the President of India, the Secretariat, India Gate and Parliament House.
Later transfer to H.Nizamuddin railway station to board overnight train for Katni.
Day 3: Katni to Bandhavgarh (110 kms, 2-3 hrs)
06:35 hrs: Arrive Katni railway station
Upon arrival at Katni railway station you will travel by road to Bandhavgarh for a 2 nights stay. Bandhavgarh is a small National Park, compact, yet full of game and the highest tiger population in India. It is also known as the White Tiger country, which has been found in the old state of Rewa for many years.
Overnight stay at hotel.
Day 4: Bandhavgarh
Morning and evening safaris. The forests of Bandhavgarh, which was declared as National Park in 1968 are the white tiger jungles of the yesteryears. However, no white tigers have been reported from the woods in the last 50 years and it is believed that less than a dozen have been seen in India in about a hundred years. Yet when white tigers were sighted, it was right here in Bandhavgarh. Over half the area of the park is covered by Sal (Shorea robusta) forests and there are stretches of bamboo and grassland. Within the park is the ancient Bandhavgarh fort and caves, dug into the sandstone of the fort, have inscriptions dating from the 1st century BC. The Bandhavgarh jungle, when it is large enough, becomes a living self-sustaining organism providing its own climate, atmosphere, water and nutrition through its recycling systems. It even has a sleep wake cycle. As more light fills the sky, Bandhavgarh begins to awaken.
Overnight stay at hotel.
Day 5:
Bandhavgarh to Katni by surface
Katni to Agra by train
Morning safaris.
Breakfast at hotel.
Transfer from hotel to Katni railway station in time to board an overnight train for Agra.
Day 6: Agra
08:10 hrs: Arrive Agra railway station
Upon arrival at Agra railway station transfer to hotel
Morning will enjoy city tour of Agra visiting Taj Mahal. It is an acclaimed architectural masterpiece and one of the wonders of the world. 20,000 workers laboured for 12 years to build this sublime garden tomb of Mumtaz Mahal, Shah Jahan andvisit the 16th century Agra fort. This commanding red sandstone monument stretches 2.5 kilometres along the banks of River Yamuna, encompasses serene gardens and terrace pavilions, with striking views providing glimpse of the magnificent Taj Mahal across the river. and Tomb of Itmad-ud- Daulah also called as Baby Taj
Check in at hotel for an overnight stay
Agra Culture walk
Get to know Agra the local way, by exploring the city's hidden lane-ways, bustling spice market, and religious mosques and temples, all with your feet to guide you. Sample treats at a 200-year-old sweets shop, hop on a cycle rickshaw, and learn why Hindu families dress their idols. Hear the legends that have been passed down through generations and learn how modern-day India is reshaping itself. Finish it all up with the spectacular sight of the Taj Mahal from a secret spot.
Evening
Timings : Pick up at 4:00 PM from your hotel
Duration : About 3 hours
Day 7: Agra to Jaipur by surface, 265 kms, 6 ½ Hrs
Drive to Jaipur, en route visit Fatehpur Sikri - the imperial ruins of the dream capital city of the Great Mughal Emperor - Akbar.
you will continue drive to Jaipur, the famed 'Pink City' and the capital of Rajasthan known for its palaces, three hill forts and a shopper's paradise.
Upon arrival at Jaipur, check in at hotel
Evening cooking demonstration with Dinner
Overnight stay at hotel
Day 8: Jaipur
Morning excursion to Amber - capital of the old state of Dhundhar, located on the rugged hills that surround Jaipur. Ride the colourfully painted elephants up the hill, admire the massive gateways, courts, stairways, pillared pavilions and palaces that recall the glory and wealth of Amber's association with the Mughals. During the afternoon visit the City Palace (still houses the erstwhile Royal family); Jantar Mantar - the Royal Observatory and Hawa Mahal (Palace of Winds) - built for the royal ladies to watch the activities on the market street below without being observed themselves.
Overnight stay at hotel
Day 9: Jaipur to Delhi by surface, 258 kms / 6 Hrs
After breakfast drive to Delhi
Upon arrival at Delhi, check in at hotel
Later Afternoon enjoy
The ultimate entertainment and leisure destination, sprawling across acres of land, ideally located at the apex of the golden triangle of Jaipur, Agra and Delhi, is the magnificent Kingdom of Dreams. Here, the carnival that is India is distilled into one iconic destination. This fabulous Kingdom brings to life a blend of India's art, culture, heritage, craft, cuisine and performing art...all with the technological wizardry of today. Nautanki Mahal: showcasing an extravagant cinematic and theatrical musical. Culture Gully: an elaborate culture, arts, crafts and food boulevard. Showshaa Theatre: a fabulous, colourful drama marquee spotlighting Indian mythology productions, a mock wedding show and the great Indian talent circus. iifa Buzz: a glamorous Bollywood themed cafe. This is a destination in itself which is capturing the imagination of the world. Get ready for this century's most novel tourist destination: Kingdom of Dreams.
Overnight stay at hotel
Day 10: Delhi to London Heathrow
Transfer from hotel to Delhi airport in time to board flight for London Heathrow
Offer Includes
Flights from London with Virgin Atlantic
Airport taxes
5 nights accommodation on Bed & Breakfast basis
2 nights accommodation on Full Board basis at Bandhavgarh
2 nights on train for Delhi-Katni and Katni-Agra
All transfers, sightseeing & excursion as per itinerary
Services of local English speaking guide as per itinerary
Entrance fees to the monuments as per itinerary
Cycle Rickshaw ride at Old Delhi
3 Games drives at Bandhavgarh National Park by shared Jeep
Food walk at Old Delhi
Cooking demonstration with Dinner at Jaipur
Bollywood show Kingdom of dream in Delhi
Cultural walk at Agra
Meal Plans