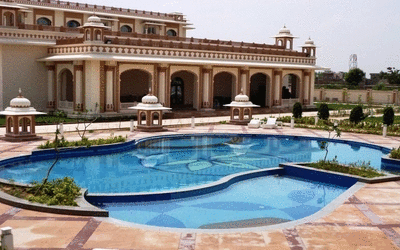 £4299
16 Jan 18
31 Mar 18
28 Feb 18

Highlights: Mumbai - Aurangabad - Ahmedabad - Dungarpur - Udaipur - Mount Abu - Jodhpur - Jaipur - Ranthambore - Delhi
Other departures: Manchester - £4365, Birmingham - £4369
Hotels:
Mumbai - Sun N Sand
Aurangabad - Vivanta by Taj Aurangabad
Ahmedabad - Hyatt Regency
Dungarpur - Udai Bilas Palace
Udaipur - Amet Haveli
Mount Abu - Hotel Hillock
Jodhpur - Indana Palace
Jaipur - Radisson City Center
Ranthambore - Ranthambore Regency
Delhi - Metropolitan
Itinerary:
Day 0: London Heathrow to Mumbai
Day 1: Mumbai
11:10 Hrs - Arrive Mumbai – The city that never sleeps and is always a buzz with activities.

Mumbai is in all ways a mega-city driven by power, wealth, glamour and fame which attracts people to give shape to their dreams and aspirations. Mumbai previously known as Bombay
Upon arrival at Mumbai airport welcome, meet and assist by our representative and transfer to hotel
Time at leisure to explore Mumbai affectionately known as 'Bollywood', the largest film making industry in the world.
Day 2: Mumbai
After breakfast excursion by boat to Elephanta Caves (Closed on Mondays) – a UNESCO world Heritage site. It lies 10 km north east of Apollo Bunder and is the glorious abode of Lord Shiva (the destroyer God as per Hindu mythology). The island is famous for its great cave shrine, excavated in the sixth century, dating back to the period, when the island was known as Gharapuri, the Fortress City. With the arrival of the Portuguese, the island was renamed Elephanta, after the huge carved elephant, they found at the place where they landed.
Gateway of India – built to commemorate the visit of King George-V and Queen Mary to Mumbai. The foundation stone was laid in 1911 and was completed in 1920.
Mani Bhawan - Father of Nation Mahatma Gandhi used to stay here during his visit to Mumbai
Hanging Gardens - terraced gardens perched at the top of Malabar Hill, on its western side. They provide lovely sunset views over the Arabian Sea and feature numerous hedges carved into the shapes of animals. The park was laid out in 1881 over Mumbai's main reservoir, some say to cover the water from the potentially contaminating activity of the nearby Towers of Silence.
Dhobi Ghat is a well known open air laundromat in Mumbai. The washers, locally known a Dhobis, work in the open to wash the clothes.
Marine Drive - also known as the Queen's Necklace is a 3 Kms long boulevard in South Mumbai. It is also the world's largest viewing gallery and hence has been a host to a number of events that take place along the promenade.
Overnight stay at Hotel
Day 3: Mumbai to Aurangabad
Transfer from Hotel to Mumbai airport in time to board flight for Aurangabad
1705 Hrs: Arrive Aurangabad airport
Upon arrival at Aurangabad airport transfer to Hotel
Overnight stay at Hotel
Day 4: Aurangabad (Ajanta) 110 kms.
A full day excursion to see the famous Ajanta murals, which show the scenes from Buddha's life and from the Jakata tales. Ajanta caves, famous UNESCO world heritage site known for its Buddhist sculptures & mural paintings. Return to Aurangabad,
Overnight stay at Hotel
Day 5:
Aurangabad to Mumbai
Mumbai to Ahmedabad
Morning sightseeing tour to the Ellora cave temples, carved to perfection. Ellora caves a popular UNESCO world heritage site. The Ellora caves are a unique artistic creation & exhibits a seamless blend of Hindu, Buddhist & Jain Heritage, You will visit Bibi ka maqbara a replica of Taj Mahal.
Transfer from Hotel to Aurangabad airport in time to board flight for Ahmedabad via Mumbai.
22:25 Hrs - Arrive Ahmedabad airport
Upon arrival at Ahmedabad airport trasfer to Hotel.
Overnight stay at Hotel.
Day 6: Ahmedabad
After fresh-up enjoy city tour of Ahmedabad visiting.
Gandhi Ashram - Sabarmati Ashram also known as Gandhi Ashram, Harijan Ashram, or Satyagraha Ashram) is located in the Ahmedabad
Sidi Saiyad Mosque, built by a general of Abysinian origin in the 1570 is best known for its intricate perforated stone work, The Sidi Saiyad Mosque is famous for its ten semis – circular delicately carved stone windows; one of them shows the intricately entwined branches of a tree, depicting the 'Tree of life'. The Swetambara Temple 
Hathesingh temple was built outside Delhi gate in 1850 by a rich jain merchant Sheth Hatheesing. This is the best known of Ahmadabad's many ornate jain temples. It is dedicated to Dharamnath, the fifteenth Tirthankar whose status stand in the main sanctuary Built by pure marble profusely decirated with rich carving, 
Dada Hari Vav (Stepped well) - This well was built to provide cool resting place and water to the travelers. The stepped well is one the finest example of Gujarati architecture. Even on the hottest days the well is cool. This well was built in 1501. It has a flight of steps leading down to lower and lower platform terminating at a small, octagonal well. The best time to visit and photograph the well is between 10 and 11 am; at other times the sun doesn't penetrate to the various levels
Later drive to Adalaj, visit step well is an architectural wonder built by Queen Rudabai and is certainly one of the finest monuments of Gujarat. It is a seven-storied structure in the form of a well with chambers one behind the other. The 'Vav' or stepped wells of Gujarat were used as meeting and resting-places during summer since their cool interiors offered unbelievable respite from the scorching sun outside.
Overnight stay at hotel
Day 7: Ahmedabad to Dungarpur by surface (Approx. 180 Kms, 3-4 Hrs)
Today after breakfast you will drive from Ahmedabad to Dungarpur is as exotic as the green marble found here and shipped globally and liessnug in the foothills of the Aravalli range. Dungarpur's rise to tourist fame is thanks to the exceptional architecture of its palaces and royal residences. These stone structures are adorned with 'jharokhas' (windows) and built in a style that was born during the times of Maharawal Shiv Singh (1730-1785 AD). Dungarpur's goldsmiths and silversmiths are skilled artisans Famous for Their lacquer-painted toys and picture frames.
Upon arrival at Dungarpur, check in at Hotel
Afternoon visit Badal Mahal Situated on the bank of Gaib Sagar Lake is an exquisite example of Rajputana decor with the majesty of Mughal architecture.
Gaib Sagar Lake is mainly famous for the tourists attractions that nestles on its lakeside and a good variety of migratory birds that consider this location as their home
Overnight stay at Hotel
Day 8: Dungarpur to Udaipur by surface (Approx. 120 Kms, 3 hrs)
Today after breakfast you will leave Dungarpur and drive to Romantic city Udaipur, also known as city of Lakes
Upon arrival at Udaipur, check in at your hotel
Rest of the day at leisure and Overnight stay at Hotel
Day 9: Udaipur
After breakfast enjoy half day city tour.
City Palace - The city palace was built in 1725 with various palaces inside it such as Dilkush Mahal, the palace of Krishan Moti Mahal, Sheesh Mahal all ornately decorated. The museum in City Palace contains incomparable historic and artistic heritage which dates back to 14 century, Jagdish Temple - Dedicated to Vishnu, the preserver, this temple was built by Maharana Jagat Singh in 1651, Saheliyon Ki Bari - The Garden of the Maids of Honour, a most serene place in Udaipur, designed by Maharana Fateh Singh. It consists of beautiful lawns, gardens and fountains, a retreat for the ladies of the household, Rana Pratap Smarak, Nagar & Sajan Niwas Gardens - Overlooking the Fateh Sagar is the Moti Magri (Pearl Hill) on which is a statue of Maharana Pratap on his famous horse Chetak. Local guide claim that he jumped an abyss of extraordinary width in the heat of the battle even after losing one leg! The path to the top winds through some attractive gardens.
Afternoon boat ride on Lake Pichola - The beautiful Lake Pichola derives its name from a nearby village Picholi. Udai Singh built a dam and from then the lake has become a meeting place for more than two hundred species of migratory and resident birds.
Overnight stay at Hotel
Day 10: Udaipur
Day at leisure to explore at your own pace and Overnight stay at Hotel
Day 11: Udaipur to Mount Abu by surface (Approx. 190 Kms, 4-5 Hrs)
Today you will drive from city of lakes Udaipur to Mount Abu – during the period of the Maharaja's it was used as a place of leisure by the royalties.
Upon arrival at Mount Abu, check in at your hotel
Afternoon you will proceed to visit Dilwara Temple These remarkable Jain temples are Mount Abu's main attraction and among the finest examples includes two temples in which the art of carving marble reached unsurpassed heights.
Nakki Lake is virtually in the heart of Mount Abu and is a big attraction with tourists. The lake takes its name from the legend that it was scooped out by a god, using only his nails, or nakh. It's a pleasant stroll around the lake – look for the strange rock formations. On the lake there is a dilapidated concrete boat-shaped snack bar.
Sunset Point is a major attraction in Mount Abu, placed perfectly to the south west of the calm Nakki Lake to view the magnificent sunset. The eye catching view of the sunset, setting behind the forest ranges of the Mount Abu peaks is amazing for any nature loving tourist. One can get a spectacular panoramic view of the mountain ranges and the beautiful lake from this point. One can see huge crowds at this spot during evenings, to enjoy the multicolor sky and the sun in the horizon.
Overnight stay at Hotel
Day 12: Mount Abu to Jodhpur by surface (Approx. 350 Kms, 5-6 Hrs)
After breakfast you will leave Mount Abu and proceed to drive to Blue city Jodhpur
Enroute visiting the beautiful Jain temple at Ranakpur - The exceptionally beautiful Ranakpur complex is one of the largest and most important Jain temples in India. 60 Kms, north of Udaipur. It lies in a remote valley of the Aravalli range and is an important destination for Jains and tourists alike.
Upon arrival at Jodhpur, check in at your hotel
Overnightstay at Hotel
Day 13: Jodhpur
Morning enjoy city tour Jodhpur visiting Mehrangarh Fort - located atop a 125 m high hill. The magnificent Mehrangarh Fort is the most majestic and one of the largest forts in India. The construction of the fort started in 1459. The walls of the fort are up to 36 m high and 21 m wide; they enclose some exquisite structures. The fort museum houses an exquisite collection of palanquins, howdahs, royal cradles, miniatures, musical instruments, costumes and furniture. The rampart of fort not only has excellently preserved cannons but also gives a breathtaking view of the city. Kipling once remarked, the fort seems to have been built by giants and not by ordinary people. Also visit Jaswant Thada – an architectural landmark. It is a white marble memorial built in 1899 in memory of Maharaja Jaswant Singh II. The monument, in its entirety, is built out of intricately carved sheets of marble. These stones are extremely thin and polished so that they emit a warm glow when the sun's rays dance across their surface. Within this cenotaph, there are also two more tombs.
Evening Tuk Tuk ride.
Overnight stay at Hotel
Day 14: Jodhpur to Jaipur by surface (Approx. 350 Kms, 7 Hrs)
Today abreakfast you will drive to from Jodhpur to Jaipur, the famed 'Pink City' and the capital of Rajasthan known for its palaces, three hill forts and a shopper's paradise.
Upon arrival at Jaipur, check in at your hotel and Overnigtht stay at Hotel
Day 15: Jaipur
Morning excursion to Amber - capital of the old state of Dhundhar, located on the rugged hills that surround Jaipur. Ride the colourfully painted elephants up the hill, admire the massive gateways, courts, stairways, pillared pavilions and palaces that recall the glory and wealth of Amber's association with the Mughals. During the afternoon visit the City Palace (still houses the erstwhile Royal family); Jantar Mantar - the Royal Observatory and Hawa Mahal (Palace of Winds) - built for the royal ladies to watch the activities on the market street below without being observed themselves.
Overnight stay at hotel
Day 16: Jaipur to Ranthambore by surface (Approx. 180 Kms, 4 Hrs)
After breakfast drive from Jaipur to Ranthambore - one of the finest tiger reserve and one of the most filmed wildlife reserves in the world. Ranthambore was declared a wildlife sanctuary in 1955 and became part of Project Tiger in 1973. This park is famous for its tigers and is one of the best places in the country to see these majestic predators in the wild.
Upon arrival at Ranthambore, check in at Hotel
Afternoon you will visit Ranthambore Fort stads majestically atop a hill overlooking the entire park. The walk up, one of the only places this mode of transport is possible, is a very refreshing and exciting .
Overnight stay at Hotel
Day 17: Ranthambore
Morning and Afternoon Game drives at Ranthambore National Park by shared open Jeep / canter
Overnight stay at Hotel
Day 18:
Ranthambore to Sawai Madhour railway station
Sawai Madhopur to Delhi
Transfer from Hotel to Sawai Madhopur railway station in time to board train for Delhi
12:30 Hrs - Arrive H.Nazzamuddin railway station
Upon arrival at H.Nizzamuddin railway station transfer to your hotel
Rest of the day at leisure and Overnight stay at Hotel
Day 19: Delhi
Full day sightseeing tour of Delhi. You will get a feel for this city as you explore its historic sights. Raj Ghat which is located on the banks of the river Yamuna, This is Mahatma Gandhi's Memorial, where he was cremated following his assassination in January 1948. Opposite the Red Fort lies Jama Masjid made of red sandstone and white marble, completed in 1656. It is India's largest mosque. Explore the bustling cultural delight of the colourful market on the 'cycle rickshaw' for a unique experience from the Red Fort, through "Chandni Chowk" or Silver Street, experiencing the sights and sounds of this very busy avenue-heading west from the Fort. You will take a view of Red Fort – the 17th century imposing fortress built in red sandstone is surrounded by a huge boundary wall 33m high. Inside are exquisite palaces and beautiful gardens.
Afternoon you will head into New Delhi, visiting Humayun's Tomb, an impressive garden tomb with high arches and a double dome, built by his wife Haji Begum in the 16th Century. An early example of Mughal architecture considered the predecessor of the Taj Mahal. Then continue on to the wonderful Qutab Minar - the landmark of Delhi, the beautiful grounds feature the well preserve a huge tower of victory standing over 72 meters. You will drive on to Rajpath and through to India Gate and the Lutyens Delhi with its tree lined boulevards leading to the British Viceroy's Palace (Rashtrapati Bhavan) now the official residence of the President of India, the Secretariat, India Gate and Parliament House.
Day 20: Delhi to London Heathrow
Transfer from Hotel to Delhi airport in time to board flight for London Heathrow
Offer Includes
Flights from London with British Airways
Airport taxes
17 Nights Accommodation on bed and breakfast
2 Nights Accommodation on full board at Ranthambore
All Transfers, Sightseeing and Excursion by air-conditioned car .
Services of local English speaking guide as per the itinerary during city tour Except at Dungarpur
Boat ride at Lake Pichola, Udaipur
Tuk Tuk ride at Jodhpur
Jeep ride at Amber Fort, Jaipur
Cycle Rickshaw ride at Old Delhi
2 Game drives at Ranthambore National Park
Train fare for the sector Sawai Madhopur to Delhi by air-conditioned chair car
Meal Plans