Best of Gods own country Kerala with Xandari
Best of Gods own country Kerala with Xandari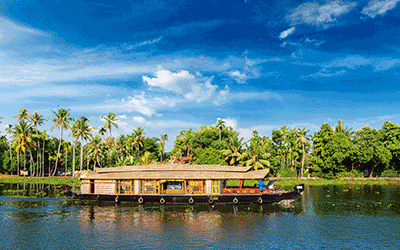 £1575
01 Apr 18
30 Jun 18
20 May 18

Highlights: Cochin - Periyar - Backwaters - Mararikulam
Other departures: Manchester - £1545, Birmingham - £1385
Alternate travel dates: 1 Sept 18 - 20 Sept 18
Hotels:
Cochin - Xandari Harbour 3* (Harbour Room)
Periyar - Cardamom County 4* (Standard Room)
Backwaters - Xandari Riverscapes (1 - bedroom Houseboat)
Mararikulam - Xandari Pearl 4* (Green Pearl Room)
Itinerary:
Day 1 & 2: Xandari Harbour, Cochin
The Xandari Harbour is a restored waterfront property located in the heart of Fort Kochi's spice trading district, Mattanchery. Located on the historical 'Bazaar road' lined with art galleries, cafes and warehouses filled with spices, this small luxury hotel offers travellers the opportunity to experience history and the best vistas of the sea.
Day 3 & 4: Cardamom County, Periyar
Cardamom County is picturesquely located in Kerala's highlands, a naturalist's paradise. The renowned Periyar Tiger Reserve with its unspoiled tropical forests and its incredible wealth of animal and plant life is located here. At the very heart of the sanctuary is the serene Periyar Lake nurturing the encircling jungles and providing an enchanting setting for its rich birdlife.
Day 5: Alleppey – Houseboat
Xandari Riverscapes offers Gold Star / Green Palm Certified Houseboats. The Gold Star /Green Palm certification is the highest certification issued to Houseboats by the Kerala Department of Tourism. We offer the finest accommodations on the backwaters with one bedroom, two bedroom and three bedroom houseboats. Each is equipped with state of the art kitchen and crew that interpret the amazing ecosystem and its shore communities for guests while tending to meals and other comforts.
Day 6, 7 & 8: Marari Pearl
The Xandari Pearl is located in picturesque fishermen's village of Mararikulam. Tucked away inside quiet and lush coconut groves, this resort set by the pristine white-sand beaches of Marari offers you unparalleled quite in astoundingly beautiful settings. Once inside the curved walls of your villa, lounge in the hammock outdoors with a book, savour the indulgence of a shower open to the sky or simply relax in the comforts of your private plunge pool. Xandari Pearl's 80 seat all-day dining restaurant overlooks a pool that finds its shape around coconut, mango and cashew trees. Freshness is guaranteed on all counts, with the kitchen using organic produce from the gardens and the day's catch from the waters.
Day 9: Mararikulam – Cochin – Departure
Offer Includes
Flights from London with Qatar Airways
Airport taxes
7 nights accommodation on Bed & Breakfast basis
1 night on Full Board basis during Houseboat
All transfers, sightseeing & excursion as mentioned in itinerary by air-conditioned car
Entrance fees to the monuments
Services of local English speaking guide as per the itinerary during city tour
Kathakali dance show in Cochin
Boat ride at Lake Periyar
Cooking demonstration at Cardamom County and Xandari Pearl
Meal Plans