Alaska and the Yukon - Land & Sea
Alaska and the Yukon - Land & Sea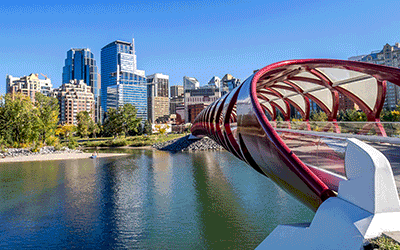 £5999
04 Jun 19
04 Jun 19
28 Feb 19

Highlights: Calgary - Grande Prairie - Fort Nelson - Watson Lake - Whitehorse - Dawson City - Tok - Fairbanks - Denali - Anchorage - Glacier Bay - Haines - Juneau - Ketchikan
Other departures: Manchester - £6149, Birmingham - £6149, Bristol - £6149, Norwich - £6149, Newcastle - £6149, Edinburgh - £6149, Glasgow - £6149
Alternate travel dates:
- 16 Jul 19 (£6599)
- 29 Aug 19 (£6399)
Hotels:
Calgary - International Hotel 3*
Grande Prairie - Service Plus Inns & Suites 3*
Fort Nelson - Lakeview Inns & Suites 2*
Watson Lake - Andrea's Hotel
Whitehorse - Best Western Gold Rush Inn 3*
Dawson City - Downtown Hotel 2*
Tok - Young's Motel 1*
Fairbanks - Pike's Waterfront Lodge 3*
Denali - Denali Bluffs Hotel 2*
Anchorage - Hilton Anchorage 3*
Activities & Excursions:
- Alaska Highway
- Mile 0 and Sign Post Forest
- Liard Hot Pools
- Northern Lights Centre
- SS Klondike National Historic Site
- Five Finger Rapids
- Carmacks Boardwalk
- Diamond Tooth Gerties
- Gold Mining Dredge
- Top of the World Highway
- Alaskaland
- Palace Grand Theatre
- Sternwheeler Discovery Cruise
- Chena Native Village
- Denali National Park
- Alaska Native Heritage Center
- Prince William Sound Cruise
- 7 Day Alaska Cruise
Itinerary:
Day 1: Arrive in Calgary
Your adventure begins as you arrive in Calgary – Alberta's Cowboy City. Transfer to your downtown hotel and enjoy the rest of the day at leisure before starting your tour tomorrow morning.
Overnight: International Hotel
Meals: None
Day 2: Calgary - Grande Prairie
Meet fellow passengers and your guide this morning at a welcome breakfast. Travel north and pass through Edmonton, a city that maintains its ties to the Klondike past. Watch the beauty unfold through Northern Alberta and see grandiose lakes, mighty rivers, abundant wildlife and untapped wilderness.
Overnight: Service Plus Inns & Suites
Meals: Breakfast
Day 3: Grande Prairie - Fort Nelson
Travel through the great northern prairie region of Alberta en route to Dawson Creek, stopping at Mile 0 of the Alaska Highway. Continue into British Columbia's picturesque Peace Country with its abundance of natural history and agricultural land.
Overnight: Lakeview Inns & Suites
Meals: Breakfast, Lunch
Day 4: Fort Nelson - Watson Lake
Journey through peaceful valleys and alpine meadows and arrive for a brief stop at Liard Hot Pools, Canada's most spectacular natural hot springs. Be sure to dip your toes into this natural hot pool. This evening tour the Northern Lights Centre and experience the folklore and the Science of the Northern Lights.
Overnight: Andrea's Hotel
Meals: Breakfast
Day 5: Watson Lake - Whitehorse
The day begins at world famous Sign Post Forest that gives you a down to earth view of global navigation. Did you bring a sign from your home to put up? Cross the Nisutlin Bay Bridge, longest on the Alaska Highway, into Teslin, Yukon. Enjoy the reflections of the glorious mountain ranges in the crystal clear lakes that dot the area en route to Whitehorse, the capital of the Yukon. Your Whitehorse tour includes Miles Canyon, the Fish Ladder and the SS Klondike Sternwheeler National Historic Site.
Overnight: Best Western Gold Rush Inn
Meals: Breakfast
Day 6: Whitehorse - Dawson City
Continue north on the Klondike Highway past Lake Laberge, made famous by Robert Service's poem, "The Cremation of Sam McGee". Stop to view the Carmacks Interpretive River Front Boardwalk and the beautiful Five Finger Rapids. Arrive in Dawson City, the heart of the Klondike Gold Rush. Tonight visit Diamond Tooth Gertie's Gambling Hall, Canada's oldest and most unique casino featuring can-can girls led by Diamond Tooth Gertie herself.
Overnight: Downtown Hotel
Meals: Breakfast, Lunch, Dinner
Day 7: Dawson City
Revisit history today as you experience an enormous Gold Mining Dredge, one of the largest wood hulled, bucket line dredges in North America, then pan for your own fortune in gold. This afternoon relax and enjoy a leisurely afternoon as you explore the boardwalk shops of this town and recall the gold-crazed frenzy of Dawson City's past.
Overnight: Downtown Hotel
Meals: Breakfast
Day 8: Dawson City – Tok
Today you travel over the Top of the World Highway and stop at the unique town of Chicken named after the state bird – the Ptarmigan that resembles a chicken. Then it's on to the Village of Tok, where the Eagle Trail crosses the Tanana River and the sternwheelers once plied the river.
Overnight: Young's Motel
Meals: Breakfast
Day 9: Tok - Fairbanks
Mail your postcards this morning at the North Pole, Alaska and stop by Santa Claus House. Continue on to Fairbanks, the hub of Alaska's heartland. This afternoon board the Sternwheeler Discovery for a cruise of the Chena and Tanana Rivers. You will see a bush plane taking off from a bush-style runway, witness the wedding of the rivers and gain insight into the ancient Athabascan Indian culture on a personalized tour of the Chena Native Village. Tonight step back in time and visit Alaskaland for a delicious baked salmon dinner, followed by a musical revue at the Palace Theatre and Saloon.
Overnight: Pike's Waterfront Lodge
Meals: Breakfast, Dinner
Day 10: Fairbanks – Denali
Incredible vistas provide a feast for the eyes today on your journey through the town of Nenana to Denali National Park & Reserve. The panoramic views of the famed Alaska Range continue to take your breath away as you see Mt McKinley – North America's highest peak. This afternoon experience a wildlife tour into the heart of Denali National Park. This tour offers a great opportunity to see wildlife in the park, in particular, grizzly bears, caribou, moose and even wolves. Return to Denali early evening.
Overnight: Denali Bluffs Hotel
Meals: Breakfast, Lunch, Boxed Lunch
Day 11: Denali – Anchorage
Your destination today is Alaska's largest city, Anchorage. Explore the past and experience the first people at the Alaska Native Heritage Centre, Anchorage's premier cultural attraction. Hear the songs and stories and see the dancers. This evening you will enjoy a group dinner with your new friends.
Overnight: Hilton Anchorage
Meals: Breakfast, Dinner
Day 12: Prince William Sound Cruise
Today experience one of the tour highlights, cruising the calm and protected waters of Prince William Sound accompanied by a National Forest Interpreter. The vessel hugs the coastline and icebergs glide silently by. Pulling into a bay, the vessel floats right up to a 1700-foot high active tidewater glacier, a river of ice. See otters, eagles, puffins, sea lions, whales and glacier-wildlife. Delicious onboard lunch includes prime rib and salmon. This is wild and dramatic Alaska up close.
Overnight: Hilton Anchorage
Meals: Breakfast, Lunch
Day 13: Cruise
Board Westerdam Transfer to Seward to board Holland America's Westerdam for 7-day cruise.
Overnight: Cruise
Meals: Breakfast, Dinner
Day 14: Cruise
At Sea Enjoy a full day cruising the Alaska coast.
Overnight: Cruise
Meals: Breakfast, Lunch, Dinner
Day 15: Glacier Bay
With park naturalist, get up close and personal with rivers of ice flowing into the sea. Arrive 8:30 am, depart 6:30 pm.
Meals: Breakfast, Lunch, Dinner
Day 16: Haines
Situated at the head of America's longest fjord, go kayaking or fishing for the day. Arrive 6:30 am, depart 9:00 pm.
Meals: Breakfast, Lunch, Dinner
Day 17: Juneau
Alaska's capital city beckons, with excursions to Mendenhall Glacier. Arrive 8:00 am, depart 6:00 pm.
Meals: Breakfast, Lunch, Dinner
Day 18: Ketchikan
Visit the town on stilts – and don't forget the Red Light District! Arrive 11:00 am, depart 7:00 pm.
Meals: Breakfast, Lunch, Dinner
Day 19: Inside Passage
Full day cruising the scenic Inside Passage of the British Columbia Coast.
Meals: Breakfast, Lunch, Dinner
Day 20: Depart Vancouver
Arrive in Vancouver at Canada Place at 7:00 am.
Meals: Breakfast
Offer Includes
Flights from London Heathrow with Air Canada
Airport taxes
19 nights accommodation as per itinerary
Services of a professional driver-guide throughout tour
Transportation in deluxe motor - coach
40 meals: 19 breakfasts, 11 lunches, 10 dinners
Airport transfer in Calgary & Cruise transfers in Anchorage and Vancouver
Meal Plans