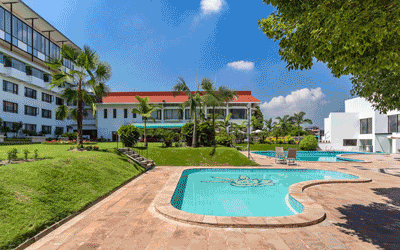 £2165
01 Sep 18
09 Dec 18
30 Nov 18

Highlights: Kathmandu - Pokhara - Dhulikhel - Panauti - Namobuddha
Hotels:
Kathmandu - Hotel Himalaya / Hotel Shambala 4*
Dhulikhel - Dhulikhel Mountain Resort 3*
Pokhara – The Begnas Lake Resort & Villas (Superior Room)
Itinerary:
Day 1: Arrive Kathmandu
- Arrive in Kathmandu. Upon arrival, meet and greet and transfer to hotel.
- Overnight at Hotel.
Day 2: Tour of Kathmandu city, Swoyambhunath stupa & Patan city
- After breakfast, visit of old Kathmandu city with its stone paved lanes, colorful bazaars, the Temple of the Living Goddess - Kumari who is considered to be the incarnation of the "Virgin Goddess". The old Durbar Square consists of the old palace and innumerable temples of different architecture.
Continue to Swoyambhunath stupa, situated west of Kathmandu. It is a 2500 years old Buddhist stupa located atop of green hillock with the eyes of Buddha painted on its pinnacle overlooking righteous behavior of the valley inhabitants.
Later, visit Patan city, also known as Lalitpur or the "city of beauty". Patan is well known for its intricately carved temples, narrow lanes and quaint shops. See the intricately stone-carved Krishna temple, Patan Durbar Square and Hiranyavarna Mahavihar (golden temple).
- Overnight at Hotel.
Meals: Breakfast
Day 3:
Drive Kathmandu / Dhulikhel
Hike to Namobuddha
Tour of Panauti
Morning, drive to Dhulikhel. Hike to Namobuddha with picnic lunch box. Namobuddha meaning "hail to the Buddha" a sacred site, where according to legend Buddha sacrificed parts of his own body in compassion to feed a starving tigress and her cubs. A carved stone slab at the main stupa depicts the moving story.
After the hike, drive to Panauti village which is located at the confluence of the Punyamati & Roshi Khola rivers. Panauti was once an important staging post on the Tibet trade route with pre-Lichhavi origins. The banks of the river are crowded with temples, shrines and cremation ghats. Across the river lie the Brahmayani temple and the biggest Shivalingam in Nepal. The Indreshwar Mahadev temple is a 15th century Newari structure with exquisite woodcarvings especially on the roof struts.
After the visit, drive back to the small resort town of Dhulikhel set on a hill ridge and enveloped in copper soiled terraces with magnificent views of the central Himalayan peaks. Old temples and Newari style houses are the main attraction of Dhulikhel. It's a good way to get a glimpse of Nepalese village life. After the visit, transfer to your hotel.
- Overnight at Dhulikhel Mountain Resort.
Meals: Breakfast, Lunch
Day 4: Drive Dhulikhel / Kathmandu / Fishling (4hrs)
- Morning, pick up from hotel and drive to Fishling, the raft put-in-point and commence rafting tour on Trishuli river. Lunch on river beach.
- Lunch, Dinner & Overnight at a Camp on River Beach.
Meals: Breakfast, Lunch, Dinner
Day 5:
Drive Fishling / Pokhara (2hrs)
Tour of Pokhara
After breakfast, drive along a scenic mountain highway to Pokhara valley, famous for views of snow clad mountain peaks, lush green vegetation and its spring fed lakes.
Upon reaching Pokhara, continue the tour of Pokhara city and its colorful bazaars. Visit includes Bindabasini temple and Devis fall. Take a walk along the Phewa lakeside with its rows of restaurants, bars, bookshops and fruit stalls.
After the visit, drive to Begnas and transfer to Begnas Lake Resort. Rest of the afternoon is free.
- Overnight at Begnas Lake Resort.
Meals: Breakfast
Day 6:
AM: Paragliding
PM: Hike to Simaldanda & Pachbhaiya villages (3-4 hrs)
Morning, pick up from resort and transfer to take off site for Paragliding flights. This flight lasts for 20-30 minutes. This flight take off site is Sarangkot and landing site is Pame, Pokhara. After paragliding, drive back to your resort.
Afternoon, take a narrow trail winding through bushes and Hazelnut trees ascending slowly to Chyaan Danda before reaching a small village bazaar. From here follow a dirt road west till you reach a narrow path breaking off towards the densely forested Rupakot area. Walk along the hill ridge to reach a secluded settlement perched on a spur overlooking the Rupa Lake and the dense forests surrounding it. This little village consists of rows of clean mud and stone houses inhabited by people belonging to the ethnic Gurung hill tribe. Most of the village men are either soldier drafted to serve in the British army or the Indian army where the average salaries are handsome. Some others are either farmers or live off fishing in the nearby lakes.
The locals also excel at brewing a sweetish soft beer called 'Tomba' drunk through bamboo straws and a potent millet distillate, 'Kodo' well liked for its smoky flavour and mellow taste. No evening is complete without tales of valour in the battlefield around the fireplace accompanied by a glass of warm 'Kodo Rakshi'.
After the visit, walk on to Pachhbhaiya, one of the largest of the surrounding villages inhabited mostly by the Bahun-Chettri (priests and warriors) clans as well as by the low caste Kamis (iron-smiths), Damais (tailors) and Sarkis(cobblers). It is interesting to see these diverse Hindu upper and lower castes co-exist happily for generations. This village prides itself for its large UN funded school in the area and the fact that unlike in other parts of the country almost all families are reasonably well off and fairly well educated. Walk back along a wide mud-track to resort.
- Overnight at Begnas Lake Resort.
Meals: Breakfast
Day 7: Drive Pokhara / Kathmandu
- After breakfast, check out of the resort and drive back to Kathmandu retracing the same highway. Upon reaching, transfer to hotel. Rest of the afternoon is free.
- Overnight at Hotel.
Meals: Breakfast
Day 8: Departure - Transfer
- Transfer to international airport in time to connect your outbound flight.
Meals: Breakfast
Offer Includes
Flights from London with Qatar Airways
Airport taxes
3 nights accommodation in Kathmandu on Bed & Breakfast basis
1 night accommodation at Dhulikhel Mountain Resort on Bed & Breakfast basis
1 night accommodation at Camp on River Beach on Full Board basis
2 nights accommodation at Begnas Lake Resort, Pokhara on Bed & Breakfast basis
Airport transfers per the itinerary
Private surface transfer at Kathmandu/Dhulikhel/Pokhara
Sightseeing tours and hikes as per itinerary
English speaking local guide in Kathmandu & Pokhara
Rafting & Paragliding
Entrance fees
Meal Plans