Self Drive Tour - Unique Properties of Nova Scotia
Self Drive Tour - Unique Properties of Nova Scotia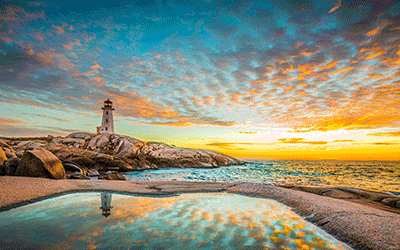 £2055
20 Sep 22
04 Oct 22
31 May 22

Highlights: Halifax - Lunenburg - Annapolis Valley - Wolfville - Tatamagouche - Cape Breton - Baddeck - Louisbourg - Charlos Cove
Itinerary:
Tue 20 Sep 22 - Halifax
Arrive Halifax. Welcome to Nova Scotia's Provincial Capital. This attractive city is a bustling hub of art galleries, shops, museums, restaurants, sidewalk cafes, and vibrant nightlife centered around the picturesque waterfront. Officially founded in 1749 the history dates back even further, to times of the Mi'kmaq natives, European fishermen, and the early Acadians, who came long before the British. Overnight Halifax.
Wed 21 Sep 22 - Halifax
This morning enjoy a city tour of Halifax take in the sights of Halifax Historic Properties, Spring Garden Road, Province House, and much more. Later, why not visit Alexander Keith's Brewery as well as the excellent Maritime Museum - See the unique collection of the memorabilia collected after the tragic Titanic disaster. Also, be sure to visit the Canadian Museum of Immigration at Pier 21. Pier 21 is a National Historic Site that was the gateway to Canada for one million immigrants between 1928 and 1971. It also served as the departure point for 500,000 Canadian Military Personnel during the Second World War. This evening you should experience the Grafton Street Dinner Theatre Entertaining Halifax for more than 22 years, The Grafton Street Dinner Theatre provides audiences with a unique dining experience. Music, comedy, and interactive characters set the mood as you dine on the flavors of Nova Scotia. Overnight Halifax.
Thu 22 Sep 22 - Halifax/Lunenburg
Depart Halifax and drive the south shore along the Lighthouse Route. En-route visit Peggy's Cove, a picturesque fishing village surrounded by bare granite and coastal barrens and home to Nova Scotia's most visited lighthouse. Continue to Mahone Bay, a picture-postcard seaside town renowned for its beauty and churches. Further along the route, you will arrive in Lunenburg, The region's only UNESCO World Heritage Site, Lunenburg is widely touted as one of the most beautiful towns not just in Nova Scotia's, but in all of Canada. Located along a harbour and bordered by dramatic hills, the town is dotted with beguiling pastel-colored buildings, most of which were constructed between the 18th and 19th centuries. These historic houses are characterized by the unique 'Lunenburg Bump', a five-sided dormer window built over the front door. The town's vibrant atmosphere adds to its draw, with its downtown area buzzing with offbeat boutiques, progressive galleries, and artisan shops. Overnight Lunenburg.
Fri 23 Sep 22 - Lunenburg
Today spend the day exploring this delightful area further. Established in 1753, Lunenburg proudly preserves the original layout of a planned Colonial settlement - Mi'kmaq natives and Acadians being the earliest settlers. Suggest taking a Trot in Time on horse and buggy ride a 35-minute journey from the waterfront area and weave back and forth through the streets to view the beautiful town of Lunenburg, or maybe join a walking tour! Be sure to visit the interesting local art galleries and craft shops. There are many beautiful beaches in the area too; Crescent & Rissers to name a few, and a quick trip to Blue Rocks for some amazing photo opportunities is also a suggestion! Overnight Lunenburg.
Sat 24 Sep 22 - Lunenburg/Annapolis Valley
This morning depart Lunenburg and continue your drive inland to Kejimkujik National Park and National Historic Site. Be sure to explore this beautiful park. Visit the excellent visitor center, which houses replicas of the native tools found by archaeologists dating back 4500 years. Depart Kejimkujik and drive north to the Annapolis Valley Region, The Gateway to New Brunswick - highlights in the area include Fort Anne National Historic Site, Annapolis Royal Historic Gardens, the O'Dell House Museum, Sinclair Inn National Historic Site a delightful waterfront boardwalk, and much more. Overnight Annapolis Royal.
Sun 25 Sep 22 - Annapolis Valley
Today you can enjoy a free day to explore the hidden secrets of Annapolis Royal. Maybe take a trip to Digby Neck and join a whale watching tour - this is one of the best places in the world to see whales or a short hike to see the Balancing Rock. Perhaps a visit to Digby itself where you can eat world-famous scallops, relax by the sea and if you're lucky, watch the whales swim freely! Overnight Annapolis Royal.
Mon 26 Sep 22 - Annapolis Valley/Wolfville
Continue along the Evangeline Trail on to Wolfville. This charming university town is known as the cultural and intellectual centre of the valley and is home to many classic shops, boutiques, and fine dining. Take time to follow the self-guided Heritage Home Walking Tour and stroll past stately homes each depicting its own unique architecture. A tour of Grand Pre Winery is highly recommended you can enjoy the full experience; taste the wines and learn about grape growing, also visit the wine shop where you will also find local arts, crafts, and wine accessories. Or perhaps take the Hop-On, Hop-Off Magi Winery Bus Tour of Wolfville. Overnight Wolfville.
Tue 27 Sep 22 - Wolfville
Today explore Wolfville - highlights include Randall House Historical Museum, the Old Burying Ground (which dates back to the 1760s), the Robie Tufts Nature Centre, and Prescott House Museum. Further afield you could visit Blomidon Provincial Park located at Cape Blomidon on the shores of the Minas Basin known for its hiking and spectacular views over the world's highest tides. Or why not discover Grand-Pré National Historic Site, a UNESCO World Heritage Site, that tells the plight of the early Acadians. Overnight Wolfville
Wed 28 Sep 22 - Wolfville /Tatamagouche
Depart Wolfville and continue along the Glooscap Trail on to Truro, located in the centre of the province and known as the hub of Nova Scotia. Truro's location at the very tip of the Bay of Fundy makes it an excellent viewing area for the Tidal Bore an amazing natural phenomenon. From Truro continue along the Sunrise Trail to Tatamagouche, a vibrant community where the meeting of old and new is in harmony and old Victorian homes and businesses mix with modern homes and facilities. Overnight Tatamagouche.
Thu 29 Sep 22 - Tatamagouche
Use Tatamagouche as a base to explore the Northumberland Shore. Places to visit include Jost Vinyard, the Fraser Cultural Centre, Sunrise Trail Museum, Cumberland County Museum, Balmoral Grist Mill, and the Sutherland Stream Mill. For the more adventurous Tatamagouche is the water sports capital of Nova Scotia's. Enthusiasts will enjoy swimming, boating, sailing, kayaking, and windsurfing on Tatamagouche Bay. Overnight Tatamagouche.
Fri 30 Sep 22 - Tatamagouche/Baddeck
Depart Tatamagouche and follow along the Sunrise Trail to the historic town of Pictou - known as the birthplace of New Scotland, it was here that the province's first Scottish Highlanders landed on the ship Hector in 1773. Pictou boasts an award-winning waterfront development that includes the Hector Heritage Quay, where a full-scale replica of the Hector has been built using traditional ship-building techniques. Depart Pictou and continue to Cape Breton via the Canso Causeway and onto Baddeck. This scenic village overlooks the beautiful Bras d'Or Lake and the most notable resident historically was Alexander Graham Bell - you can visit the National Historic Site named after him. Overnight Baddeck.
Sat 01 Oct 22 - Baddeck
Today you will follow the famous Cabot Trail clockwise - one of the most spectacular drives in all of Canada. Follow the route along to the French Acadian community of Cheticamp which has distinct Acadian Flavours noticeable in the architecture, people, language, and music. Continue along the Cabot Trail which winds around the rocky splendor of Cape Breton's northern shore, ascending to the incredible plateaus of Cape Breton Highlands National Park. The park has 26 hiking trails ranging from 20-minute short walks to challenging hikes through stunning mountains and coastal landscapes. Continue onto Baddeck. Overnight Baddeck.
Sun 02 Oct 22 - Baddeck/Louisbourg
This morning depart Baddeck and continue to explore Cape Breton Island. Continue on towards Sydney & Glace Bay. Take time to visit the Miners Museum and Marconi National Historic Site. From Glace Bay follow the Marconi Trail to the Fortress of Louisbourg National Historic Site, the largest historical reconstruction in North America and the town of Louisbourg. Hear the cannons and muskets fire, watch the changing of the guard and meet the villagers at this meticulously preserved and recreated French fortification of over 250 years ago. Overnight Louisbourg.
Mon 03 Oct 22 - Louisbourg/Charlos Cove
Depart Louisbourg and continue onto Canso Causeway. From here you will drive along the Eastern Shore and follow the Marine Drive Route where you will find nature, history, and culture, as well as rugged coasts, tranquil bays and beaches, unspoiled forest fauna, and crystal clear lakes and streams. Be sure to visit the community of Guysborough - an inviting neighborhood with distinctive architecture overlooking Chedabucto Bay before arriving at Charlos Cove. Overnight Charlos Cove.
Tue 04 Oct 22 - Charlos Cove/Halifax
Depart Charlos Cove and take time to visit Sherbrooke Village before taking a leisurely drive back to Halifax. En-route visit Musquodoboit Harbour & Valley a haven for nature lovers, and Martinique Beach the longest beach in the province. Return back to Halifax Stanfield International Airport ready for your onward journey.
Accommodation: The Halliburton*, Mariner King*, Bailey House B&B*, Victorias Historic Inn*, Train Station Inn, Lynwood Inn*, Louisbourg Harbour Inn*, Seawind Landing Country Inn* *Indicates Breakfast Included.
Offer Includes
Return flights from London Gatwick
Airport taxes
14 nights accommodation as per Itinerary
Halifax City Tour
All Applicable Taxes
Document Pack includes: Travel Wallet, Full Itinerary, Vouchers, Driving Directions, Maps & Supporting Literature
Meal Plans