Coffee, Wildlife & Tea Tour
Coffee, Wildlife & Tea Tour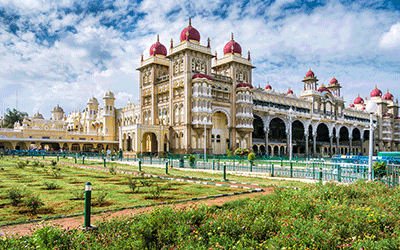 £3165
16 Jan 20
31 Mar 20
31 Jan 20

Highlights: Bangalore - Chikmangalur - Mysore - Kabini - Ooty - Cochin
Hotel:
Bangalore - Wihdflower Resort & Spa
Chikmangalur - The Serai
Mysore - Windflower Resort & Spa
Kabini - Red Earth
Ooty - Hotel Savoy
Cochin - Dutch Bungalow
Itinerary:
Private Tour : 02 Nights-Bangalore (Incl. previous night) 02 Nights-Chikmagalur, 02nts-Mysore, 02 Nights Kabini, 03 Nights-Ooty, 03 Nights Cochin
This tour offers a taste of not only two of the world's most popular drinks, but a land of stunning beauty and natural wonders. This exciting tour touches on six of the regions most stunning sights. From the highlights of Bangalore to the heritage spots around Chikmagalur, you will capture colourful images of the royal city of Mysore, vibrant cultures, stunning palaces and wildlife at Kabini, as well as feeling the gentle alure of the various plantations and forested hills of Ooty. You will completer your tour in the Historic city of Cochin
Day 1: London Heathrow to Doha by flight QR-10: 0900-1855 Hrs
Day 2: Doha to Bangalore by flight 19:45 - 02:15 Hrs
0215 Hrs: Hrs: Arrive Bangalore is the capital city of the Karnataka. Located on the Deccan Plateau. It is home to many well-recognised educational and research institutions in India. Bangalore is known as the Silicon Valley of India beacuse of its positon as the nation's leading IT exporter. Bangalore is a major economic and cultural hub and the second – fastest growing major metropolis in India.
Upon arrival at Bangalore airport welcome, meet and assist by our representative and transfer to Hotel where accommodation is protected from previous nigh .i.e. Day 01 for immediate occupancy of the room
Afternoon city tour of Bangalore
The Bull Temple – Constructed in the 16th Century- It has been named after the gray granite sacred bull Nandi, carved out of a single block. Bangalore Palace Audio tour (The palace has now launched an audio guide instead of the traditional tour guides)
Lalbagh – A Botanical Garden spread over 240 acres. It was originally called Lalbagh because the garden had a profusion of red roses. It also has a greenhouse with a collection of unusual flora.  Drive pass Vidhan Soudha – It is a four storied building. It houses the state Legislative Assembly and part of the Secretariat. The main feature of this building is its architectural style- a combination of traditional and modern styles. The building is illuminated on Sunday evenings.
Overnight stay at Hotel
Day 3: Bangalore to Chikmagalur by surface (Approx. 250 Km, 5 Hrs)
After early breakfast Leave Bangalore's glass citadels behind on ever narrowing roads to hit the hills of Chikmagalur, Coffee Country. Chickmagalur is a forested hilly region set against a mountainous backdrop of the Western Ghats, and now famous for its coffee plantations, being the place where coffee was first grown in India. It also carries a long history. This charming hill station was the cradle of the powerful Hoysala Dynasty.
Upon arrival at Chikmagalur check in at your hotel,
Afternoon visit Belur & Halebid, a beautiful example of Hoyasala's architecture. Famous of them is The Chennakeshava Temple, which took 103 years to complete. The temples of Halebid bear mute testimony to the rich, cultural heritage of Karnataka.
Overnight stay at Hotel
Day 4: Chikmangalur
After breakfast excursion to another UNESCO heritage site awaits. The awe-inspiring Jain monuments gives you a view of the world's largest monolith at Shravanabelagola. Return back to Chikmangalur.
Overnight stay at Hotel
Day 5: Chikmangalur to Mysore by surface (Approx. 117 Km, 3 Hrs)
After breakfast drive to Mysore - the capital of the erstwhile princely state, has a profusion of places and museums. Mysore has a long history of eminent dynasties who ruled from here and created a city that, even today, is one of the finest in southern India with tree-lined boulevards, beautiful gardens, parks and stately palaces.
Brindavan Garden (Without Guide) – The most beautiful Terrace Garden, the beautiful Brindavan Gardens, a much-talked-about botanical park, full of exciting fountains, as well as boat rides beneath the dam, built by the Diwans of Mysore. See if you can catch the musical fountain.
Upon arrival at Mysore, check in at hotel
Overnight stay at Hotel
Day 6: Mysore
After breakfast you will enjoy city tour of Mysore visiting; The Chamundi Temple- Overlooking Miser from the 1062 m summit of Chamundi Hill, the Sri Chamundeshwari Temple and monolithic Nandi (Bull) makes a pleasant half-day excursion. Pilgrims are supposed to climb the 1000-plus steps to the top, but those not needing to improve their karma go by car. The temple is dominated by a towering seven storey, 40 m high Gopurams and Mysore Maharaja's Palace.
Afternoon visit Srirangapatnam - the 18th century Summer Palace of Tipu Sultan Sri Rangapatnam (16 km) is built on an island in the Cavern River is famous for the Ranganatha temple and the 'Summer Palace of Tip Sultan'
Overnight stay at Hotel.
Day 7: Mysore to Kabini by surface (Approx. 90 Kms,2 Hrs)
Today after breakfast drive to Kabini next – a breath-taking drive away, and right into the heart of wildlife land. Upon arrival at Kabini, check in at hotel.
Overnight stay at Hotel
Day 8: Kabini
Morning & afternoon shared safari by open Vehicle or boat.
Shared 16: Seater Vehicle & Shared 18 Seater Boat
Schedule
Morning Vehicle Safari: 05:30 – 09:30 hrs
Morning Boat Safari: 06:30 - 09:15 hrs
Evening Vehicle Safari 15:00 - 19:00 hrs
Evening Boat Safari: 15:30 - 18:15 hrs
Overnight stay at Hotel
Day 9: Kabini to Ooty by surface (Approx. 130 Kms, 3-4 Hrs)
After breakfast drive to Ooty - the "Queen of hill stations" , the erstwhile summer headquarters of the British government. Lush green valley, terraced plantations and a pleasant climate makes Ooty one of South India's most popular hill stations. Upon arrival at Ooty, check in at hotel. Rest of the day at leisure and Overnight stay at hotel.
Day 10: Ooty
In the morning transfer to Udagamandalam (Ooty) railway station to board the Toy Train (Take the Toy Train for seeing the Landscapes). Depart at 0915 Hrs From Ooty railway station (subject to operation of this train & availability of the seats) Arrive at Coonoor railway station at 1025 Hrs, where our car and driver will be waiting for the client Afternoon sight seeing of Ooty including Dodabetta Peak, Botanical Gardens, St. Stephens Church, Ooty Lake & Rose Garden.
Overnight stay at Hotel.
Day 11: Ooty
Day at leisue to explore the Queen of Hill station at your own pace and Overnight stay at Hotel
Day 12: Ooty to Coimbatore by surface (Approx. 90 Kms, 3 Hrs)
Coimbatore to Ernakulam by train Ernakulam Express:13:10 - 16:55 Hrs
After breakfast drive to Coimbatore raiway station in time to board train for Coimbatore
13:10 Hrs: Depart by Ernakulam Express for Ernakualm
16:55 Hrs: Arrive Ernakulam railway station
Upon arrival at Ernakulam railway station transfer to hotel
Cochin – the Gateway to Kerala was once an important spice-trading route on Arabian Sea where Vasco D Gama landed in 1498 and boasted that he has come for soul and spices. Cochin is virtually the spice capital of world from where Portuguese were exporting 10,000 kilo of spices to east-indies and other countries and has derived it name from Calico-the famous fabric manufactured in this town. Cochin also forms the part of emerald isle of India. Harbour Cruise of Cochin is very much popular. With one of the finest natural harbours in the world, Cochin was once a major center for commerce and trade with the British, Arabs, Chinese, Portuguese, and Dutch etc.
Rest of the day at leisure and Overnight stay at hotel.
Day 13: Cochin
After breakfast city tour of Cochin visiting the Dutch Palace (Closed on Friday) – The place has a fine collection of mural paintings depicting the scenes from the Hindu epics Mahabharata & Ramayana, Jewish Synagogue (Closed on Friday & Saturday) – the oldest synagogue in the world is magnificently decorated by Chinese tiles and Belgian chandeliers, was built in 1568. St. Francis Church: is the oldest church built by Europeans in India & Huge, elegant Chinese fishing nets that line the tip of Fort Kochi.
Evening you will Witness the Kathakali Dance Show.
Kathakali is the classical dance-drama of Kerala dates from the 17th entury. Kathakali recitals are drama and are danced with elaborate mask s and costumes. They are emotive and narrative, while other dance forms have either one of them. The dancers use their stunning costumes and make-up, with the accompaniment of drums and vocalists, to create various moods and emotions.
Overnight stay at hotel
Day 14: Cochin
Morning at leiusre
1545 Hrs: In the late afternoon you'll be picked up from your hotel. Then, make your way to drive to Marine Drive where a cruise ship will be docked and ready for boarding. Your 1.5 hours sunset cruise will take you on the waterway of Cochin Harbour offering picturesque seaside views of the Kochi
Transfer from Hotel to Cochin airport in time to board flight for London Heathrow via Doha Midnight of Day 14
Day 15: Cochin to Doha by flight 03:30 - 06:00 Hrs
Doha to London Heathrow by flight 07:45-12:25 Hrs
Offer Includes
Flights from London Heathrow with Qatar Airways
Airport taxes
12 Nights Accommodation on Bed & Breakfast basis
2 Nights Accommodation on Full Board at Kabini
All transfers, sightseeing & excursions as mentioned in itinerary by Air Conditioned car
Services of local English speaking guide as per the itinerary during city tour
Entrance Fees to the monuments
2 Game drives at Kabini National Park by shared open vehicle or boat
Train fare for the sector Coimbatore / Ernakulam by chair car
Toy train joy ride by non Ac class in Ooty
Harbour cruise at Cochin
Kathakali dance show at Cochin
Meal Plans