Tanzania Safari & Zanzibar Beach
Tanzania Safari & Zanzibar Beach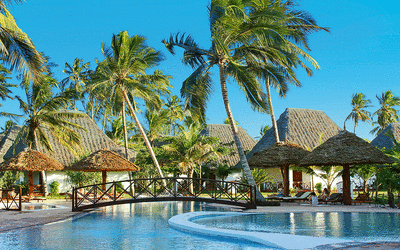 £3399
15 Jan 18
12 Mar 18
11 Mar 18

Highlights: Dar es Salaam - Tanzania - Zanzibar
Other departures: Newcastle - £3725, Glasgow - £3725
Hotels:
Dar es Salaam - Dar es Salaam Serena Hotel
Tanzania - Selous Game Reserve
Zanzibar - Uroa Bay Beach Resort
Itinerary:
Day 1: Arrival Dar es Salaam
Arrive Dar es Salaam where you will be met and transferred to Dar es Salaam Serena Hotel – standard room.
An oasis of luxury at the very heart of Dar es Salaam, the elegant and cosmopolitan Dar Es Salaam Serena Hotel enjoys an exceptionally high-profile clientele and regularly plays host to both regional and international events.

Encircled by tropical gardens and just minutes from the broad sweep of Indian Ocean beaches that characterize this vibrant city, the 230-room Dar es Salaam Serena Hotel offers a unique mix of pan-African style, world-class professionalism and 5 star facilities.
Stylish yet relaxed, the hotel is one of the capital city's most popular rendezvous and makes the ideal venue for both corporate and social events.
Bed and breakfast basis.

Day 2: Dar es Salaam - Selous Game Reserve
06:45 hrs pickup from the hotel and transfer to the airport for your scheduled flight to Selous Game Reserve.

08:30 hrs Coastal Aviation departs Dar es Salaam.
09:15 hrs Flight arrives at Selous Game Reserve where you will be met by a Selous Serena Camp's representative and transferred to the camp for lunch.

Afternoon game drive in Selous Game Reserve.

Covering 45,000km² of wilderness, with grassy plains, open woodland, mountains and forests, the Selous Game Reserve (pronounced Selooo and named after the great explorer and hunter, Frederick Courtney Selous) is Africa's largest game reserve. It's about three times the size of South Africa's Kruger National Park, and twice the size of the Serengeti National Park. In a fitting tribute, it is also one of Tanzania's three World Heritage Sites.

At the heart of the Selous Game Reserve, Tanzania's largest river, the Rufiji, forms a complex network of channels, lakes and swamps that create one of the most outstanding ecological systems in East Africa. This river also splits the reserve into two different sections:

The northern Selous covers only around 5% of the reserve's total area. No hunting is allowed here; this area is dedicated exclusively to photographic safaris. Virtually all of the small exclusive camps which we offer operate in this area.

The southern Selous, south of the Rufiji, is split up into a number of 'hunting blocks' – each of which typically cover about 1,000km²..

Dinner and overnight at Selous Serena Camp.

Day 3: Selous Game Reserve
Selous Serena Camp on Game Package.
Game package includes full board accommodation (bed, 3 meals), Guided morning and evening game drives (or full day). Apart from game drive you have an option of walking safari or boat safari. But you have an option of only two activities per day.

A boat safari will enable you to explore the different channels and lakes of the Rufiji River System, surrounded by hippos and crocodiles.

A large variety of herons, storks, ducks, stilts, and other water birds may be seen. And you also see land mammals, such as giraffe and elephants.

Set amidst dense indigenous forests, Selous Serena Camp is the ultimate wilderness retreat. With 360-degree views over the surrounding bush, the twelve widely spaced tents are presented in time-honoured safari style, with natural thatch roofs, elegant Victorian-styled bathrooms, private viewing decks. Luxuriously presented, each tent features an engaging mix of canvas walls, crystal chandeliers, opulent rugs and elegant rosewood furniture.

Deep within the wilderness, the charming central dining room, lounge, library and bar, which are interconnected by broad wooden walkways offering excellent views of the Selous Game Reserve. High above the lodge, is a spectacular 'infinity' pool and sundeck.
Day 4 - 5: Selous Game Reserve
Selous Serena Camp on Game Package.

Game package includes full board accommodation (bed, 3 meals), Guided morning and evening game drives (or full day).

Apart from game drive you have an option of walking safari or boat safari. But you have an option of only two activities per day.

The sights and sounds (and smells) of a walking safari are a special treat that will live long in your memory. The thrill of creeping up to animals to "shoot" them with your camera is a great experience.

Day 6: Departure to Zanzibar
After breakfast you will be transferred to Mtemere Airstrip for your scheduled flight to Dar es Salaam.

09:45 hrs Coastal Aviation departs Mtemere Airstrip.

10:20 hrs Flight arrives Dar es Salaam where you will be met and transfered to Terminal 02 for your onward flight to Zanzibar Beach Resort
Day 7 - 12: Zanzibar Uroa Bay Beach Resort
Day 13: Flight from Zanzibar to London
Offer Includes
Flights from London with Kenya Airways
Airport taxes
12 nights accommodation at chosen hotels as per itinerary
Ground transportation with an English speaking driver or guide or naturalist guide
Shared Game drives or sightseeing
Park entry fees
All Excursions mentioned in the itinerary
Laundry is included at Selous Serena Camp
Meal Plans