Scenic Cape Breton Self-Drive
Scenic Cape Breton Self-Drive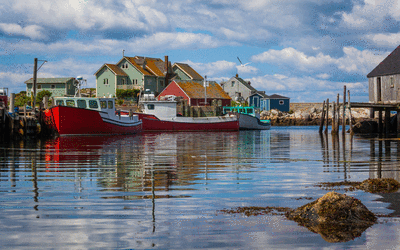 £1989
20 Jun 18
20 Jun 18
15 Jun 18

Highlights:
- Halifax city tour
- Pictou
- Canso Causeway
- Bras d'Or Lakes
- Cabot Trail
- Cape Breton Highlands National Park
- Fortress of Louisbourg National Historic Site
Other departures: Manchester - £2139, Birmingham - £2139, Bristol - £2139, Norwich - £2139, Newcastle - £2139, Edinburgh - £2139, Glasgow - £2139
Itinerary:
Day 1: Halifax
Welcome to Nova Scotia's Provincial Capital. This attractive city is a bustling hub of art galleries, shops, museums, restaurants, sidewalk cafes and vibrant nightlife centered around the picturesque waterfront. Officially founded in 1749 the history dates back even further, to times of the Mi'kmaq natives, European fishermen and the early Acadians, who came long before the British.
Day 2: Halifax – Pictou (2 hours)
Depart Halifax and drive north via Truro to the historic town of Pictou, known as the birthplace of New Scotland. It was here that the province's first Scottish Highlanders landed on the ship 'Hector' in 1773. Pictou boasts an award-winning waterfront development that includes the Hector Heritage Quay, where a full scale replica of the Hector has been built using traditional ship building techniques.
Day 3: Pictou – Baddeck (2½ hours)
Depart Pictou and continue to Cape Breton via the Canso Causeway and onto Baddeck. This scenic village overlooks the beautiful Bras d'Or Lakes and the most notable resident historically was Alexander Graham Bell. You can visit the national historic site named after him.
Day 4: Baddeck sightseeing
Depart Baddeck and take time to explore the western shore of Cape Breton Island along the Ceilidh Trail. Highlights include the provincial parks at Long Point and Port Hood and Margaree Harbour, where you can take a nature cruise of the area. In the afternoon drive to Cheticamp and enjoy a whale watching tour before returning to Baddeck.
Day 5: Cabot Trail
Today you will follow the famous Cabot Trail, one of the most spectacular drives in all of Canada. Follow the route along to the French Acadian community of Cheticamp – which has a distinct Acadian flavour noticeable in the architecture, people, language and music. Continue along the Cabot Trail which winds around the rocky splendor of Cape Breton's northern shore, ascending to the incredible plateaus of Cape Breton Highlands National Park. The park has 26 hiking trails ranging from 20-minute short walks to challenging hikes through stunning mountain and coastal landscapes.
Day 6: Baddeck – Louisbourg (1½ hours)
This morning depart Baddeck and continue to explore Cape Breton Island. Continue on towards Sydney & Glace Bay. Take time to visit the Miners Museum and Marconi National Historic Site. From Glace Bay follow the Marconi Trail to the Fortress of Louisbourg National Historic Site, the largest historical reconstruction in North America and the town of Louisbourg. Hear the cannons and muskets fire, watch the changing of the guard and meet the villagers at this meticulously preserved and recreated French fortification of over 250 years ago.
Day 7: Louisbourg – Halifax (5 hours)
Depart Louisbourg and continue onto Canso Causeway. From here you will drive along the Eastern Shore and follow the Marine Drive Route where you will find nature, history and culture, as well as rugged coasts, tranquil bays and beaches, unspoiled forest fauna and crystal clear lakes and streams. Continue back to Halifax.
Offer Includes
Flights from London with Air Canada
Airport taxes
6 nights accommodation in a Standard Room
Car hire
Sightseeing and attractions as per itinerary
Meal Plans