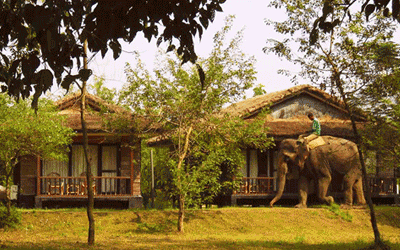 £2475
01 Sep 18
09 Dec 18
20 Nov 18

Highlights: Kathmandu - Chitwan - Lumbini - Pokhara – Dhulikhel
Hotels:
Kathmandu - Hotel Himalaya / Hotel Shambala 4*
Chitwan - Tigerland Safari Resort or similar
Lumbini - Buddha Maya Garden Hotel
Pokhara – The Begnas Lake Resort & Villas (Superior Room)
Dhulikhel - Dhulikhel Mountain Resort 3*
Itinerary:
Day 1: Arrive Kathmandu
- Arrive in Kathmandu. Upon arrival, meet and greet at the airport with traditional Khada welcome.
- Overnight at Hotel.

Day 2: Tour of Kathmandu, Swoyambhunath & Patan
After breakfast, visit of old Kathmandu city with its stone paved lanes, colorful bazaars, the Temple of the Living Goddess - Kumari who is considered to be the incarnation of the "Virgin Goddess". The old Durbar Square consists of the old palace and innumerable temples of different architecture.
Continue to Swoyambhunath stupa, situated west of Kathmandu. It is a 2500 years old Buddhist stupa located atop of green hillock with the eyes of Buddha painted on its pinnacle overlooking righteous behavior of the valley inhabitants.
Later visit Patan city, also known as Lalitpur or the "city of beauty". Patan is well known for its intricately carved temples, narrow lanes and quaint shops. See the intricately stone-carved Krishna temple, Patan Durbar Square and Hiranyavarna Mahavihar (golden temple).
- Overnight at Hotel.
Meals: Breakfast
Day 3: Drive Kathmandu / Chitwan (185 Km/5 hrs)
After breakfast, we commence our journey along a scenic mountain highway to Chitwan. Upon arrival, we will be met and welcomed by the naturalist from the jungle lodge. Check in at the resort. Lunch in the dining complex.
Afternoon, elephant back safari through the jungle to see the Nepali wildlife such as; the great Asian one-horned Rhinoceros, sloth Bear, wild Boar, several species of Deer, rhesus Monkey, the black-faced Langur, the Gaur (wild cattle) and if we are lucky, the spotted Himalayan Leopard or the Royal Bengal Tiger.
- Evening: Tharu cultural programme.
- Overnight at Tigerland Safari Resort or similar.
Meals: Breakfast, Lunch, Dinner
Day 4: Chitwan
- Full day of jungle activities including nature walk to see birds and smaller animals, boat ride to see crocodiles and water-birds, Tharu tribe village visit, Elephant breeding centre/Gharial Breeding centre visit, etc. (Depending upon the lodge booked)
- Overnight at Tigerland Safari Resort or similar.
Meals: Breakfast, Lunch, Dinner
Day 5: Drive Chitwan / Lumbini (170Km/4 hrs)
- Drive to Lumbini, the birth place of Lord Buddha. Check in at Hotel. Afternoon, visit Lumbini Garden with its famous Mayadevi temple, Ashoka pillar, the holy pond. If time permits, visit the eternal flame and the monasteries built by various Buddhist nations to commemorate the birthplace of Lord Buddha.
- Overnight at Hotel.
Meals: Breakfast
Day 6: Drive Lumbini / Pokhara visiting Tansen Bazaar enroute (210 Km/6-7 hrs)
After breakfast, drive to Tansen, a colorful hill town situated at an altitude of 1,450m. It is the most popular summer resort in western Nepal on account of its location and climate. It offers the most extensive views of the country's main attraction, the Himalaya; from Dhaulagiri in the west to Gauri Shankar in the north-east. A short visit of Tansen bazaar to see the medieval Newari brick houses, neat stone-paved alleyways and quaint shops selling spices, groceries and clothes.
After the visit, drive along a scenic mountain highway to Pokhara, famous for its snow clad mountains, lush green vegetation and its spring fed lakes. Before reaching Pokhara, drive to Begnas bazaar. Transfer to Begnas Lake Resort by shikara boat.
- Overnight at Begnas Lake Resort.
Meals: Breakfast
Day 7:
Hike to Sundaridanda and Taalbesi (3-4 hrs)
Tour of Pokhara
Walk along the Sundari Danda ridge visiting this small scattered hamlet inhabited by a mixture of the Gurungs, a well known hill tribe and the high caste Bahuns and Chettris. Sundari Danda, literally meaning `beautiful hill' in Nepali offers spectacular views of the Manaslu (8156m), Lamjung (6931m), Mt. Macchapuchare (6993m) and the entire Annapurna massif including most of its prominent peaks. Walk through the little village bazaar straddling a spur between the twin lakes of Begnas and Rupa.
Descend along an old winding village trail to Taal Besi, a small village that lives off fishing and trading with the adjoining district of Lamjung where goods are transported by porters and mule-trains. Walk along fertile paddy-fields and small colorful villages. You may either return by the same route or take another trail which is mostly along a dirt road that runs round the hill contours to Sundari Danda where your resort is located.
Afternoon, drive to Pokhara and continue the tour of Pokhara city and its colorful bazaars. Visit includes Bindabasini temple and Devis fall. Take a walk along the Phewa lakeside with its rows of restaurants, bars, bookshops and fruit stalls. After the visit, drive back to your resort.
- Overnight at Begnas Lake Resort.
Meals: Breakfast
Day 08: Drive Pokhara/Kathmandu/Dhulikhel (222 Km/6 hrs)
- After breakfast, drive back to Kathmandu retracing the same highway. Upon reaching Kathmandu, continue 30 kms east of Kathmandu to the small resort town of Dhulikhel set on a hill ridge and enveloped in copper soiled terraces with magnificent views of the central Himalayan peaks. Dhulikhel is well known for its sunrise views. It's a good way to get a glimpse of Nepalese village life.
- Overnight at Dhulikhel Mountain Resort.
Meals: Breakfast
Day 9: Drive Dhulikhel /Kathmandu via Panauti & Bhaktapur (30 Km/45 minutes)
- After breakfast, sightseeing tour of Dhulikhel. Old temples and Newari style houses are the main attraction of Dhulikhel.
After the visit, walk through paddy fields to Panauti village which is located at the confluence of the Punyamati & Roshi Khola rivers. Panauti was once an important staging post on the Tibet trade route with pre-Lichhavi origins. The banks of the river are crowded with temples, shrines and cremation ghats. Across the river lie the Brahmayani temple and the biggest Shivalingam in Nepal. The Indreshwar Mahadev temple is a 15th century Newari structure with exquisite woodcarvings especially on the roof struts. (Please note, drive to Panauti is possible for those who are not interested to hike).
Then drive to old Bhaktapur town. Entering the Durbar Square (palace square) through the Royal Gate, the sparseness of the temples is immediately apparent, compared to the profusion in the durbar squares of Kathmandu and Patan. Visit the main square which contains a few temples and other architectural show pieces.
- Overnight at Hotel.
Meals: Breakfast
Day 10: Departure - Transfer
Transfer to international airport in time to connect your outbound flight.
Meals: Breakfast
Offer Includes
Flights from London with Qatar Airways
Airport taxes
3 nights accommodation in Kathmandu on Bed & Breakfast basis
2 nights accommodation in Chitwan on Full Board basis with all jungle activities
1 night accommodation in Lumbini on Bed & Breakfast basis
2 nights accommodation at Begnas Lake Resort, Pokhara on Bed & Breakfast basis
1 night accommodation at Dhulikhel Mountain Resort, Dhulikhel on Bed & Breakfast basis
Sightseeing tours and hikes as per the itinerary
English speaking local guide in Kathmandu & Pokhara and an English speaking local naturalist in Chitwan
Airport transfers as per tour itinerary
Entrance fees
Private surface transfer at Kathmandu/Chitwan/Lumbini/Pokhara/Dhulikhel
Meal Plans