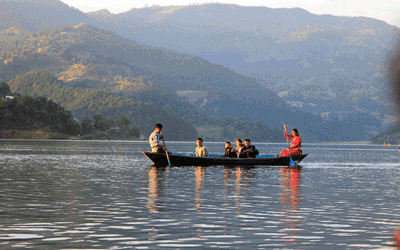 £2439
01 Sep 18
09 Dec 18
20 Nov 18

Highlights: Kathmandu - Pokhara - Landrung - Ghandrung - Tadapani - Ghorepani
Hotels:
Kathmandu - Hotel Himalaya / Hotel Shambala
Pokhara – The Begnas Lake Resort & Villas (Superior room)
Itinerary:
Day 1: Arrive Kathmandu
- Arrive in Kathmandu. Upon arrival, meet and greet at the airport with traditional Khada welcome. Transfer to hotel.
- Overnight at Hotel.
Day 2: Tour of Kathmandu city, Swoyambhunath stupa & Patan city
- After breakfast, visit of old Kathmandu city with its stone paved lanes, colorful bazaars, the Temple of the Living Goddess - Kumari who is considered to be the incarnation of the "Virgin Goddess". The old Durbar Square consists of the old palace and innumerable temples of different architecture.
Continue to Swoyambhunath stupa, situated west of Kathmandu. It is a 2500 years old Buddhist stupa located atop of green hillock with the eyes of Buddha painted on its pinnacle overlooking righteous behavior of the valley inhabitants.
Later, visit Patan city, also known as Lalitpur or the "city of beauty". Patan is well known for its intricately carved temples, narrow lanes and quaint shops. See the intricately stone-carved Krishna temple, Patan Durbar Square and Hiranyavarna Mahavihar (golden temple).
- Overnight at Hotel.
Meals: Breakfast
Day 3:
Fly Kathmandu / Pokhara & Drive to Phedi
Trek to Dhampus (1770m) (3 - 3.5hrs walk)
Morning, transfer to domestic airport in time to connect flight to Pokhara. Upon arrival in Pokhara, drive to Phedi in the Annapurna foothills.
Our trek starts right out with a steady up-hill climb and a series of stone steps passing through villages and ultimately arriving at Dhampus. ridge which will be the first sights of the snow-clad mountains rising above the horizon.
- Overnight at Local Lodge.
Meals: Breakfast, Lunch, Dinner
Day 4: Trek to Landrung (1800m / 5 hrs walk)
- Start our trek after breakfast. We ascend gradually to Deurali (2100m), a windy mountain pass and have a small break for photographs. Several peaks of the Annapurna range can be seen from here including the photogenic Mt. Macchapuchare (6,993m). We then slowly descend to Bherikharka for about 30 minutes and trek gradually down until Tolkha where Lunch will be taken. After lunch trek another 2 hours to Landruk. Landruk is a wellknown village of the Annapurna area with a rich Gurung culture. Traditionally, men from this village are serving soldiers in the Gorkha regiments. Annapurna South (7,219m) and Hiunchuli (6,441m) are prominent peaks visible from here. Trek duration 5 hours.
- Overnight at Local Lodge.
Meals: Breakfast, Lunch, Dinner
Day 5: Trek to Ghandrung (1980m / 5hrs walk)
- Today we hike along a relatively easy trail, passing through small Gurung villages and rhododendron forests. After crossing the river on a wooden bridge, our trail ascends steeply to a charming village called Ghandrung.  This is a model village of the Annapurna Conservation Area Project.
- Overnight at Local Lodge.
Meals: Breakfast, Lunch, Dinner
Day 6: Trek to Tadapani (2904m / 5hrs walk)
- Magnificent sunrise view from here with the two peaks of Annapurna South and Hiunchuli acting as the backdrop of this attractive and beautiful village. After breakfast we exit the village from the north heading into forests of Rhododendron and other hardwood trees. We cross couple of rivulets over which wooden planks serve as makeshift bridges. Tadapani is a narrow village in the shadows of Annapurna South.
- Overnight at Local Lodge.
Meals: Breakfast, Lunch, Dinner
Day 7: Trek to Ghorepani (2830m / 5hrs walk)
- Today is an easy walk as the trail meanders out of the forestland as we pass a few small hutments. Then we walk amongst bushes and shrubs before coming on to a wide grass meadow on a hill ridge which takes us all the way to Ghorepani a busy trading village that connects villages in this area with the Kaligandaki valley, the lifeline to Mustang. With an average walking pace we should reach Ghorepani by lunch time.
- Overnight at Local Lodge.
Meals: Breakfast, Lunch, Dinner
Day 8:
Early morning Poonhill excursion
Trek down to Tirkedhunga (1577m / 6hrs walk)
- Early morning we recommend a hike to Poon Hill a nearby hilltop that is slightly above 3,000 metres and offers a panoramic view of the entire Annapurna massif including its dominant peak Annapurna I (8,091m), Annapurna II (7,937m), Mt. Macchapuchare (6,993m) among a host of others. You will also see Mt. Dhaulagiri (8,167m) close to the left. After breakfast walk along forested areas before making a steep knee-wobbling descent to the sleepy village of Tirkhedhunga (1,575m).
- Overnight at Local Lodge.
Meals: Breakfast, Lunch, Dinner
Day 9:
Trek to Nayapool (1070m / 4hrs walk)
Drive Nayapool/Begnas
- It's a gentle hike this day as we follow a mountain stream along a wide village trail. Quite likely that we will encounter colourful mule-trains as they ferry goods to and from the Kaligandaki valley. Walk down to Nayapool. Meet our waiting vehicle at Nayapool. Drive to Begnas and transfer to Begnas Lake Resort.
- Overnight at Begnas Lake Resort
Meals: Breakfast
Day 10: Drive Pokhara / Kathmandu (200kms/6hrs)
- After breakfast, pickup from hotel and drive back to Kathmandu. Upon reaching, transfer to hotel. Rest of the afternoon is free.
- Overnight at Hotel.
Meals: Breakfast
Day 11: Departure - Transfer
- Transfer to international airport in time to connect your outbound flight.
Meals: Breakfast
Offer Includes
Flights from London with Qatar Airways
Airport taxes
3 nights accommodation in Kathmandu on Bed & Breakfast basis
1 night accommodation at Begnas Lake Resort, Pokhara on Bed & Breakfast basis
6 nights Annapurna Lodge trek using local lodges on Full Board basis
English speaking trek guide and a porter
Airport transfers per the itinerary
Sightseeing tours as per the itinerary guided by English speaking local guide in Kathmandu
Pokhara/Kathmandu surface transfer using private vehicle
Private surface transfers at Pokhara/Phedi and Nayapool/Begnas
Entrance fees
Meal Plans