Maldives - Sea Coral Liveaboard
Maldives - Sea Coral Liveaboard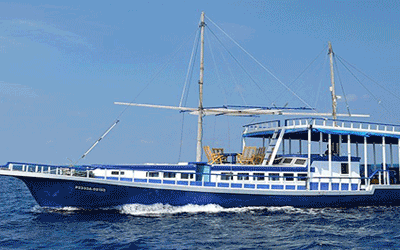 £2149
01 Sep 18
30 Nov 18
31 Aug 18

Bonus offer: Dive Experiences
Other departures: Manchester - £2205, Birmingham - £2165, London Gatwick - £2119, Glasgow - £2205, Edinburgh - £2199, George Best Belfast City - £2249, Bristol - £2265, Norwich - £2255
Cruise:
Sea Coral Liveaboard
Itinerary:
Day 1: Join the cruise and travel to South Male' Atoll
Welcome on board at the Airport or at Male: the capital. Cruise towards Velessaru for your first dive. This will be more of test dive to check your strengths and get a feel of what it is like to dive in the Maldives. You will have a chance to dive at Caves is found directly north of Velassaru and cuts into the vertical walls of the reef causing jagged appearance.Some of the caves have sandy bottoms and make ideal resting places for stingrays, turtles, and nurse sharks. Anchorage in Gulhi lagoon for the night.
Day 2: Cruise to Rasdhoo
After an early morning tea/coffee at 06:00 hrs the first dive of the day will be at Vadhoo Caves. Very similar to the Velassaru Caves, and are one of the most spectacular cave dives in the South of Male' Atoll. There is a string of caves along the steep wall of Vaadhoo Kandu beginning which one big cave from 7 - 25 meters on the north west side of the reef. There is also a long overhang at 30 meters and a narrow cave with a swim- through Depart to Rasdhoo (4-5hrs) and breakfast will be served on the way. Afterlunch the afternoon dive will be at Rasdhoo-Madivaru. Rasdh scalloped hammerhead shark and mantas. Also it has one of the m spectacular and confusing reef formations to be found in Ari-Atoll. A narrow spur, like a suspension bridge, extends out from the reef across the channel rising to a peak at 13 meters. Along the spur is a profusion of fish life ranging from pelagic like schooling barracuda, trevally and little tuna. if you would like you could visit the island Rasdhoo, which is a very old inhabited island with Buddhist origin. Anchorage in Rasdhoo Lagoon for the night.
Day 3: Cruise to North Ari Atoll
After and early morning tea/coffee have a repeat dive at Rasdhoo-Madivaru as early morning is the best time to view the hammerhead sharks. After the dive depart North Ari Atoll (2 hrs) and breakfast will be served on the way. Today you have the option of an afternoon dive or a night dive. If doing the night dive you are free to relax and enjoy some sun on one of the many uninhabited islands. The second dive of the day will be at Maaya Thila, whether you decide to do in the afternoon or night. Maaya Thila is a protected marine area. This is the white-tips reef shark capital. Although grey reef sharks are common here, the smaller white-tips are the center of attention. There are many caves and overhangs all around the thila. Here along with the white-tips you will see, dog-toothed tuna and great barracuda to blue- face angelfish, rnoorish idol, tallfin batfish, parrotfish, butterfly fish, clown-trigger fish and lionfish. This dive is a fish watchers delight and the beautiful soft coral and gorgonians on the reef faces are great attractions. Anchorage in Maayafushi lagoon for the night.
Day 4: Cruise to South Ari Atoll
After breakfast morning dive will be at Hafzaa Thila where you will get chance to see more sharks. Afternoon dive will be at Rahdhigaa Thila which has wonderful coral formation. Afternoon and night will be spend on Rahdhigaa island. Rahdhigaa is a beautiful uninhabited island with a sand entrance to the beach, perfect for some relaxation on the beach and catch some sun. Tonight for dinner our crew will prepare the most wanderful beach barbecue under the stars. Anchorage in Rahdhigaa lagoon for the night.
Day 5: Cruise in search of Manta Rays and Whale Sharks - South Ari Atoll
Very early morning Dhoni will travel towards Rangali, breakfast will be served on the way. Morning dive will be at Rangali Madivaru manta point in South Ari Atoll. This is ones again a protected marine area, with a lot of mantas. There are many cavities in the reef, some overhangs, caves and two swim throughs all with seafans. All along the reef are blue-stripped snapper, napoleon, parrotfish, basslet and juvenile and adult midnight snapper and at the top are excellent table corals.
Afternoon dive will be at Maamigili Reef searching for whale sharks. Whale sharks are usually seen cruising along the shallow water outside the atoll and if you are fortunate enough you might just see one. In this area you are also likely to see some white-tip reef sharks, turtles, sting-rays and napoleon. Night at anchorage on Dhigurah Lagoon. Dhigu means long and it is infact the longest island in the atoll. it is also one of the most picture perfect fishing village with its long beach, protected lagoon and thatched huts mingling with heavy foliage. Perfect for a walk about in the late afternoon.
Day 6: Cruise back to South Male' Atoll
After an early morning teacoffee, morning dive will be at Kudarah Thila, which is said to be one of the most exciting dives in South Ari Atall. On the deeper more gentle slopes on the northern side are great expanses of large seafans. Such fields of fans are rarely seen and when the current is flowing they all sway as one. Coral grown is very good and you will see a variety reef fish and shark. After this dive cross to South Male' Atoll (5hrs), breakfast and lunch will be served on the way. Afternoon dive will be at Guraidhoa Kandu. This entire area is a protected area and has an intricate reef system with many diving options and is one of the premier diving locations in the Maldives. in this area you are bound to see mantas, sharks, trevally, tuna and fusilier. Night at anchorage on Guraidhao Lagoon, a very old local fishing village with a rich history. The islanders are very welcoming, perfect far some sightseeing all by yourself.
Day 7: Male' Visit - North Male' Atoll
After an early morning tea/coffee your first dive will be at Kandhooma Thila. This is one of the most exciting dives in South of Male' Atoll and boasts great scenery as well as prolific fish life. There are dense schools of big-eye trevally and snapper and sometimes there are dog-toothed tuna and barracuda.
After the dive, cruise towards Male', breakfast will be served on the way. Before lunch you will have your second dive of the day at Banana Reef, which is one of the first dive sites discovered in the Maldives. The best diving is at the north-eastern end where there are big spectacular rocks, caves, deep gutters and precipitous overhangs.
After lunch, you will visit the Capital Male'. A Male' tour is a must, visiting - the islamic Centre, Museum, etc. After a guided Male' tour you will be given som time on your own to explore and do some souvenir shopping or just for a little wander by yourself. Anchorage at Hulhumale harbor for the night.
Day 8: End of the Cruise
After breakfast depart to the Airport.
Offer Includes
Flights from London with Turkish Airlines
Airport taxes
7 nights accommodation on Sea Coral boat on a Double Sharing Basis
Boat hire
Diving experiences everyday
Meal Plans