Journey Through Colonial Myanmar
Journey Through Colonial Myanmar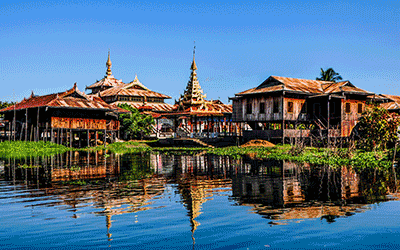 £2349
17 Nov 18
04 Apr 19
30 Dec 18

Highlights: Yangon - Bagan - Mandalay - Kalaw - Lake Inle
Other departures: Manchester - 2655, Birmingham - £2585, Glasgow - £2599, Edinburgh - £2519, Belfast City - £2889, Southampton - £2795, Newcastle - £2585
Hotels:
Yangon - Inya Lake Hotel or similar 4* (Superior Room)
Bagan - Villa Bagan or similar 3* (Superior Room without view)
Mandalay - Hotel Sakura Princess or similar 3* (Superior Room)
Kalaw - Kalaw Heritage Hotel or similar 3* (Superior Room with Garden View)
Lake Inle - Nyaung Shwe City Hotel or similar 3.5* (Deluxe Room)
Itinerary:
Day 1: Yangon Arrival
Arrive Yangon and transfer to Hotel. Check-in time is at 14:00 hours. Rest of the day at leisure.
Accommodation at hotel, Yangon
Meal included: None
Day 2: Yangon – Heritage Walk - Shwedagon
Yangon retains one of the most complete ensembles of colonial architecture in the world. This walking tour in Yangon reveals some of the heritage buildings and the rich history of their functions and inhabitants up to the present day.
Transfer from your hotel to Yangon City Hall, located at the heart of the colonial-era city. Built in 1936 by Myanmar architect U Tin, it is a massive building with traditional tiered roofs, a combination of European design and engineering technology with traditional Myanmar flourishes. Nearby is the former Immigration Department. This building was designed in 1910 to be the country's most upmarket department store, Rowe & Company. With its corner tower and top-floor balconettes, the structure retains an air of its former opulence. Proceed to the High Court, a 1911 brick building designed by the architect John Ransome, and another outstanding example of the grand Imperial style.
Continue to Strand Road, home to the three-storey former New Law Courts, built in 1931 with an imposing colonnade of Ionic columns. Next stop is the 1916 Custom House, a large building with an elegant white tower and double-faced clock above the entrance. The Art Deco period Myanma Port Authority is noted for its imposing square corner tower, wave-inspired stuccowork, and bas-relief sculptures of sailing vessels. The former Irrawaddy Flotilla Company's graceful white building and colonnaded façade is another landmark.
Walk past the red brick General Post Office to the luxurious Strand Hotel, built in 1901 by the Sarkies brothers, Armenian hoteliers. Here you'll enjoy well-earned refreshments (non-alcoholic) in the Bar.
An afternoon, visit to Bogyoke (Scott's) Market gives you the opportunity to see Myanmar's wide range of handicrafts. Stop alongside Kandawgyi (Royal) Lake to take photographs over the lake towards Karaweik Hall and Shwedagon. Enjoy the sunset at Shwedagon Pagoda, famous worldwide - its golden stupa is the 'heart' of Buddhist Myanmar. The Pagoda is believed to be 2,500 years old and the central stupa in surrounded by dozens of intricately decorated buildings and statues. There are always many Myanmar people praying and making offerings at Shwedagon, and it's a fascinating place to spend time watching the world goes by.
Accommodation at hotel, Yangon
Meals included:
- Breakfast
- Lunch at Le Planteur Restaurant
Day 3: Yangon - Bagan
Early morning transfer to Yangon airport for domestic flight to Bagan. Arrive Bagan and start the full day sightseeing tour, starting with the busy local market at Nyaung Oo. Continue with visits to a selection of the most important pagodas and temples such as Shwezigon, Bagan's most important reliquary shrine – look out for images of the 37 'nats' (spirits) housed in a small hall - and Gubyaukgyi (Wetkyi-Inn village), a 'cave' temple with fine frescoes of the 'Jataka Tales'. Next stop is Htilominlo, the last Bamar-style temple built in Bagan, which boasts old murals and friezes.
Your visit continues to Ananda Temple, a masterpiece of Mon-style architecture with four huge standing Buddhas and an adjacent brick monastery with well-preserved 18th century murals. Stop for a photo of Bagan's tallest temple; 61 metre-high Thatbyinnyu, known as the 'temple of omniscience' and dating from 1144.
Next visit a lacquer craftsman's workshop in nearby Myingaba village, where you'll learn how this delicate art is made. Sightseeing continues with visits to Manuha Temple, built in the Mon style in 1059; Nanpaya Temple, a unique sandstone monument said to have been the palace of King Manuha, and Gubyaukgyi (Myingaba) under the protection of UNESCO and noted for its ancient mural paintings. Enjoy sunset at one of the monuments along Ayeyarwady River.
Accommodation at hotel, Bagan
Meals included:
- Breakfast
- Lunch at Sunset Garden Restaurant
Day 4: Bagan – Mt. popa – Salay – Bagan
Full day to explore the countryside around Bagan. From your hotel drive to Mount Popa (46km, about 1hour), home to Myanmar's intriguing 'nats' (spirits). The 777 steps to the top of Mount Popa provide an energetic climb rewarded by fabulous views from the top.
In the afternoon, drive to the town of Kyaukpadaung and visit the local market before continuing to Salay. Visit Yokesone Monastery, built on 154 teak posts and known for its 130-year-old beautiful wooden carvings of the 'Jataka Tales' (stories from the Buddha's life) which decorate the outer walls. (The monastery is closed on Mondays, Tuesdays and public holidays).
Continue to Payathonzu, a complex of three brick shrines with mural paintings from the Bagan period, and see Man Paya - a large lacquer Buddha image, said to date from the 13th century. Return to Bagan through Chauk (53km, about 1hour), where you will see old Burma Oil installations ('nodding donkeys'), and the banks of the Ayeyarwady River. Arrive in Bagan and transfer to hotel.
Accommodation at hotel, Bagan
Meals included:
- Breakfast
- Lunch at Popa Mountain Resort
Day 5: Bagan – Mandalay
Transfer to the airport for morning flight to Mandalay. Arrive Mandalay and start your full day sightseeing.
Pick up from Mandalay airport and drive to Amarapura and take a stroll on U Bein Bridge, which at over a kilometre is believed to be the longest teak bridge in the world. From here, visit picturesque Sagaing, perhaps the living centre of Buddhist faith in Myanmar today. The hills here are dotted with numerous pagodas and monasteries.
In the afternoon, drive along the busy Ayeyarwady River where you see many boats loading goods as well as women washing laundry. The visit Mahamuni Pagoda, home to a spectacular Buddha image covered with thick layers of gold leaves. Stop at local workshops to see Kalaga tapestries being made, gold leaf being beaten into paper-thin pieces. From here, we go to Kuthodaw Pagoda, where the Theravada Buddhist scriptures are inscribed on 729 marble slabs, giving rise to its nickname 'the world's largest book'. Next visit beautiful teak-carved Shwenandaw Monastery, the only Royal Palace building to survive World War II bombing. Atop Mandalay Hill lie glittering glass-studded temple walls which reflect the evening glow as you watch the sunset.
Accommodation at hotel, Mandalay
Meals included:
- Breakfast
- Lunch at Min Wun Valley Restaurant
Day 6: Mandalay – Pyin Oo Lwin – Mandalay
Drive up into the hills from Mandalay (80 Km, about 2 hours) for a full day visit of Pyin Oo Lwin (Maymyo), a former British hill station. Visit the local market and drive through the charming town in a horse-drawn 'stage coach', giving you the chance to admire the red brick and half-timbered houses, complete with English-style gables, turrets and chimneys.
In the afternoon, visit the tiny Forestry Museum (if open) and the National Botanical Kandawgyi Gardens, which were laid out by Sir Harcourt Butler, a former Governor of Burma – the flower beds are similar to those you would find in an English country garden! Proceed to Peik Chin Myaung Caves, since ancient times a Buddhist shrine. Return to Mandalay and your hotel in the early evening.
Accommodation at hotel, Mandalay
Meals included:
- Breakfast
- Lunch at local restaurant
Day 7: Mandalay – Heho - Kalaw
In the morning, transfer to Mandalay airport for departure by domestic flight from Mandalay to Heho. From Heho, drive up over the rolling hills to Kalaw which used to be a former British Hill Station.
In the afternoon, start walking from Kalaw about 3½ hours to Myinmahti village, mostly inhabited by the ethnic Danu minority. The route takes you first through the pine forest, which opens out after to 1 hour to potato farms, mountain rice paddies and huge vegetable plantations. In this traditional rural environment farmers still work with oxen and buffalo rather than machines. Enjoy the natural beauty of the area.
Continue to the Myinmahti limestone cave (312 metres deep from entrance to exit). This natural cave has existed for thousands of years, and there are many small caves on either side of the entrance and exit. The main cavern contains numerous pagodas and statues, brought here over the last 2300 years since the reign of King Thiri Dhamar Asawka. Their artistic details are intricate and unique. According to the archaeological research, some of the statues were built earlier than 17 AD or 18 AD. At the entrance to the cave, there are many stalactites where cool water is dripping steadily. At the end of your visit you meet your car here, and return by road to your hotel.
Accommodation at hotel, Kalaw
Meals included:
- Breakfast
- Lunch at Seven Sisters Restaurant
Day 8: Kalaw – Kakku - Inle Lake
In the morning, visit the bustling morning market of Kalaw where you see different tribes coming from the hills to sell their produce. A visit to the tiny train station should not be missed. From here, then up through pine-clad hills to Taunggyi the capital of southern Shan State and a former British hill station.
Visit the local market where ethnic minority people sell their produce, and a cheroot maker's where skilled young women can make hundreds of cheroots in a day. Approximately 2hours drive from Taunggyi in countryside inhabited by the Pa-O people lie the 'lost' ruins of Kakku, a pagoda encircled by dozens of small stupas.
Little is known about the origins of this unusual place - the Pa-O believe that the original pagoda dates back some 2,000 years. Wander through the stupas which are decorated with fine stucco work and Buddha images - some in good repair, others not. Visit a Pa-O village and a large monastery on the way back to Taunggyi. Continue from here to Nyaung Shwe where you board your boat and go to your hotel.
Accommodation at hotel, Inle Lake
Meals included:
- Breakfast
- Lunch at Hlaing Khone Restaurant
Day 9: Inle lake
Explore a 5-day rotating market (if your visit coincides with the schedule) which offers an insight into the life of the ethnic Pa-O, Danu and Intha people who come to these markets to sell and buy goods. Enjoy a full day boat trip on Inle Lake - a photographer's dream. Its calm waters are dotted with floating vegetation and fishing canoes, to which scenic hills provide the perfect backdrop. See the lake's unique 'leg rowers' - Intha fishermen who row standing up with one leg wrapped around a single oar, leaving their hands free to manipulate the conical fishing net. Stop at Phaung Daw Oo Pagoda, the holiest religious site in southern Shan State.
Visit a traditional silk-weaving workshop which uses wooden handlooms, and a blacksmith's forge. Pass endless floating gardens, where Intha lake dwellers grow fruit and vegetables. Continue by boat to visit Nga Phe Kyaung Monastery, one of the oldest on the lake, where you can see exquisite Buddha statues which are more than 200 years old. Return to your hotel by boat as the sun lowers and the light softens over the lake.
Accommodation at hotel, Inle Lake
Meals included:
- Breakfast at hotel
- Lunch at Inle Heritage House
Day 10: Inle lake – Sagar – Inle lake
Pick-up from your hotel and travel by boat via Nampan to Sagar (approximately 2½ to 3 hours) and Thakong, a rarely visited area south of Inle Lake. Explore the 5-day rotating market (if your visit coincides with the schedule) and Kyauktaing, a Shan village where earthenware pottery is produced. At nearby Kyainkhan visit a family who produce monk's robes made of fabric woven from thousands of lotus stems. In Thakong, observe local methods of producing alcohol fermented and extracted from bran rice. The day offers an insight into the unspoiled culture and traditional life-style of the ethnic Pa-O and Intha inhabitants around Sagar. Enjoy the beautiful landscape, trees and numerous settlements dotted on both sides of the canal. Late afternoon return to the hotel at Inle Lake.
Note: During this tour, you will be exposed to a lot of sun, do carry a hat and bring along sun cream.
Accommodation at hotel, Inle Lake
Meals included:
- Breakfast
- Lunch at A little Lodge in Samkar
Day 11: Heho – Yangon Departure
Transfer to Heho Airport for return flight to Yangon. Upon arrival in Yangon, drive to Htwe Oo Home of Puppetry to enjoy the traditional Myanmar string puppet show conducted by one of the leading puppet masters in Myanmar. The puppeteer will give brief explanation of the puppet-making process and how a block of wood is turned into a lively puppet. You will see wonderful performances such as the dance of the prince playing with a cane ball, the acrobatic dance of the prince playing a tub with legs while lying on his back, and the unique dance with garland.
Later in the afternoon, transfer to the airport for your international departure.
Meal included:
- Breakfast
- Lunch at Pansuriya Restaurant
Offer Includes
Flights from London Heathrow with Thai Airways International
Airport taxes
10 nights accommodation as per itinerary
All sightseeing tour and transfer services with private air conditioned car/coach as detailed in Itinerary
Transfers and tours with English speaking station guides
Boat trips as specified
Meal Plans