Impressions with a Nostalgic River Cruise
Impressions with a Nostalgic River Cruise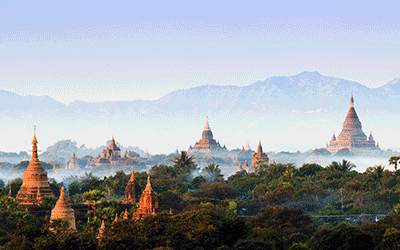 £3035
17 Nov 18
04 Apr 19
30 Dec 18

Highlights: Yangon - Bagan - RV Paukan - Mandalay - Kalaw - Lake Inle
Other departures: Manchester - £3339, Birmingham - £3269, Glasgow - £3285, Edinburgh - £3205, Belfast City - £3579, Southampton - £3485, Newcastle - £3269
Hotels:
Yangon - Chatrium Hotel Royal Lake Yangon or similar 4* (ROH - Deluxe Room)
Bagan - Bagan Thiripyitsaya Sanctuary Resort or similar 4* (Deluxe Room)
RV Paukan - 2 Nights Cruise or similar (Main Deck Cabin)
Mandalay - Shwe Ingyinn Hotel or similar 3* (Superior Room)
Kalaw - The Hotel-Kalaw Hill Lodge or similar 3.5* (Deluxe Villa Room)
Lake Inle - Novotel Inle Lake Myat Min or similar 4* (Junior Suite Room)
Itinerary:
Day 1: Yangon Arrival
Meet on arrival at Yangon International Airport and transfer to hotel. (Your room might not be ready for check-in; international check-in time is 14:00 hours).
Start your sightseeing with a drive to the famous Strand Road and visit the bustling Yangon harbour, where ferries leave for Pathein in the Delta and upcountry towns along the Ayeyarwady River. Visit Botathaung Pagoda, close to Yangon River and said to contain Buddha relics. You then drive through the colonial-historical district, Chinatown, and the Indian quarter. Make a photo stop at the gilded Sule Pagoda, dating back over 2,000 years, and a landmark in central Yangon.
In the afternoon, visit to Bogyoke (Scott) Market (closed on Mondays and Public Holidays) gives you the opportunity to see Myanmar's wide range of handicrafts and souvenirs. Stop alongside Kandawgyi (Royal) Lake to take photographs over the lake towards Karaweik Hall and the Shwedagon. Enjoy the sunset at Shwedagon Pagoda, famous worldwide - its golden stupa is the 'heart' of Buddhist Myanmar. The Pagoda is believed to be 2,500 years old and the central stupa in surrounded by dozens of intricately decorated buildings and statues. It is always full of people praying and making offerings, and is a fascinating place to spend time watching the world go by. Return to your hotel.

Accommodation at hotel, Yangon
Meal included: None
Day 2: Yangon – Bagan
Transfer to Yangon Airport for domestic flight to Bagan.
Scattered on a large plain beside the Ayeyarwady River are the magnificent red brick temples and pagodas that are the great legacy of the kings of Bagan. Built from 1057 to 1287 AD in honour of the royal Buddhist faith, the pagodas display impressive architecture and interiors of colourful murals and exquisite Buddha statues. From the top, the visitor can enjoy awesome views of the immense, temple-dotted plain.

Pick up from the airport from where you start your tour to the busy local market, continuing with visits to a diverse selection of the most important pagodas and temples in Bagan. These include the Shwezigon Pagoda, a huge gilded temple built by King Anawrahta in the early 11th century and Gubyaukgyi (Wetkyi-Inn), a 13th century temple with exquisite murals of the 'Jataka Tales' (scenes from the life of the Buddha). Continue to the eminent Ananda Temple; one of the finest and largest pagodas, with a 51-metre (170-foot) shimmering gold tip plus four huge standing-Buddha images and numerous seated figures arranged around the interior gallery.
Later, visit a lacquer craftsman's workshop in nearby Myingaba village. Sightseeing continues with visits to Manuha Temple, built in Mon style in 1059; Nanpaya Temple, a unique sandstone monument that is said to have been the palace of King Manuha; and Gubyaukgyi (Myingaba) under the protection of UNESCO because of its ancient mural paintings. Observe a sunset in the vicinity of Bagan's ancient monuments.

Accommodation at hotel, Bagan
Meals included:
- Breakfast
- Lunch at Sunset Garden Restaurant
Day 3: Bagan
This morning visit Minnanthu village by horse cart. Visit Tayoke Pyay, Payathonzu and Nandamanya Temples (noted for exquisite 13th century murals) and Kyat Kan Cave Monastery, a famous meditation centre in Bagan. Visit farming houses around Bagan.
In the afternoon, enjoy an excursion to the beautiful Nat Htaung Kyaung, a monastery famous for wood carvings, built in 1781 by a group of monks. Admire the monastery's collection of ancient Buddha statues and lacquer boxes.
Accommodation at hotel, Bagan
Meals included:
- Breakfast
- Lunch at Ayarwaddy River Terrace Restaurant
Day 4: Bagan – Cruising to Mandalay (River village stop) on RV Paukan
The embarkation time is 11:30 hours at Bagan Aye Yar jetty, cast-off is half an hour later. Welcome cocktail and briefing in the Saloon or on the Sun Deck followed by lunch. In the late afternoon stop in a typical river village.
Overnight on board
Meals included:
- Breakfast
- Lunch
- Dinner
Day 5: Cruising to Mandalay (visit Yandabo village)
Cruise all day with stop on route in the morning to visit Yandabo, a typical river village specializing in pottery manufacture, where the First Anglo-Burmese War peace treaty was signed on 24 February 1826. We visit the pottery workshops, the monastery and the school. Moor overnight near Ywar Thit Gyi or Pauk Myaing Pauk Taw villages, a few miles away from Ava Bridge.
Overnight on board
Meals included:
- Breakfast
- Lunch
- Dinner
Day 6: Mandalay (Sagaing – Gawein)
Enjoy the sunrise over the Ayeyarwady River. After an early breakfast, disembark at Sagaing jetty (Thursday only) or Gawein jetty (Sunday only) at around 09:30 hours. After disembarkation, drive to Sagaing Hills, a retreat for Buddhist devotees, to enjoy a magnificent view over the surrounding area.
In the afternoon, proceed to Amarapura, famous for silk weaving, 15 km from Mandalay. Visit Bagaya Monastery with its superb collection of Buddha statues. Continue to 150-year-old U Bein teak bridge, built in 1851 at the time when Amarapura was the royal capital.

Accommodation at hotel, Mandalay
Meals included:
- Breakfast
- Lunch at Min Wun Valley Restaurant Sagaing Hill
Day 7: Mandalay
Enjoy a comprehensive tour of Mandalay, a highlight of which is the Mahamuni Pagoda, home to a spectacular Buddha image covered with thick layers of gold leaves. Near the river lies visit Shwe-im-bin, a wooden monastery over 100 years old which is known for its lovely carving. Stop at local workshops to see kalaga tapestries being made, gold leaf being beaten into paper-thin pieces, and Burmese sweets being made.

Mid-afternoon, you'll take a trishaw ride to Kuthodaw Pagoda, where the Theravada Buddhist scriptures are inscribed on 729 marble slabs, giving rise to its nickname 'the world's largest book'. Next visit beautiful teak-carved Shwenandaw Monastery, the only Royal Palace building to survive World War II bombing. At Kyaukdawgyi Pagoda you'll see a large Buddha statue carved out of a single block of local marble. Atop Mandalay Hill lie glittering glass-studded temple walls which reflect the evening glow as you watch the sunset. Afterwards, visit Shwe Kyin Monastery to observe student monks start their evening prayers.
Accommodation at hotel, Mandalay
Meals included:
- Breakfast
- Lunch at Daung Lann Gyi Myanmar Restaurant
Day 8: Mandalay – Heho – Kalaw
In the morning, transfer to Mandalay airport for the domestic flight to Heho. Arrive at Heho airport and drive to Kalaw (34 km, about 1½ hours), formerly a British hill station. After lunch, check-in at your hotel.
Afterwards, start walking to Myin Ma Hti, an ethnic Danu village (approximately 3½ hours. The route takes you through the pine forest for an hour, after which you will be among fields where potatoes, mountain rice and vegetables are grown. These are still worked by oxen and water buffalo - no machines or tractors are used. Working the fields is often a family affair – you may see young family members helping their parents Myin Ma Hti is known for its 313 metre-long limestone cave, containing many Buddha images. Your car meets you here and brings you back to Kalaw.
Accommodation at hotel, Kalaw
Meals included:
- Breakfast
- Lunch at Seven Sisters Restaurant
Day 9: Kalaw – Inle lake
In the morning, visit the local market, the tiny railway station and perhaps walk up the hill to see the Catholic church (if open). From Kalaw, drive down to Nyaung Shwe (48 km, about 2 hours) on the edge of Inle Lake, stopping on the way to visit Shwe Yan Pyay Monastery.
Board your private local boat to take you to your hotel. In the afternoon, enjoy a boat trip on the lake. Inle Lake is a photographer's dream. Its calm waters are dotted with floating vegetation and fishing canoes, to which scenic high hills provide the perfect backdrop. See the lake's unique leg rowers – the Intha people who row standing up with one leg wrapped around an oar – and the floating gardens, where vegetables and flowers are cultivated by the lake-dwelling Intha people. Continue by boat to Nga Phe Kyaung Monastery, one of the oldest monasteries on the lake, containing exquisite 200-year-old Buddha statues. Stop to see silk weaving on wooden handlooms. Visit Phaung Daw Oo Pagoda, the holiest religious site in southern Shan State, which is home to five gold leaf-covered Buddha images.
Accommodation at hotel, Inle Lake
Meals included:
- Breakfast at hotel
- Lunch at View Point Lodge
Day 10: Inle lake – Sagar – Inle lake
Pick-up from your hotel and travel by boat via Nampan to Sagar (approximately 2½ to 3 hours) and Thakong, a rarely visited area south of Inle Lake. Explore the 5-day rotating market (if your visit coincides with the schedule) and Kyauktaing, a Shan village where earthenware pottery is produced. At nearby Kyainkhan visit a family who produce monk's robes made of fabric woven from thousands of lotus stems. In Thakong, observe local methods of producing alcohol fermented and extracted from bran rice. The day offers an insight into the unspoiled culture and traditional life-style of the ethnic Pa-O and Intha inhabitants around Sagar. Enjoy the beautiful landscape, trees and numerous settlements dotted on both sides of the canal. Late afternoon return to the hotel at Inle Lake.
Note: During this tour, you will be exposed to a lot of sun, do carry a hat and bring along sun cream.
Accommodation at hotel, Inle Lake
Meals included:
- Breakfast
- Lunch at A little Lodge in Samkar
Day 11: Heho - Yangon
In the morning, transfer by private boat and vehicle from Inle Lake to Heho airport for your flight to Yangon.
In the afternoon, visit Bogyoke Market (closed on Mondays and Public Holidays) gives you the opportunity to see Myanmar's wide range of handicrafts. Drive to a selection of Art Galleries and Antiques shops. There is a surprisingly high amount of very talented painters and artists in Myanmar. Some of them are known internationally. Their accomplishments can be admired and also bought in numerous Art Galleries and showrooms. Continue to the jetty along Strand Road and walk along Yangon River to see the busy harbour area, from where ferries leave for Pathein in the Delta and for upcountry towns along the Ayeyarwady River.
Accommodation at hotel, Yangon
Meal included:
- Breakfast
- Lunch at Pansuriya Restaurant
Day 12: Yangon – Departure
Day at leisure until departure to your international flight. Transfer to the airport.
Meal included:
Breakfast at hotel
Offer Includes
Flights from London Heathrow with Thai Airways International
Airport taxes
11 nights accommodation as per itinerary
All sightseeing tour and transfer services with private air conditioned car/coach as detailed in Itinerary
Transfers and tours with English speaking station guides
Boat trips as specified including cabin on RV Paukan
All entrance fees for the places as mentioned in the program
Hiking guide
Meal Plans