Glimpses of Taj, Raj and Golden Triangle
Glimpses of Taj, Raj and Golden Triangle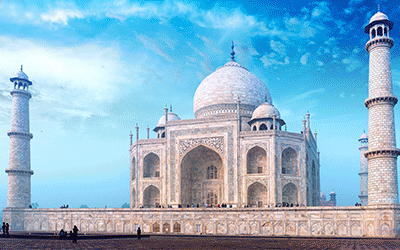 £1759
01 Apr 18
30 Jun 18
31 Mar 18

Note: Taj remains closed on Friday
Highlights: Delhi - Agra - Parwanoo - Shimla - Amritsar
Hotels:
Delhi - Hotel The Royal Plaza
Agra - Crystal Sarovar Premiere
Parwanoo - Timber Trail Heights
Shimla - Hotel Willow Banks
Amritsar – Ramada
The harmonious amalgamation of the country's capital with its entire historic splendour, this tour takes you to the beautiful hill state of Himachal Pradesh to experience the gracious living in a palace and country manor. In 1903, the Kalka-Shimla railway started making the hitherto arduous journey up much simpler and even today the quaint toy train chugs up steep hill slopes carrying eager tourists. the soft romanticism that can be felt as the amazing Taj Mahal in Agra and the fierce magnificence of Jaipur - the princely state capital, which was painted pink (the traditional colour of welcome) in honour of the visit of Prince Wales in 1876.
Leaving Delhi, you will journey to Agra and its impressive fort. Highlight is Taj Mahal – a monument of love in the world.  You will see the sacred city of the Punjab with its spectacular Golden Temple built between 1589 and 1601 and is a superb synthesis of the Islamic and Hindu styles of architecture. The extraordinary building is fashioned from marble, mirror work and gold, which is beautifully reflected in a stunning expanse of water and best seen in the early morning light.  This tour takes you to the beautiful hill state of Himachal Pradesh to experience the gracious living in a palace and country manor. In 1903, the Kalka-Shimla railway started making the hitherto arduous journey up much simpler and even today the quaint toy train chugs up steep hill slopes carrying eager tourists.
Day 1: Doha to Delhi by flight QR-570:0230-0840 Hrs
0840: Arrive Delhi airport
Upon arrival at the airport, you will be met and transferred to your hotel.
Day 2: Delhi.
Full day sightseeing tour of Delhi. You will get a feel for this city as you explore its historic sights. Raj Ghat which is located on the banks of the river Yamuna, This is Mahatma Gandhi's Memorial, where he was cremated following his assassination in January 1948.  Opposite the Red Fort lies Jama Masjid made of red sandstone and white marble, completed in 1656. It is India's largest mosque. Explore the bustling cultural delight of the colourful market on the 'cycle rickshaw' for a unique experience from the Red Fort, through "Chandni Chowk" or Silver Street, experiencing the sights and sounds of this very busy avenue-heading west from the Fort. You will take a view of Red Fort  – the 17th century imposing fortress built in red sandstone is surrounded by a huge boundary wall 33m high. Inside are exquisite palaces and beautiful gardens.
Afternoon you will head into New Delhi, visiting Humayun's Tomb, an impressive garden tomb with high arches and a double dome, built by his wife Haji Begum in the 16th Century. An early example of Mughal architecture considered the predecessor of the Taj Mahal. Then continue on to the wonderful Qutab Minar - the landmark of Delhi, the beautiful grounds feature the well preserve a huge tower of victory standing over 72 meters. You will drive on to Rajpath and through to India Gate and the Lutyens Delhi with its tree lined boulevards leading to the British Viceroy's Palace (Rashtrapati Bhavan) now the official residence of the President of India, the Secretariat, India Gate and Parliament House.
Day 3: Delhi to Agra by surface, 210 Km/ 4 Hr
Drive to Agra.
Afternoon visit the Taj Mahal (closed on Friday) in the morning by sunrise. The Mughal Emperor Shah Jahan in memory of his favourite wife, Mumtaz Mahal, who died in 1631, built one of the world's most famous buildings, the 'Taj Mahal'. Its perfect proportions and exquisite craftsmanship have been described as 'a vision, a dream, a poem, and a wonder'. In the afternoon you will visit the 16th century  Agra fort. This commanding red sandstone monument stretches 2.5 kilometres along the banks of River Yamuna, encompasses serene gardens and terrace pavilions, with striking views providing glimpse of the magnificent Taj Mahal across the river. and Tomb of Itmad-ud- Daulah.
Day 4: Agra to Delhi by surface
Delhi to Kalka by train Shatabadi Express: 1715-2120 Hrs
After breakfast you will drive to Delhi railway station to board train for Kalka
2120 Hrs: Arriva Kalka railway station
Upon arrival at Kalka railway station drive to Parwanoo
Upon arrival at Parwanoo, check in at Hotel
Day 5: Parwanoo to Kalka by surface
Kalka to Shimla by shivalik train 0520-1000 Hrs
Early morning drive to Kalka railway station in time to board Toy train Toy trains offers the charm of old-world travel amidst lofty pines and lush green, misty mountains.
Laid out on a 96 km long narrow gauge track that passes through 103 tunnels and across more than 800 bridges and viaducts, it is one of the most beautiful hill railways in India. It was considered the "crown jewel" of the Indian National Railways during British times.
 1000 Hrs: Arrive at Shimla, where our car and driver will be waiting for the clients and transfer to Hotel
Overnight stay at Hotel
 Day 6:Shimla.
Morning enjoy Heritage Walk through the town's Architectural Heritage Zone that brings you close to various architectural sites of British era. A number of old buildings such as Bantony, Betinks Castle, Railway Board Building, Gorton Castle (can see from outside), Knokcdrin (can see from outside) Sanitarium, Cecil Hotel, Inverarm, State Museum (closed on Monday) - This building was a private residence of Lord William Beresford, the Military secretary to the viceroys for many years. and Viceregal Lodge keep your eyes wide open. Viceregal Lodge Indian Institute of Advanced study: - The site for Viceregal Lodge was selected by Lord Lytton the Viceroy of India between 1876 -1880. The Viceregal Lodge, also known a Rashtrapati Niwas is located on the  Observatory Hill of Shima. It was formerly the residency of the British Viceroy of India. It was designed by British architect Hendry Irwin and built in the Jacobethan style during the regime of Lord Dufferin. Its construction stared in 1880 and completed in 1888
Later enjoy visiting Jhaku Temple/ Hill (2455 Mts.): This is the town's highest peak and a vantage point for Shimla's famous views. The summit is crowned with a temple dedicated to monkey God Hanuman. This also offers a very good view of the Shimla with snow capped mountains. One legend goes that Lord Hanuman stopped there to rest while he was searching for the Sanjivni Booti to revive Lakshman in the Epic Ramayana
Day 7: Shimla to Chandigarh by surface
Chandigarh to Amritsar by train CDG ASR SUPER FAST:1710-2125 Hrs
Breakfast at Hotel
Transfer from Shimla to Chandigarh railway station in time to board train for Amritsar
2125 Hrs: Arrive Amritsar railway station
Upon arrival at Amritsar railway station transfer to Hotel
Day 8:Amritsar
At leisure to explore, the spiritual centre of the Sikh religion - the Golden Temple, one of the most spiritual locations, including the Divine Temple and the Pool of Nectar. The temple kitchen provide an amazing meals a day also visit Jallianwala Bagh the site of an infamous massacre that took place in 1919. Visitors to the Golden Temple must remove their shoes, wash their feet and cover their heads with a scarf.
Later afternoon you will travel to Wagah border, where India meets Pakistan, and observe the  ceremony
Transfer from Hotel to Amritsar airport in time to board flight for London Heathrow via Doha
Day 09: Amritsar to Doha by flight QR-549:0320-0445 Hrs
Doha to London Heathrow by flight QR-7:0635-1200 Hrs
Offer Includes
Flights from Birmingham with Qatar airways
Airport taxes
8 nights accommodation on bed & breakfast basis
All transfers, sightseeing and excursions by private air-conditioned car
Entrance fees to the monuments
Services of local English speaking Guide
Jeep ride at Amber Fort, Jaipur
Kingdom of Dreams Show
Cycle Rickshaw ride at Old Delhi
2 game drive at Ranthambore National Park by shared open Canter / Jeep
1 lunch at Moksha Resort & Spa
Train fare for the sector Delhi-Kalka-Delhi by air-conditioned chair car and Shimla-Solan by non Ac class
Toy train journey from Kalka/Shimla by non Ac class
Meal Plans