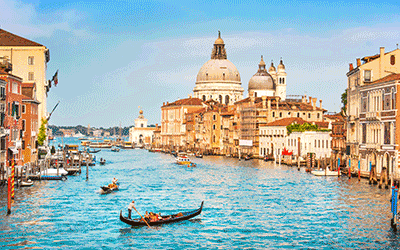 £3099
12 Aug 19
26 Aug 19
30 May 19

Other departures: Manchester - £3115, Birmingham - £3109
Itinerary
Day 1: Rome
Buongiorno! Welcome to Italy. Crowded with ancient ruins and religious monuments, Rome still pulses to the beat of modern life and is packed with designer shops, restaurants, cafes and exciting nightlife. If you arrive early there are plenty of things to keep you busy. Maybe save the unmissable sights for tomorrow morning and today do as the Romans do – sip an espresso at one of the tiny streetside cafes and sample the many flavours of gelato that colour the city. For those captivated by the 'Eternal City', throw a coin into the Trevi Fountain to ensure a return visit to Rome.
Day 2: Rome / Florence
Enjoy some free time in Rome or, if you wish, your group leader will be available for an orientation walk, taking in some of the best-known sights of Rome like the Colosseum, the Spanish Steps and the Roman Forum. No visit would be complete without a trip to Vatican City and St Peter's Basilica. Entry to the Basilica is free and there's a small charge to climb the dome for a breath-taking panorama over Bella Roma. If there's time, visit the Vatican Museum and Sistine Chapel. In the afternoon you'll travel by train from Rome to Florence, Italy's 'outdoor museum' (approximately 2 hours). Florence, the cultural heart of Tuscany, bursts with religious treasures and Renaissance masterpieces. It's been said that during the second millennium, a third of Europe's most important artists lived in Florence. The minds and talents of the Medicis, Leonardo da Vinci, Raphael, Brunelleschi, Machiavelli, Donatello and Michelangelo all flourished here. After checking in to your hotel, the rest of your evening is free to explore the city of the Renaissance. Food is also a major part of the city's identity, so perhaps explore some of the culinary delicacies on offer from across Tuscany.
Accommodation Hotel (1 night) Meals Included Breakfast Special Information Check the Vatican website (vatican.va) for updated information on when you can visit. Tickets for the Vatican Museum can and should be booked online at: biglietteriamusei.vatican.va. The Vatican Museum is closed on some days, including most Sundays. On the last Sunday of the month, it's open and free (but expect large crowds). Tickets for Galleria Borghese can also be booked online at galleriaborghese.it. The best day to visit will be Day 1 before the group meeting, or the morning of day 2 before the departure to Florence. In order to allow enough time in the museum and to avoid the crowds it is recommended to start the museum visit as doors open. Please note that pre-booked tickets are not required if you just want to visit St Peter's Basilica and its dome.
Day 3: Florence
Today is a free day for you to explore all that Florence has to offer. It's impossible to see everything in this Renaissance wonderland, however, so take your time and enjoy it. The principal sights are easily discovered on foot – the Pitti Palace, the Ponte Vecchio, the Arno River front, the many statues and monuments of the Piazza della Signoria, the Palazzo Vecchio, the 13th-century Duomo (with its fiery depiction of the Last Judgement), the Baptistry and the Belltower, and the Santa Croce Church. Visit the Uffizi, one of the world's oldest art galleries and a work of art itself. See Michelangelo's famous statue of David in the Galleria dell'Accademia. In the evening, join your leader for a picnic and climb uphill to Piazzale Michelangelo for that most photographed of all sunset views across the rooftops of Florence. Then join the locals in taking a passeggiata, a leisurely socialising stroll, perhaps between piazza Beccaria and piazza della Repubblica. Accommodation Hotel (1 night) Included Activities Piazzale Michelangelo Evening Picnic Florence Optional Activities Urban Adventures - Florence Foodies Walk - EUR67 Urban Adventures - Florence Markets & Delis - EUR58 Urban Adventures - Aperitivo Time! Florence Wine Tour - EUR77 Florence Baptistry, Museo Opera del Duomo, Giotto Bell Tower and Brunelleschi Dome EUR15 Accademia - EUR16 Uffizi Gallery - EUR24 Meals Included Breakfast Special Information The individual Florentine State Museums have slightly different opening times and closing days between them but the website firenzemusei.it has everything you need to know about all of them, including the option to purchase tickets. We suggest that you pre-book your visit to the Uffizi, as this museum experiences enormous queues (up to 5 hours) all year round. Make your reservations for these museums for any time today.
Day 4: Lucca
No doubt there'll be more to see in Florence this morning, then this afternoon you'll take a train to Lucca (approximately 2 hours). Lucca is one of Tuscany's real hidden gems, with centuriesold buildings, beautiful churches, charming piazzas and narrow streets within the ancient city ramparts. You'll be captivated by this medieval town, which simply radiates charm. In Lucca, you'll stay in some unique accommodation – your own private apartments. Staying in the city centre allows easy access to all the sights, restaurants and bars, all an easy stroll from your front door. The kitchen is fully equipped and you can choose to buy your own beautiful local ingredients and supplies for meals. During their stay, some of our groups make Italian feasts with produce from around the area. Accommodation Private apartment (1 night) Meals Included Breakfast Special Information There are several separate apartments located near the city centre so you may be a short walk away from your other group members and your leader. Each apartment has 2-3 rooms with a shared bathroom. Please remember that our apartments are not hotels, so there's no reception, WiFi, room service or cleaning service every day, but plenty of charm and you just cannot beat the location.
Day 5: Pisa/ Lucca
Set off on a cycling tour following the scenic Serchio River through the Tuscan countryside (4 kilometres round the walls that are now a tree-lined avenue, and 14 kilometres by the river, approximately 3-4 hours). There are cafes and plenty of spots for a Tuscan picnic along the route. Your base in Lucca provides you with the perfect opportunity for a later outing to the nearby city of Pisa (approximately 30 minutes by local train). Here there'll be ample time for you to visit the quirky world-famous Leaning Tower, as well as the Duomo (Piazza dei Miracoli, once the largest in Europe) and Pisa Baptistry (please note that it's not always possible to climb the tower). The tower was built in the 12th century, but its foundation was on shifting sand and clay, meaning that it now leans at an angle of 4 degrees (after restoration and stabilising work). Wander the shopping streets, from high-end boutiques to speciality book and antiques stores, and perhaps enjoy an aperitif. Back in Lucca, a way to end the day is to head to a local bar for a refreshing Prosecco and a delicious focaccia with finocchiona salami and pecorino cheese, in the shadow of the Palazzo Pretorio. Accommodation Private apartment (1 night) Included Activities Lucca Bicycle Tour Pisa Half Day Trip
Optional Activities Leaning Tower of Pisa - EUR18 Pisa 5 Monuments Combo Ticket - EUR10 Meals Included There are no meals included on this day. Special Information The bike ride may take place today or on Day 4 or 5, depending on the weather forecast. Your leader will advise closer to the date.
Day 6: Lucca
Today is a free day in Lucca to take in all the sights that this city has to offer. Wander to the former Roman amphitheatre found off Via Fillungo. The remains of the amphitheatre are gone, but the medieval houses now standing in its place follow the outline where the spectator stands once were. Here, in what's now called Piazza dell'Anfiteatro, there are many outdoor cafes where you can sit down and see the world go by and do a spot of people watching. Also here, 2,000 years ago, Julius Caesar, Pompey and Crassus formed a coalition government to rule Rome. Make sure you also head to Foro Square to see the majestically constructed San Michele church, built over the ancient Roman forum and rich in artwork, and make a stop at the 14th century Duomo di San Martino, a splendid example of Romanesque architecture. Inside you'll find the tomb of and monument to Ilaria del Carretto, carved by Jacopo della Quercia – it's a masterpiece that dates back to the 15th century. Also, it might be 25 flights of stair to climb to the top of the Guinigi Tower, but the views are worth it. The tower also makes for a great sight in itself as it has trees growing on its roof! Accommodation Private apartment (1 night) Optional Activities Palazzo Pfanner House and Gardens - EUR6 Barga Day Trip by Bus - EUR9 Cathedral Museum - EUR4 Puccini concert - EUR20 Guinigi Tower Climb - EUR4 Cathedral of San Martino (including Ilaria del Carretto Tomb) - EUR3 National Gallery Villa Guinigi - EUR4 Lucca Bike Hire - EUR15 Meals Included There are no meals included on this day.
Day 7: La Spezia
Travel by train to La Spezia (approximately 3 hours), an important naval base that's now the gateway to the gorgeous Cinque Terre, or 'Five lands' in English. A medieval port town whose name is derived from its historic importance in the spice trade, La Spezia is your base for exploring the nearby stunning stretch of coast known as the Cinque Terre (approximately 30 minutes by train). The name comes from the five tiny villages – Monterosso, Vernazza, Corniglia, Manarola and Riomaggiore – whose position, wedged into a series of coves between sheer cliffs, makes it one of the highlights of the whole of Italy. After lunch, explore the city or perhaps head out by ferry or bus to the pretty seaside town of Portovenere, known for its colourful houses straddling the waterfront. Return to La Spezia and walk around the pedestrian zone on Via del Prione to the gardens along the harbour. Or opt to take another ferry to Lerici, another small village across the Bay of Poets dominated by its castle, for dinner. Accommodation Hotel (1 night) Optional Activities Portovenere Half Day Trip - EUR6 Meals Included There are no meals included on this day.
Day 8: Cinque Terre/ La Spezia
This morning venture out on the footpaths of Cinque Terre (Five Lands), a region of Italy famed for its coastline and pastel villages on mountains that plunge into the sea. The footpaths that run between the villages were once the only way to travel in the region, and take you through olive groves, vineyards and on to idyllic, breath-taking vistas. If you're feeling energetic, walking the entire path (12 kilometres, approximately 5 hours) will give you the best taste of the villages and countryside, though will require a good level of fitness. You can also choose to walk just a few sections, which will still unveil a great amount of majestic scenery. Some sections of path can be difficult, as there are challenging uphill stretches, narrow paths, steep cliffs and foot bridges. Please remember to bring comfortable footwear such as trainers or light hiking shoes. It's also possible to take the train between any of the villages or back to the group's base in La Spezia whenever you want. Accommodation Hotel (1 night) Included Activities Cinque Terre Day Trip Meals Included Breakfast Special Information Due to recent landslides in the area it is currently not possible to walk the Via dell'Amore and the coastal section between Manarola and Corniglia. There are alternative inland routes, however these are of a higher physical rating and involve steep ups and downs. It is possible to take the train or a bus for these sections. Due to safety reasons some sections of any path can be closed at short notice.
Day 9: Portofino Peninsula/ Asti
Travel by train to Santa Margherita on the Peninsula of Portofino (approximately 1 hour). Store your luggage and set off on an energetic 5-7 kilometre walk, finishing at the glamorous resort of Portofino. Wander down the waterfront, past the small fishing and pleasure boats in the busy marina, and enjoy great views back over to the town. Continue along the road, passing the beach clubs, private villas and hotels that command stunning vistas over where the hills of the Italian Riviera meets the bays and inlets of the Bay of Tigullio. Spot the locals sunbathing in the coves and cross though a pretty forest with some gentle up and downs. Descend down to the pretty port of Portofino, famed as the place where the rich and famous come to live La Dolce Vita. Walk up to the marvellous lookouts surrounding the town for unparalleled views, or join the glamorous for coffee on the harbourside and enjoy the people-watching. Then enjoy the fabulous coastal scenery with a boat ride back to Santa Margherita (weather permitting). Continue by train to Asti (approximately 2.5 hours) in the Piedmont region, where mouthwatering culinary delights await. Be sure to try a dish flavoured with truffle, and quaff divine Italian wines celebrated the world over. Accommodation Hotel (1 night) Included Activities Portofino Peninsula Walk and Boat Ride Meals Included Breakfast
Day 10: Asti
The town of Asti is located in the Piedmont region and it was one of the most important towns in medieval times, sitting on trade routes between Turin, Milan, and Genoa. Signs of the city's former wealth can be seen in the remaining defensive towers, the impressive churches and fine squares, but today it's best known as the home of some of the finest and most sought after wines in Europe – excellent reds and the sparkling white 'spumante'. It's also the best place to find 'tartufo' (truffles), a distinctive regional delicacy. You may be lucky enough to be here on a market day, when the Piazza del Palio hosts the region's largest open-air market. Today you'll take a bus to the green hills of the nearby rural village of Castagnole Monferrato, where you'll visit the home of a local winemaking family to sample their vintages. The Ruche grape variety is unique to this region of Italy – it's grown in just seven small villages in the province of Asti and produces a ruby-red, intense and aromatic wine that's best matched with the local dish of tagliolini with white truffles. Accommodation Hotel (1 night) Included Activities Asti Winery Visit Optional Activities Archaeological Museum - EUR5 Meals Included Breakfast.
Day 11: Milan/ Lake Como
Travel by train to Milan (approximately 3 hours), Italy's second largest city and the capital of Lombardy, Italy's wealthiest province. You'll stop here for a few hours. In this most fashionable of cities, this is the place for stylish shopping and cafes – Milanese specialities! Explore the city's historic centre, visit the city's most famous building, the Gothic Duomo, and walk between its rooftop sculptures, admiring the views and the stunning Gothic terrace. Most will want to visit Leonardo Da Vinci's masterpiece, The Last Supper, if there's time – see below for details. After half a day in Milan, late in the afternoon continue by train and bus to Lake Como (approximately 2 hours), an area of stunning beauty full of unique and evocative landscapes. Arrive in Como and head up to your base in the small town of Cadenabbia. This small town has a feeling of exclusivity and seclusion, and your accommodation sits right on the lake with incredible views. Accommodation Hotel (1 night) Included Activities Milan Duomo Roof Visit Milan Half Day Trip Optional Activities Castello Sforzesco - Free La Scala Museum - EUR7 Leonardo da Vinci's 'The Last Supper' from - EUR29 Meals Included Breakfast Special Information Many visitors to Milan will want to take a visit to Leonardo Da Vinci's masterpiece, The Last Supper. Tickets to The Last Supper are limited and generally sell out extremely quickly and up to six months in advance. If you expressly want to see the Last Supper you need to make arrangements in advance. Today between 1pm and 3pm is the most suitable time. The viewing is 15 minutes and in order not to lose the reservation, visitors must arrive 15 minutes before the time allocated for the visit. For information and reservations call +39 02 92 800 360. Online bookings may be available at this site: vivaticket.it. Some websites will only sell a ticket in conjunction with an additional product such as a guide book or another museum entry.
Day 12: Lake Como
This morning, board a ferry to travel across the blue waters of Lake Como to the pretty village of Bellagio. Here you can enjoy a walk through the countryside and discover the estate of the Villa Melzi. This grand white villa sits just back from the water and its surrounding estate is filled with a plethora of rare and exotic plant life. The rest of the day is free to take the ferry between the various parts of this area of Lake Como, like Varenna, Cadenabbia, or the beautiful Villa Balbianello, which film fans may recognise from films such as Casino Royale or Star Wars: Episode II - Attack of the Clones. Villa Carlotta is another waterfront villa open to the public, a former marquis's mansion dating from the late 17th century that today functions as a museum. It holds a wealth of artwork and is surrounded by acres of romantic Italian gardens. Just past Cadenabbia is Tremezzo, where you can find a place for food or an aperitif, sitting dockside, lakeside, or out on a veranda. Simply walking lakeside and admiring the beautiful views whichever way you turn is a wonderful way to spend the day. Be sure to fill up on fine Italian fare tonight. Accommodation Hotel (1 night) Included Activities Lake Como Ferry Pass Optional Activities Villa Balbianello - Lenno - EUR17 Villa Carlotta - Tremezzo - EUR10 Villa Melzi Gardens - Bellagio - EUR6 Vezio Castle - Varenna - EUR4 Meals Included There are no meals included on this day.
Day 13: Venice
Leave the lakes behind and head for another watery wonderland, taking the train to Venice (approximately 6 hours). This grand city of bridges, towers, piazzas, canals, churches and gondolas – practically unchanged for 600 years – is literally sinking under the weight of its iconic sights. Venice is built over a hundred small islands connected by 400 bridges. Still rich with artistic masterpieces, modern Venice combines history with contemporary life through food, performance, art and architecture. There are plenty of things to keep you busy when you arrive. Take a walk around the maze of streets behind San Marco Square and begin to understand the complex canal system of Venice. The Grand Canal is a great place to start, as you can stroll over the Rialto Bridge and browse the endless amounts of boutique shops that sell Venetian masks and handmade Murano glassware. For dinner, perhaps seek out Venice's distinctive culinary heritage, which goes back to ancient times and features rich risottos, saline baccala (salted cod) and creamy polenta. Accommodation Hotel (1 night) Included Activities Venice Traghetto Boat Ride Meals Included There are no meals included on this day.
Day 14: Venice
Venture out and explore Venice today. There are only two ways to get around this city – on foot or by boat. Take in the famous sights – the Grand Canal, the Rialto Bridge, Doge's Palace (the ruler of Venice), the Piazza San Marco with its golden Basilica, and of course, the evocative Bridge of Sighs. Take the vaporetto (water bus) over to the island of San Giorgio to climb the bell tower for the best view of Venice. No trip here would be complete without a journey down the Grand Canal in a Venetian gondola. While away your day in the busy San Marco square and be sure to try the local tiramisu and Italian coffee. There's creativity everywhere, overflowing into the canals; see it in the Venetian glass in Dorsoduro or down the streets spreading out from the Campo Santo Stefano. Visit the Palazzo Ducale, overflowing with paintings by Italian masters, and contrast it with the modern Guggenheim. Simply enjoy getting lost and uncovering your own slice of Venice. In the evening, maybe gather your fellow travellers for a final group dinner of Venetian specialities like fresh lobster and squid ink spaghetti dishes. Accommodation Hotel (1 night) Optional Activities St Mark's Basilica Treasury - EUR3 Venezia Ca' d'Oro - EUR10 Accademia Gallery - EUR15 Guggenheim Museum - EUR15 St Mark's Campanile - EUR8 Doge's Palace and Bridge of Sighs - EUR19 Gondola Ride - EUR80 Meals Included There are no meals included on this day.
Day 15: Venice
There are no activities planned for the final day and you are able to depart the accommodation at any time. As there is so much to see in Venice you may want to consider extending your stay. We are happy to book additional accommodation for you, subject to availability. Please enquire at the time of booking. Optional Activities Urban Adventures - Canal & Aperitivo Experience - EUR113 Urban Adventures - Sweet Taste of Venice - EUR36 Urban Adventures - Chicchetti of Venice - EUR80 Meals Included There are no meals included on this day. Special Information If you haven't had enough of Italy yet why not join our connecting Umbrian Discovery trip back to Rome, taking in the best of this beautiful Italian region, such as Gubbio and Assisi. Or, if you have some extra time in Venice, you can take one of the day trips offered by Urban Adventures. Check out urbanadventures.com for more information.
Offer Includes
Flights from London with Turkish Airlines
Airport taxes
14 nights accommodation as per the Itinerary
Meal Plans