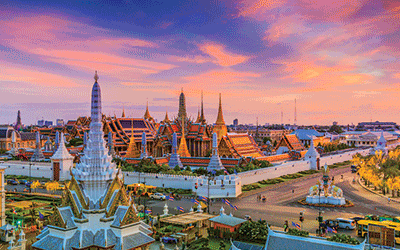 £999
01 May 19
25 Jun 19
31 Mar 19

One way class upgrade: London Gatwick - £1165
Bonus offers: 15% Discount at Centara Pattaya Hotel
Highlights: Bangkok - Pattaya
Alternate travel dates: 1 Sep 19 - 31 Oct 19
Hotels:
Bangkok - Centara Watergate Pavillion Hotel Bangkok 4*
Pattaya - Centara Pattaya Hotel 4*
Centara Watergate Pavillion Hotel Bangkok:
Located in the renowned Pratunam area, the Centara Watergate Pavillion Hotel Bangkok offers a new take on the City of Angels. Seamlessly connected to Watergate Pavillion Shopping Mall, the hotel offers 281 rooms and suites designed in a light, modern, and inviting décor with all amenities you require at your fingertips to ensure a comfortable stay.
This perfect location in the heart of Bangkok is where modern and dynamic lifestyles blend together with historical Bangkok and where luxury shopping and everyday fashion meet.
Hotel Facilities:
Restaurants - 2, Bars/lounges - 2
Recreational Facilities:
Fitness facilities, Full-service spa, Steam room, Spa treatment rooms, Shopping on site, Computer station
General Facilities:
Free WiFi, Dry cleaning/laundry service
Board basis: Bed & Breakfast
Centara Pattaya Hotel:
Stay in the heart of Central Pattaya, where you're only a short walk away from beachside bliss or some serious shopping. Centara Pattaya Hotel will be your calm oasis within the all-action resort town of Pattaya, one of Thailand's most eclectic destinations, where dining, shopping and golfing opportunities are all around you, and every form of land or water sports are available. You'll also get a thrill out of the city's vibrant nightlife, and can easily enjoy time at the local beaches during the days.
Another way you can relax or revive is to lay back beside the pool and then drift into our spa. And then at night, you will be to return to the accommodation that suits your individual circumstances, as Centara Pattaya Hotel offers a range accommodation styles that include family studios as well as comfortable suites.
The Centara Pattaya Hotel is only a 90-minute drive away from Bangkok Suvarnabhumi International Airport and we are happy to arrange transfers and pick-ups for you.
Hotel Facilities:
Restaurant, Bar/lounge, Outdoor pools - 2, Poolside bar, Children's pool
Recreational Facilities:
Fitness facilities, Snack bar/deli
General Facilities:
Free WiFi, Dry cleaning/laundry service
Board basis: Bed & Breakfast
Offer Includes
Flights from London Gatwick with China Airlines
Airport taxes
3 nights accommodation in Bangkok in a Deluxe Room
8 nights accommodation in Pattaya in a Deluxe Room
Transfers by private car in Bangkok (Hotel to Airport)
Meal Plans