Vietnam Caves, Karsts & Trekking
Vietnam Caves, Karsts & Trekking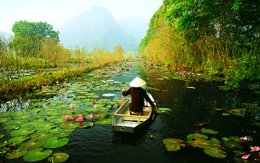 £3255
13 Aug 18
31 Oct 18
30 Sep 18

Highlights: Hanoi - Bai Tu Long - Dong Hoi - Hue - Hoi An - Ho Chi Minh City - Can Tho - Chau Doc
Other departures: Manchester - £3315, Birmingham - £3285, Glasgow - £3375, Edinburgh - £3339, Southampton - £3555, Newcastle - £3359
Hotels:
Hanoi - May de Ville Old Quarter Hotel
Bai Tu Long - May de Ville Old Quarter Hotel
Dong Hoi - Sun Spa Resort Quang Binh
Hue - EMM Hotel Hue
Hoi An - Ancient House Resort Hoi An
Ho Chi Minh City - Roseland Point Hotel
Can Tho - Victoria Can Tho Resort
Chau Doc - Victoria Nui Sam Lodge
Itinerary:
Day 01 : ARRIVE HANOI
Welcome to Vietnam! Upon arrival, your guide will be waiting to transfer you to your hotel.
Tonight your guide will take you on a culinary adventure, sampling street food in the Old Quarter. It's a great opportunity to try all those weird and wonderful foods you see but just aren't sure what they are! Start your Hanoi Street Eats tour at Bia Hoi corner to try the local brew, a draft beer that traces its roots to Eastern Europe. Do as the locals do and pull up a stool and enjoy a drink while watching the world go by. Continue through the old quarter's narrow streets as your guide points out a range of tasty noodles, breads and snacks. At night the sidewalks are packed with locals perched on stools, amongst sizzling woks and bubbling pots. These small pop up restaurants are a nightly feature that all but disappear during the day. Sit down and enjoy a flame grilled Vietnamese barbecue of beef, chicken, tofu and vegetables on skewers. End the night with dessert from Hanoi's best-known ice-cream parlour.
Meals: Dinner
Hotel: May de Ville Old Quarter Hotel (Deluxe Room)
Day 02: HANOI - TRAIN TO LAO CAI
Today, start your journey to the highlights and hidden gems of Hanoi at the Ho Chi Minh Mausoleum, an imposing structure that houses the remains of the revered former president who led Vietnam's campaign for independent from colonial rule. Next, head onward to the Temple of Literature, an ancient collection of courtyards, gardens and architecture built in homage to the Chinese scholar Confucius. Considered the oldest university in Vietnam, the Temple of Literature dates back nearly one thousand years! Enjoy your lunch at a restaurant specialising in traditional Hanoi delicacies. Follow your guide's lead while you weave through some of the Quarter's 36 streets named for the products historically sold here. Along the way, pass by some of the only remaining streets that continue selling the goods of their namesake, including Tin and Bamboo street. Head through labyrinthine back alleys well off the tourist trail and see Hanoi at its authentic best. Peer into temples and traditional houses, hear the stories of the ancient city and meet the people who call this fascinating city home. Wrap up your guided walk with a strong Vietnamese coffee at a café overlooking Hoan Kiem Lake - an important symbol of Vietnamese folklore - before heading to your final stop at Ngoc Son Temple on the tiny island on the lake. Enjoy a water puppet show for a look at traditional performance art in Vietnam before heading back to your hotel.
Your guide will meet you at your hotel and transfer you to the train station. Train: Hanoi - Lao Cai
Meals: Breakfast / Lunch
Day 03: LAO CAI - SAPA
Upon arrival, your guide will be waiting to transfer you to your hotel. This morning, meet your guide at your hotel and walk south of Sapa towards the busy village of Cat Cat. The valleys that surround the village of Y Linh Ho are some of the most picturesque in the region, and this route allows you to explore one of Sapa's less-traversed areas. Make your way along a gentle incline, through emerald paddy fields above a deep river gorge, before arriving on the river bank. Take a rest, dip your toes in the cool mountain waters and if you are lucky see local children fishing with nets. Walk at your own pace and take in some of the best panoramas Vietnam has to offer. Enjoy lunch with a view at a local village restaurant before continuing through the valley towards the village of Lao Chai. Take a well-earned rest and enjoy a soothing cup of tea before learning the art of Batik painting. The beautiful textiles of the Black H'mong are famous around the world and Batik is a traditional part of H'mong culture. Under threat from modernization, Batik is now only practiced by a handful of villagers. Join a hands-on master class led by a local expert and take your creation home! You will be supporting a sustainable tourism project that supports local women and ensures this amazing art form is handed down to the next generation. Afterwards, head to the home of Ms Moo and her family, where you will sleep for the night. Watch as the sun sets over the rice terraces and enjoy a traditional H'mong herbal foot bath before tucking in to a delicious H'mong-style dinner. See how food is prepared over an open fire, listen to the sounds of the countryside and learn all about H'mong life and culture with your amazing hosts.
Meals: Breakfast / Lunch / Dinner
Day 04: SAPA - LAO CAI - TRAIN TO HANOI
Wake early to enjoy the view of the sun rising over the terraces. After a tasty breakfast, say farewell to Ms Moo and her family and set out along the Muong Hoa valley towards Ta Van village. Trek along the high road and take in the superb views of the valley. Arrive in the village of the Giay ethnic people where you will be picked up and transferred back to your hotel in Sapa.
Your guide will meet you at your hotel and transfer you to the train station. Train: Lao Cai - Hanoi
Meals: Breakfast
Day 05: HANOI - BAI TU LONG - 1 NIGHT CRUISE
Upon arrival, your guide will be waiting to transfer you to your hotel. Depart from Hanoi and travel about four hours to the port of Halong Bay by shuttle bus. Take a small tender boat to meet your junk, which will be anchored just offshore. After a short safety briefing, set sail to the outer reaches of Bai Tu Long Bay, passing by stunning limestone karsts jutting out of the jade waters. Later, take a kayak out and get an up-close look at the jungle clad karsts.
Meals: Breakfast / Lunch / Dinner
Hotel: Dragon Legend Cruise (Deluxe 2D1N)
Day 06: BAI TU LONG - HANOI
Take a traditional rowboat to the floating fishing village of Vung Vieng. Watch as the people go about daily lives shaped by the ageless rhythms of the sea. Enjoy your last glimpses of Halong Bay over an early lunch as you cruise back to the port. While returning to Hanoi, stop at Yen Duc Village to see a traditional water puppet performance, an ancient art form of the Red River Delta. Afterwards continue to Hanoi, arriving in the late in the afternoon.
Meals: Breakfast
Hotel: May de Ville Old Quarter Hotel (Deluxe Room)
Day 07: HANOI - FLY TO DONG HOI
Your guide will meet you at your hotel and transfer you to the airport for your flight. Flight: Hanoi - Dong Hoi
Upon arrival, a driver will be waiting to transfer you to your hotel.
Meals: Breakfast
Hotel: Sun Spa Resort Quang Binh (Superior Garden View)
Day 08: DONG HOI - PHONG NHA
On a whirlwind, two-day trek into the heart of tropical Tu Lan, experience the epic natural majesty of Phong Nha National Park - home to the largest cave in the world. Set off on a challenging excursion visiting Hang Ken, Hang Kim, Hung Ton and Tu Lan Caves. Explore karsts, jungles, waterfalls and river caves in a journey into the heart of central Vietnam's natural phenomena. This morning, set off from your hotel in Phong Nha after breakfast and head to the village of Tan Hoa, about 70 kilometres away. Get a thorough safety check here before embarking on your adventure beginning with a 2.5 kilometre hike across beautiful patty fields bound for Rao Nan River. Then ascend 30 meters up a rocky hill to a jungle opening, before a 100 meter descent to Hung Ton Valley. Enjoy lunch at the mouth of Hung Ton Cave before embarking on some serious trekking from Hung Ton Valley, over Mango Mountain, and back down again into Tu Lan Valley - a distance of about 3 kilometres. After reaching your campsite, swim onward to explore Ken Cave, which is located on-site. After a challenging first day, sit back and relax over a scrumptious BBQ dinner followed by campfire R&R and hammock-slumber in the chorus of nature.
Meals: Breakfast / Lunch / Dinner
Day 09: PHONG NHA - DONG HOI
Begin your second day with a hearty breakfast before diving headfirst - literally! - into your day's adventure. After exploring wet and dry sections of Tu Lan Cave, return to the campsite for lunch before a challenging but enjoyable 450 meter swim and 500 meter trek through Hang Kim Cave, leading you to To Mo Valley. From here, swim onward through Hung Ton Cave to reach its dry passage further in. Trek another 800 meters across Hung Ton Valley before climbing over a small rocky mountain to Hang Chuot - affectionately known as "Rat Cave". After exploring 300 meters of Hang Chuot, the tour winds down by crossing back over Rao Nan River through the picturesque fields to Tan Hoa. There, enjoy the scenery over a cold drink and get the opportunity to take a proper shower before departing back to Phong Nha, arriving in the late evening.
Adventure Level:
Tu Lan Cave Encounter is easy for anyone who considers themselves physically fit and participates in regular outdoor activities, and moderate for anyone with limited outdoor experience. You will trek approximately 12 km via overgrown jungle paths and scramble over boulders within the caves. You should be able to swim as you'll explore a number of wet caves of varying lengths (100 m to 400 m each). You should also feel comfortable having to climb through some small passages, and also up/down a 15 m ladder (with safety rope). Never forget you are deep in the jungle and the difficulty of this tour is also very dependent on the weather. It can get very cold during December to March (8 - 15 degrees Celsius) and very hot during June to August (32 - 38 degrees Celsius), not to mention anytime it rains the jungle becomes very slippery and muddy. Safety is absolutely paramount on all trips operated, and along with having the best caving equipment, you'll be led by one of our expert adventure guides. No children under 16 years of age permitted on this tour.
Meals: Breakfast / Lunch
Hotel: Sun Spa Resort Quang Binh (Superior Garden View)
Day 10: DONG HOI - HUE (WITHOUT GUIDE)
Today, drive to the former imperial capital of Hue.
Meals: Breakfast
Hotel: EMM Hotel Hue (former Festival Hue) (Deluxe)
Day 11 :HUE
Enjoy breakfast at your hotel before embarking on a day of exploring Hue's famous royal tombs and the illustrious examples of grand dynasties past, the garden houses.
Begin your day by floating down the peaceful Perfume River by boat, taking in the endless surrounding greenery. At the end of your hour-long boat trip, hop off at the pier and transfer to the tomb of Emperor Khai Dinh. Admire the unusual combination of architecture that blends a traditional Chinese past with a modern Western future. Then, continue to Minh Mang Tomb to explore the opulent and exotic resting place laid out in formal Chinese style. For lunch, feast on a vegetarian meal prepared by nuns at Dong Thuyen Pagoda, a temple located on the top of a hill with a fantastic view. Visit the kitchen to see how your meal is prepared in a wood burning stove, then dig into your food in the company of the nuns who made it. Take the opportunity to learn about the religion Buddhism or just get to know your friendly hosts. Next, make your way to Thanh Tien Village, well-known for over 300 years of crafting paper flowers. Meet one of the local villagers and learn how to make your own ornate paper flower. You can be sure that your visit is backing a good cause as it is supported by Backstreet Academy, a social enterprise providing struggling artists, craftsmen and home-based workers with additional income and recognition. Finally, visit Tha Om Garden House and its owner, Mr Vinh. Explore the traditional 19th century Hue residence and listen to Mr Vinh's stories of his royal heritage before returning to your hotel.
Meals: Breakfast / Lunch
Hotel: EMM Hotel Hue (former Festival Hue) (Deluxe)
Day 12: HUE - HOI AN
Today drive south to Hoi An over the scenic Hai Van Pass probably the most scenic stretch of coastal road in Vietnam! Set off on a culinary adventure in Hoi An to discover the flavours and dishes that make this coastal town unique. Alongside an expert local guide, your journey introduces you to the stories behind Hoi An's most iconic dishes at the town's most famous eateries. Start your tour at a local restaurant famous for white rose dumplings, found exclusively in Hoi An. Enjoy these delicacies while marveling at the work that goes into them. The staff churn out up to 6000 of these dumplings every day and each one is as beautiful as the last. Your visit here includes a chance to try making a few of your own dumplings too! Down a nearby alley, depart the dumpling shop and head onward to visit an 250 year old ancient house. This is your chance to step inside a traditional Hoi An home and see how the locals live (and eat if you are lucky to come over on their dinner time)! Stroll around the house, spending time with the host to learn about his life. Before moving on, visit his workshop where his skillful hands spend hours creating sophisticated and creative silver jewelry. Take home a unique and personal souvenir or simply share your admiration with him. Continue on to find another local specialty: banh can. These crackers are served with quail eggs, pork and a tasty salad and are a Hoi An street food favourite. Pull up a small street side stool and enjoy with your guide. Alternative is banh mi "Vietnamese baguette". Continue onward to sample grilled pork satay and visit the central market on way. Finally, the famous Cao Lau noodles or equally popular chicken rice. Wrap up the tour with a local Vietnamese coffee- the perfect ending to any meal.
Inclusions: Local English-speaking guide, all food items indicated in the itinerary, one bottle of water, one coffee or beer.
Meals: Breakfast / Dinner
Hotel: Ancient House Resort Hoi An (Superior)
Day 13: HOI AN
Explore the breezy Hoi An Ancient Town, a former trading port that welcomed Chinese, Ditch, French, Japanese, Portuguese and Arab merchants from the 16th to the 18th Centuries. Now one of coastal Vietnam's most charming towns, Hoi An is home to some of the country's most beautiful ancient architecture inspired by Portuguese, Chinese and Japanese culture. Start your walking journey through the breezy walking streets lined with honey-yellow buildings, and arrive first at Chua Ong Pagoda. This Chinese inspired structure dates back to 1653, and its interior still wafts the sweet smell of incense during the day. From here, walk onward to nearby Phuc Kien Assembly Hall and Jinshang Temple, dedicated to the Goddess of the Sea. After passing by the 200-year old Tan Ky House, take a short break at the Japanese Covered Bridge - one of Hoi An's most iconic structures. At Reaching Out Tea House - an establishment that aids locals with disabilities - sit down for a rejuvenating cup of tea before having a tasty lunch accompanied by a cooking demonstration at a restaurant specialising in traditional Hoi An delicacies. Afterwards, hop on a cyclo and heading out toward Cam Thanh Village, a small community located in the outskirts of central Hoi An. Your destination is a small village home to meet a local family, and the opportunity to interact with the locals that call this village home. On the nearby river, hop in a bamboo basket boat to visit a water coconut forest and then on board a boat bound for central Hoi An. After taking in the stunning riverside scenery along the Thu Bon River, wrap up your journey with a sunset cocktail at a rooftop bar.
Meals: Breakfast / Lunch
Hotel: Ancient House Resort Hoi An (Superior)
Day 14: HOI AN - FLY TO HO CHI MINH CITY
Your guide will meet you at your hotel and transfer you to the airport for your flight.
Flight: Danang - Saigon
Upon arrival, your guide will be waiting to transfer you to your hotel. Start your Story of Saigon with a visit to the War Remnants Museum. Here, your guide will tell the story of the city's darkest and most tragic hours during the Vietnam War. The museum contains displays of military aircraft, weaponry and many photographs - some that are quite graphic in nature. Although many of Vietnam's 90 million people are now too young to remember the war, its legacy is still felt strongly across Vietnamese society. Next, visit the Reunification Palace, once a symbol of the South Vietnamese Government. It was here on 30 April 1975, that the war ended when a North Vietnamese Army tank crashed through its gates. See the war room, the banquet hall and the presidential office with the unusual gifts which have been received. Then, continue to the Central Post Office, designed and constructed by the renowned architect Gustave Eiffel, and take a moment to send a postcard! Just behind the post office is the Notre Dame Cathedral, an iconic Saigon landmark built in neo-Romanesque style by the French between 1863 and 1880. Today it's a favoured backdrop for Vietnamese wedding photographs. Next, stroll down follow Dong Khoi Street, which figured prominently in Graham Greene's famous Vietnam novel, The Quiet American, as Rue Catinat. The walk ends at the Saigon Opera House. From a bomb shelter to housing the parliamentary Lower House, the Opera House has had an interesting history. End your day with a speedboat trip along the city's ancient canals where life carries on unchanged. Return to your hotel as the sun sets on this fascinating city.
This evening taste the culture of Saigon. Set off on a culinary adventure downtown into the heart of the city where the locals eat. Walk along small alleys, and see the streets come alive at night. With the help of our guide, try all those weird and wonderful foods and see how they're made. Pull up a stool and taste a selection of different Vietnamese favourites. Begin with a unique rice paper pizza, then enjoy some banh beo or water from cakes, try some fresh snail dishes, and savour a Vietnamese pancake known as banh xeo. End the night with dessert from one of Saigon's little places for sweet soups.
Meals: Breakfast / Dinner
Hotel: Roseland Point Hotel (former Silverland Boutique Hotel) (Deluxe Room)
Day 15: HO CHI MINH CITY - CAN THO
Leave the city behind this morning as you travel about two hours to reach Cai Be, a gateway to the Mekong Delta. Then hop aboard a small boat and travel along the winding waterways to take a peek into life on the water. Stop off at Dong Phu and An Binh where you will see small home-based factories that produce oil, matting, candy and even wine from coconuts! Then visit an old French colonial house that is more than 150 years old. After a quick stop for lunch, hop aboard another boat that will take you to the ferry hub of Vinh Long and then drive to Can Tho arriving in the late afternoon.
Meals: Breakfast / Lunch
Hotel: Victoria Can Tho Resort (Superior Room)
Day 16: CAN THO - CHAU DOC
It's an early start to the day as you go by boat the daily floating market of Can Tho. Experience the flurry of vendors trading their wares as boats teeming with fruit, vegetables and household goods ply the waters. Then it's off to Chau Doc, a sleepy riverside border town, about three hours by road. This afternoon drive approximately 20kms from Chau Doc to Tra Su Forest and travel by sampan through endless waterways flanked by mangroves and lush greenery. This eco reserve spans 850 hectares and is an ecological haven for fauna and flora, with more than 100 species of water birds and colonies of bats. The best time to visit Tra Su is from September to November when the water is high, although it is accessible all year round. On the way to the forest you will visit a small village of ethnic Khmer, where you will learn about the importance of Buddhism in the community and have the opportunity to chat with monks at the local monastery.
Meals: Breakfast / Lunch
Hotel: Victoria Nui Sam Lodge (Superior room)
Day 17: CHAU DOC - HO CHI MINH
Say good bye to the delta and travel to Ho Chi Minh City about seven hours by car. There will be plenty of stops along the way to stretch your legs and take photos.
Meals: Breakfast / Lunch
Hotel: Roseland Point Hotel (former Silverland Boutique Hotel) (Deluxe Room)
Day 18: DEPART
Your guide will meet you at your hotel and transfer you to the airport for your flight.
Meals: Breakfast
Offer Includes
Flights from London Heathrow with Turkish Airlines
Airport taxes
17 nights accommodation as per itinerary
Tours and transfers as mentioned by air-conditioned vehicle
English speaking guide (Halong, Mekong package as group join-in guide)
Sightseeing fees and permits during guided time
Meal Plans