Chiang Mai, Chiang Rai & Bangkok
Chiang Mai, Chiang Rai & Bangkok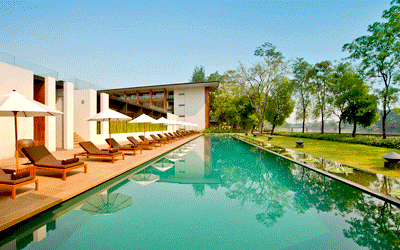 £1665
12 Aug 18
20 Sep 18
03 Jul 18

Bonus offer: 1 Free Night in Bangkok
Highlights: Chiang Mai - Chiang Rai - Bangkok
Other Departures : Manchester - £1589, Birmingham - £1665, Edinburgh - £1599
Hotels:
Chiang Mai - Anantara Chiang Mai Resort 5*
Chiang Rai - The Legend Chiang Rai Hotel 4*
Bangkok - Centara Watergate Pavillion Hotel Bangkok 4*
Anantara Chiang Mai Resort 5*
Discover Chiang Mai's traditional culture from riverside luxury
Edging the Mae Ping River in Thailand's beautiful northern city, Anantara Chiang Mai Resort is a luxurious sanctuary of contemporary, Thai and colonial style.Find tranquil seclusion at our Chiang Mai hotel. Relax on your balcony daybed, admiring courtyard gardens or the peaceful flow of Thai river life. Lounge at the riverside pool. Indulge in exclusive spa rituals.
Let our experts immerse you in local culture with Thai boxing, cooking and massage lessons.Ideally situated in the heart of Chiang Mai, our central city location makes it easy to explore. Discover the old city's countless temples, bustling markets and ancient Lanna ruins. Soak up a cosmopolitan vibe at quirky cafés, boutiques and art galleries. Venture further afield for elephant and river rafting experiences. Visit spectacular national parks and floral gardens, hill tribes and handicraft villages.Enchanting afternoons can be spent enjoying our famous Afternoon Tea.
Toasting sunset is quietly romantic aboard a river cruise. Savour international grill cuisine and authentic Indian specialties on a waterfront deck, or the mysterious Asian culinary experiences of our splendid colonial house.
Hotel Facilties:
Bar/lounge, Poolside bar, Restaurants - 2, Outdoor pool, Coffee shop or café, Full-service spa
Recreational Facilities:
Fitness facilities, Sauna, Spa tub, Full-service spa
General Facilites:
Free WiFi, Dry cleaning/laundry service
Excursion:
Chiang Mai - Chiang Rai with Golden Triangle & Mae Sai:
Morning at 07:00hr, meet our guide at your hotel and transfer pass rolling hills, dip into steep valleys, and explore many of the villages and roadside markets along an exciting route from Chiang Mai to Chiang Rai. Along the way, stop at Wat Rong Khun - also known as 'the White Temple', a dazzling temple complex that stands out as one of the most incredible in the whole country. Although not as old as others in the Thai capital, its bright white façade, mirrored glass decorations and intricately-carved patterns are both distinct and arrestingly beautiful.
Next, head back on the road towards a charming Akha and Yao Hill Tribe village. After saying 'hello' to the welcoming locals, head on towards Chiang Saen and the Golden Triangle, the meeting point of Laos, Thailand and Myanmar. Enjoy the boat trip to epic scenery along the Mekong River here and take a moment to capture the panoramic views with your camera. Continue on to the Opium House, a museum that houses items like opium pipes, knives and scrappers that depict the history of the opium trade that made this area infamous in the not-so-distant past. Then visit the famous market at the border town of Mae Sai. Thai locals and Burmese often shop, bargain and even drink together in this vibrant market area. Pick up some souvenirs in the myriad of stalls here, ranging from handicrafts, faux fashion items, local produce and antiques. Give your feet a rest on the direct route back to Chiang Rai, arriving/check in at your hotel the late afternoon.
Meals: Lunch
The Legend Chiang Rai Hotel 4*
Resting on the banks of the Mae Kok River, the Legend Chiang Rai delivers an authentic Lanna atmosphere with its blend of northern Thai architectural details, local artwork and hand-plastered white walls. Graced with 78 studios and villas, the room interiors are adorned with a generous-sized bed, teakwood furnishing and spacious open-air seating area. Villas make bigger and more inviting spaces for families as each comes with its own private pool and garden, ideal for relaxing by the river's edge.
The shady rain trees, lotus ponds and lush vegetation further lend a tranquil feel to this attractive riverside retreat. The infinite-edge pool is perfect for taking in panoramic views of the surroundings. The Chiang Saen Spa provides a soothing space for quality pampering with a host of traditional herbal treatments and massages. To sample culinary indulgences, the Legend's restaurants serve reined Thai and international cuisine with creative touches.
Hotel Facilties:
Bar/lounge, Poolside bar, Restaurants - 2, Outdoor pool, Coffee shop or café
Recreational Facilities:
Fitness facilities, Sauna, Spa tub, Full-service spa, Hair salon
General Facilites:
Free WiFi, Dry cleaning/laundry service
Centara Watergate Pavillion Hotel Bangkok 4*
Located in the renowned Pratunam area, the Centara Watergate Pavillion Hotel Bangkok offers a new take on the City of Angels. Seamlessly connected to Watergate Pavillion Shopping Mall, the hotel offers 281 rooms and suites designed in a light, modern, and inviting décor with all amenities you require at your fingertips to ensure a comfortable stay. This perfect location in the heart of Bangkok is where modern and dynamic lifestyle blend together with historical Bangkok and where luxury shopping and everyday fashion meet.
Hotel Facilties:
Bar/lounges - 2, Poolside bar, Restaurants - 2, Outdoor pool, Coffee shop or café
Recreational Facilities:
Fitness facilities, Sauna, Spa tub, Full-service spa, Shopping on site, Hair salon, Computer station
General Facilites:
Free WiFi, Babysitting or childcare, Dry cleaning/laundry service
Offer Includes
Flights from London with Qatar Airways
Airport taxes
Return transfers by a private car
3 nights accommodation in Anantara Chiang Mai Resort in a Deluxe Room
2 nights accommodation in The Legend Chiang Rai Hotel in a Superior Studio Room
4 nights accommodation in Centara Watergate Pavillion Hotel Bangkok in a Superior Room
Chiang Rai Temples Galleries Art by Car Including Soothing Massage and Lunch
Chiang Mai - Chiang Rai with Golden Triangle & Mae Sai
Meal Plans